Perkunas is the Lithuanian mythical god of thunder and sound. And, the name Perkune is the perfect name for my cables. Perkune audiophile cables, bring the sound of thunder into your listening room. Loudspeaker cables, Interconnect cables and Power cords. USB, OTG, HDMI, Ethernet, Digital, Optical, and Custom made cables. And, considered by many, the Best audiophile cables online! My lines are Unique, exclusive, hand made for the customer, and not available in the regular market place. I am not just here, to sell you cables, because I have more to offer. My years of experience show you how to position your loudspeakers. And, fine-tune your audio system to achieve optimum performance. I have much to offer and happy to work with you in the convenience of your home.
Testimonials
Hi Paul, The two albums I played that night were perils from the sea-Mark Kozelek, & Skeleton tree- Nick Cave. Had two more listening sessions this morning & afternoon listening to both albums twice—a very real noticeable difference in the bass & dynamic swings. And, I was drawn into the music a whole lot more than ever before. 
On nick Caves skeleton tree, lyrics were so much more pronounced. Some passages are hard to understand what he's saying. But with your power cable, it seemed so much clearer—the same
situation with perils from the sea Mark Kozelek. Very hard to understand some passages for the vocals, But I made out what he says for the first time through using your power cable. Also, bass much tauter. To be honest, I would say it sounded like a different stereo if one was blindfolded & power cables exchanged. I love it & I had spoken to the wife I've never had a system so good, thinking of the new Dac & momentarily forgetting about the power cable. It is a top product & I'm converted. I would never have believed that a power cable could change the whole picture into a recording like this and Oh & the bass! So reliable & just there! An0ther thing I did notice is it's like the music just arrives from nowhere out of the blackness. I am enjoying this & look forward to other listening sessions with different albums. Up next is Agnes Obel-Aventine  – Paul, Ireland.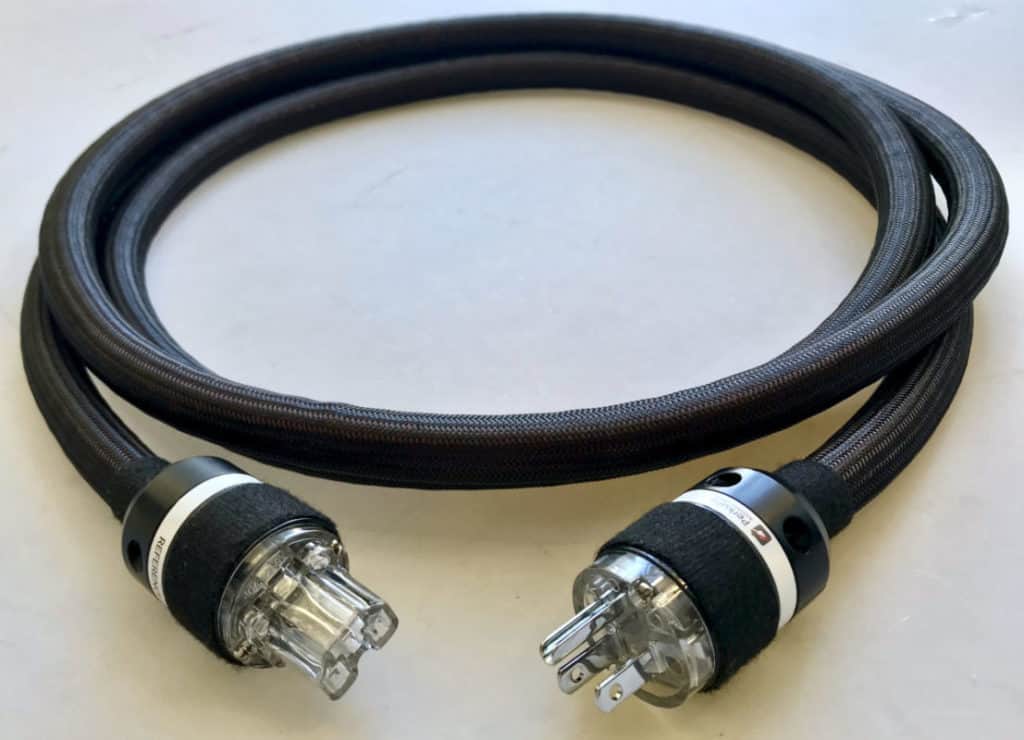 Hi Paul, everything arrived in four days, which was great but, As the Sigma 170i integrated is not here until tomorrow, I plugged into my VAC Avatar Super (also a KT88). I dialled up the Talon Hawks with the Talon Thunderbird sub and immediately noticed a striking improvement in bass and vocals. From Qobuz and trying to bring only high-res files through the system, I put on Yes Roundabout in an MQS format to astonishing results. Then, to hear some sax, I put on a CD-quality of Gerry Rafferty Baker Street followed by some piano jazz (quite realistic) and then back to some rock and roll with The Who Tommy. I am impressed. My larger Talon speakers now bring out a flaw you are working on removing from my system for me, the set of bi-wire cables. Now, time to call the friends over to hear the difference and start making your lines familiar here in the US. Your friend, Chris  – 

Hollywood Amps.
Hi, Paul, my dream has come true, and I am Listening to these Reference XLR cables. And, can't believe the sound quality. It's just mind-blowing! Paul, I thought the Airdream 2 was good but, compared to new Reference XLR, it is in another class altogether. And, these interconnect perfectly complement the speaker cables with sharpness and musical impact. And, making the music sound fresh, tight and transparent. These are on a different level. Steve, UK.
Systems
Hey Paul, the new Reference "separate" speaker cables, makes the music more alive. And, every instrument is active on its own. The Clarity is phenomenal, without losing any of the emotional impacts of the music. The soundstage is vast, but now with an incredible depth to it. And, ensures you get a more 3D effect with excellent transparency. You are there in the first row. Not only that but together with the number of details and dynamical information, it sounds there is more music than I have ever heard, And, you notice the whole body flows. Paul, I love Perkune audiophile cables, and best audiophile cables online  –  Erik, Norway.
Hello Paul, And, listening to the Reference speaker cables. I continue to be overwhelmed with how much more things are opening up. There is just so much more detail with a soundstage that has broadened as I have never experienced before! The remarkable thing is the placement of the instruments within the soundstage and the clarity of the vocals being front and centre.  Everything is much more pronounced and accurate, but what I notice the most are the 'Mids' and 'Highs' as I hear so much more. And, impressed with my new sound. Bill, Canada.


Protection
For protection, the impact-resistant, aluminium flight case supplied will carry all your Power cables, Speaker cables or Interconnect cables. Inside, the case are the cables, keys, Anti-static fluid, and Thermaflex Anti-vibration tubes. You will get the correct amount of Anti-vibration tubes. Also, you will find the cable certificate/ certificates of authenticity.
Please note: The certificate of authenticity should be kept with the case as it is signed, dated and has the cable serial number.
A signal is affected by
Mobile phones, Wi-Fi and electromagnetic interference
Small conductor cross-sections
Low-quality conductors made from impure, oxidised or recycled copper
Poor cable insulation
Capacitance and inductance (cables acts like a battery and stores energy)
A signal is improved by
Multi-layer, highly dense shielding against external interference
Extra-thick conductor cross-sections for high data rates
Pure copper conductors for a homogeneous and unhindered signal flow
High-quality insulation against external factors such as moisture and oxidation
Unique cable structures that reduce undesired capacity and inductivity 
Technique
The techniques used, reduce vibration, reflections and external interference, making an impact on the sound heard at the loudspeakers. And, impressive to understand how these components were able to bring forth a cleaner and more defined sound. You may have a professional system, an extensive system or a small start-up system, which can always be improved.
AirGap isolation (AGI) is the technique when Air is used to insulate. And, achieved by isolating the cable from external interference. This process is similar to double glazing. Double glazing insulates the interior of a house to keep it warm. By Insulating the interior, the house isolates from external noise and vibration.
AirTube suspension (ATS) results from a dielectric gas, or insulating gas, such as Air, which is a dielectric material in a gaseous state. Its primary purpose is to prevent or rapidly quench electric discharges, dielectric gases.
Aluminium foil shielding  (AFS) Aluminium foil is 85% effective as a noise insulator. And, unwanted noise is picked up directly at the source. Aluminium foil absorbs sound, prevents further propagation.
Anti-static pads (ASP) The slow build-up of static charges is an insidious problem that undermines the performance of all audio and AV systems—flattening perspectives, dulling colours and inhibiting dynamics. We all know it's there, but we either ignore its impact. And, the solution was to fit Anti-static pads to the cables.
Teflon/PTFE Insulation (TVI) exploits the fact that PTFE has excellent dielectric properties, especially at high radio frequencies, making it suitable for use as an excellent insulator in connector assemblies and cables.
Thermaflex protection (TFP) Designed to eliminate micro-vibrations from the floor and surrounding components. Normally, fitted around power cables, loudspeaker cables and Interconnect cables. The Iso sleeves included at no extra cost.
Information
Gor more information on the range of handcrafted audiophile cables, please visit, customer testimonials or the review links below. All information is from real people and shows the positive results my audio cable provides and why called 'The Best 

audiophile cables online'. 
Third  party 
Hi Bill. Speaker cables arrived today, and I am astounded by the quality of the sound. I intended to put them in our secondary bedroom system comprised of a Cambridge audio sr20 receiver and Wharfedale Reva 1 speakers which have bi-wire posts.  The sound was excellent, but I couldn't place the speakers as close to the rear wall as when I used the thinner speaker cables, so my wife was concerned about running into the speakers at night. So I placed the speaker cables in my system composed of Harbeth p3esr speakers wired up with the latest version of morrow sp4 speaker cables which retail for around $400 US. As the Harbeth speakers have only a single set of posts, I had to tape off one positive and one negative banana from each channel with masking tape. Nevertheless, the sound was spectacular and superior to the tonal balance & soundstage of the Morrow cables right from the get-go.
I don't think there are any speaker cables on the market which offer better sound for the money than those offered by Perkune audiophile cables, and I am confident I made a wise purchase and thank you very much – Wayne.
FULL MONEY BACK guarantee plus 

3-5 day shipping by Courier

Perkune – Best Audiophile cables online!