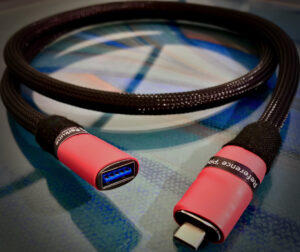 The Matrix USB/OTG is a great cable to be added to the digital range of cables. And USB/OTG defines two roles for devices: OTG A-device and OTG B-device. Also, specifying which side supplies power to the link and which initially is the host. And the OTG A-device is a power supplier. Also, an OTG B-device is a power consumer. And in the default link configuration, the A-device acts as a USB host. Also, the B-device acting as a USB peripheral. Also, the host and peripheral modes may be exchanged later by using the Host Negotiation Protocol (HNP)
The Matrix

USB/OTG
As technology changes, we change. And the Matrix USB/OTG is undoubtedly a big step up in performance. Also, speed is essential when it comes to USB devices. And the cable allows all components to perform to maximum capability. Also, as an example, a mobile phone may read from removable media as the host device. And only as a USB Mass Storage Device when connected to a host computer.
Performance 
Performance is the key, and the Matrix USB/OTG allows you to connect USB accessories effortlessly. And giving you superior performance. Also, the cable utilises the latest USB 3.
Data rate: SuperSpeed (5.0Gbps) additional
Signal: SS OUT
Differential Signal: 1 Pair SS IN
Signal: 1 Pair additional
Connector Signals: 4 wires
SuperSpeed: 2 wires
DP/DM for USB 2.0.
Three wires: Vbus/GNDx2. No Polling
Power control: Configuration at multiple link levels
And Power Supply to Bus: Max. 900 mA.
Cable specification
Cable size: 10.00 mm.
Type: Noiseless.
Conductors: OFC high purity
Gold plated connections
Insulation: Copper braided sheath.
Primary AirGap: PTFE x 3
Secondary AirGap: DERAY-PBFSP x 3
Protection: PVC/Vinyl
Outer sheath: CanuFlex PE-HB
Static: Antic static  x 2
Pricing
One meter cable 297 Euros
Two meter cable 347 Euros
Three meter cable 397 Euros
If you have enjoyed  'Matrix USB/OTG', please share with friends – thank you for your support

Perkune Best budget Audiophile Cables