The Bi-wired conversion cable. Bi-wiring is always best for an audio system. Unfortunately, many people own loudspeakers, which are quite capable of accepting Bi-wire cables. But, sadly the speakers are left with metal bridging plates installed. Consequently, the Bi-wired conversion cable introduced.
4 x 25 Cms banana/female banana connection 597 Euros
6 x 40 Cms banana/female banana connection 697 Euros
Solution
After extensive testing, a more realistic sound achieved, by forgetting the jumper cables. And, two lengths of low-loss loudspeaker cable replaced the jumper cables. The wires were the same length as the original loudspeaker cables. But it was found, shorter cable lengths used because the overall differences in performance found to be negligible.
Construction
The cables constructed in the same manner as the Ultimate series: 24K gold – plated collars (for cable split). And, double screwed connections, terminated with 24K gold-plated banana plugs. The reason for screwed connections is eliminating the need for soldering. And, keeping the integrity of the audio signal and allowing you to hear a more vibrant and fuller sound.
Aluminium foil sheathing
Noise and the removal of noise is one of the biggest problems we are facing in the audio industry. Aluminium foils provide better sound insulation and help to eliminate noise sources. The Aluminium foils ability to absorb sound allows unwanted noise to be picked up directly at the source and prevent its further propagation. Aluminium foil offers 85% useful as a noise insulator. Which, means, only 15% of the respective sound passes through and ideal for use with audio cables.
Connections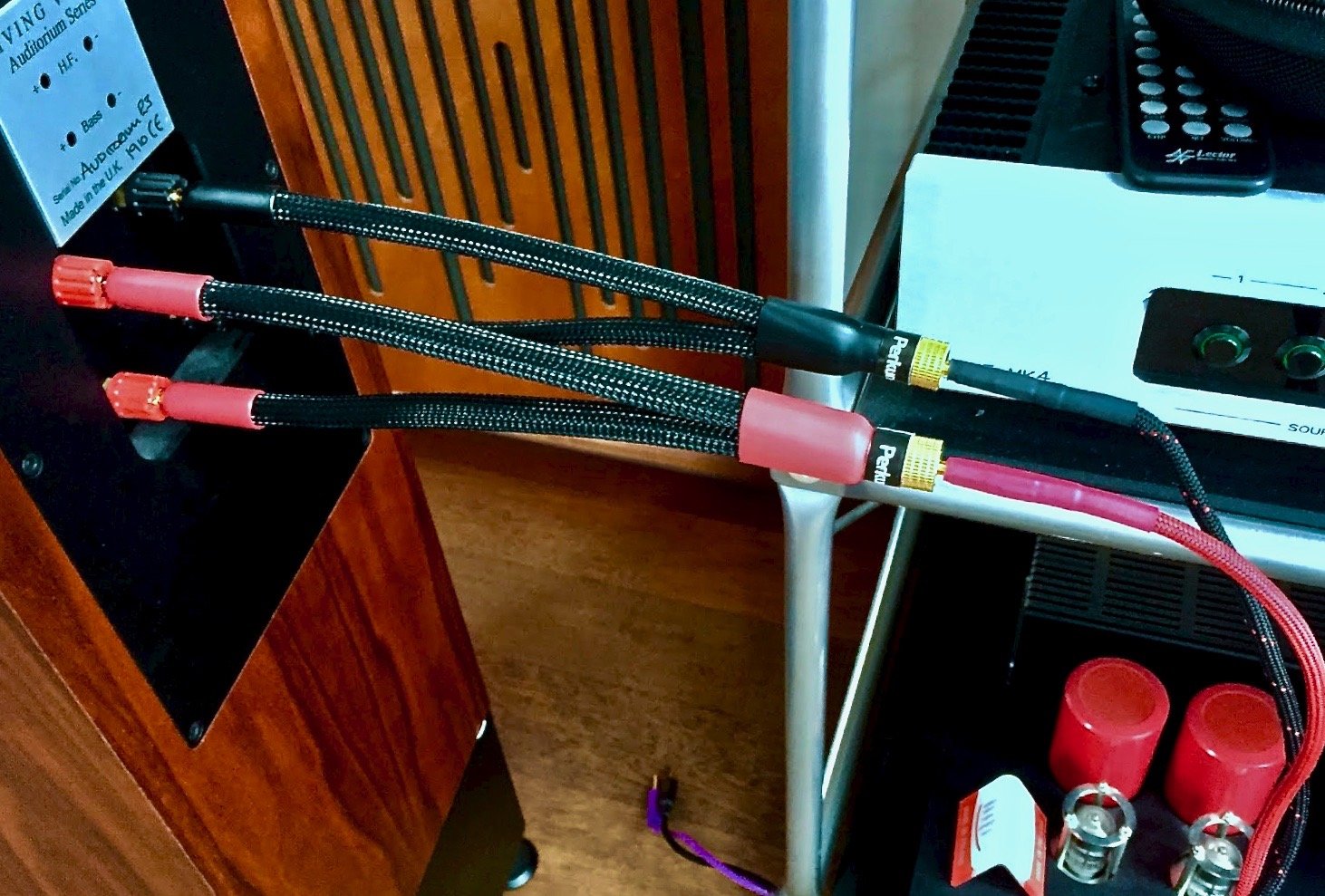 Bi-wire adapters have a feature which allows you to use a banana or spade connection. Hold the adaptor (where it says Perkune) in your left hand. And with your right hand hold the knurled cable end. Slowly turn the back anti-clockwise, and the knob unscrews, revealing space to insert a spade connection. Bi-wired conversion
The Bi-wired conversion cable provides a quick and easy modification. A two-wire loudspeaker cable becomes a Bi-wired cable. And, As a result, increased performance is easily heard. The Audiophile Bi-wire conversion cable can be made any length you require, but thirty-five-centimetre size works very well and becomes cost-effective.
If you enjoyed 'Bi-wired conversion', please share with friends – thank you.
Perkune – Best budget Audiophile Cables