The Cat 8 Reference 'PRO' cable uses the latest technology and operates at 25G/40. And it was manufactured and tested following ISO and TIA standards for a Cat 8 cable. Also, the Reference 'PRO' network cable is a Triple shielded S/FTP Ethernet Cable, And with gold plated connectors (RJ45 M/M) and hassle-free locking tabs. Also, is ideal for installation in areas that require high data transfer speeds exceeding 40Gbps.
The Cat 8 Reference 'PRO'
The CAT8 Reference 'PRO' operates up to 4 times faster than a Cat6e Ethernet cable. And transmits 40 Gbps data, voice or audio/video through high-speed 40G equipment. Also, including network switches, modems, routers, adapters, hubs and patch panels. And not only is the 40 Gbps data transfer speed four times that of a Cat6a cable, it supports bandwidth up to 2 GHz (2000 MHz). Also, for carrying information and streaming video with no lag. And as a result, gives you the perfect audio and video presentation.
Testing Certificate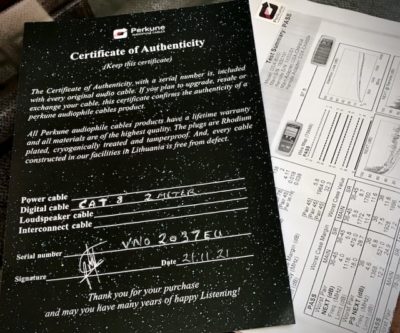 The CAT8 Reference 'PRO' Network cable, supplied with a testing certificate showing the performance. And performance increase is in another league! Also, an independent testing company conduct performance testing. And results included, as well as the certificate of authenticity having the cable identification number. Also, should be kept together in the folder provided in a safe place. And, Documentation is necessary if ever you decide to upgrade your cable. Also, If you choose to sell, the Documentation proves the cable is a genuine Cat8 Reference 'PRO' Network cable.
Specification
Cable: Category 8 STP/4TP
Diameter: 12.0 mm
Data lines: Four twisted-pairs
Shielding: Tinned copper with steel braid/foil
Bandwidth: 2000 MHz
Network speed: 40 Gbps
Connections type: RJ-45 Nickel-plated phosphor bronze
Conductors: OFC high purity ( 24 AWG/0,51 mm stranded)
Plugs: Metal/Gold plated pins on the surface contact area
Insulation: Tape compound/ PVC/PTFE/Foil
Secondary sheath (AirGap): DERAY-PBFSP x 2
Anti-static pads x 2
Pricing
2.0 Meter Ethernet 597 Euros 
3.0 Meter Ethernet 697 Euros 
If you have enjoyed trading 'Cat 8 Reference 'PRO' Network cable', please share it with friends and colleagues – thank you
 Perkune Best budget Audiophile Cables