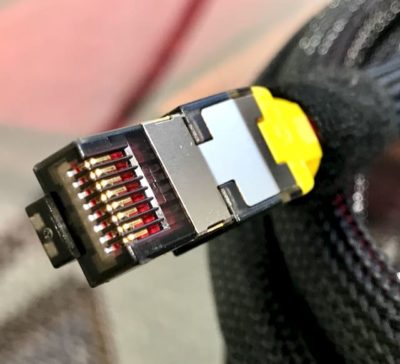 The Cat8 Reference 'PRO' cable uses the latest technology and operates at 25G/40. And it was manufactured and tested following ISO and TIA standards for a Cat 8 cable.
Also, the Reference 'PRO' network cable is a Tripple shielded S/FTP Ethernet Cable with gold plated connectors (RJ45 M/M) and hassle-free locking tabs. And is ideal for installation in areas that require high data transfer speeds exceeding 40Gbps.
Cat8 Etherent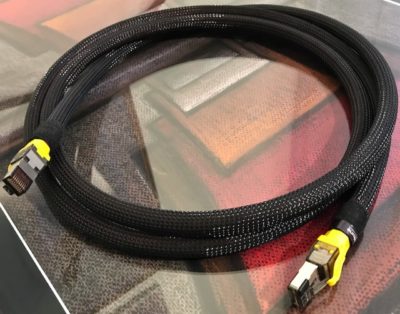 The CAT8 Reference 'PRO' operates up to 4 times faster than a Cat6e Ethernet cable. And transmits 40 Gbps data, voice or audio/video through high-speed 40G equipment. Including network switches, modems, routers, adapters, hubs and patch panels. But, not only is the 40 Gbps data transfer speed four times that of a Cat6a cable, it supports bandwidth up to 2 GHz (2000 MHz) for carrying information and streaming video with no lag. And, as a result, giving you the perfect audio and video presentation.
Cable Shielding
Shielding is of paramount importance for the protection of sensitive data. And, with this in mind, extensive shielding added to the Referencer PRO Cat8 cable. EMI (electromagnetic interference) and RFI (radio frequency interference) line noise can cause performance problems. But, the 24 AWG S/FTP (shielded foiled twisted pair) cable's foil shielding blocks disruptive line noise that can disturb your electronics—also preventing data loss and damage. In addition, the EMI/RFI filtering helps connected components perform better and last longer. And, near-end crosstalk (NEXT) levels are eliminated. As a result, you don't have to worry about keeping your cables separated in crowded pathways or spending valuable time on field testing.
Connectors
The shielded category 8 RJ45 Male Connectors add Extra Protection. And perfect for hassle-free operation. The connector's design protects the locking tabs from being damaged or broken off during installation. Integral strain relief provides extra flexibility and reduces stress, helping the cable move freely without cracking or breaking loose from the connector. a great advantage if changing equipment many times during an operation.
Performance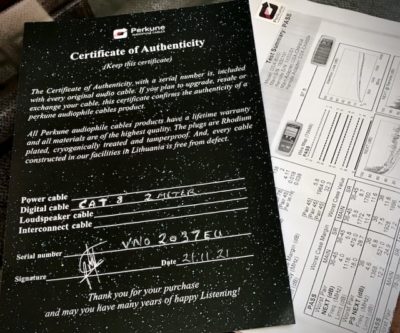 The CAT8 Reference 'PRO' Ethernet cable, supplied with a testing certificate showing the line's performance. And performance increase is in another league!
An independent testing company conduct performance testing, and results included, as well as the certificate of authenticity having the cable identification number. And should be kept together in the folder provided in a safe place. And, Documentation is necessary if ever you decide to upgrade your cable. Also, If you choose to sell, the Documentation proves the cable is a genuine Cat8 Reference 'PRO' cable.
Specification
Cable: Category 8 STP/4TP
Length: 2 meters
Cable diameter: 12.0 mm
Data lines: Four twisted-pairs
Shielding: Tinned copper with steel braid/foil
Bandwidth: 2000 MHz
Network speed: 40 Gbps
Connections type: RJ-45 Nickel-plated phosphor bronze
Conductors: OFC high purity ( 24 AWG/0,51 mm stranded)
Plugs: Metal/Gold plated pins on the surface contact area
Insulation: Tape compound/ PVC/PTFE/Foil
Secondary sheath (AirGap): DERAY-PBFSP x 2
Anti-static pads x 2
Connection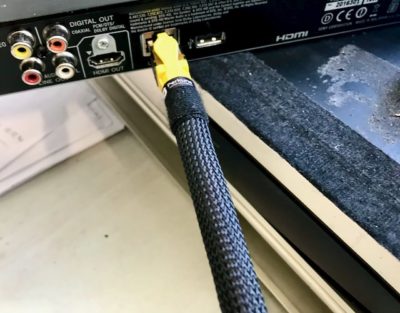 The cable in-spite of the solid construction is flexible and easy to use, making both connections secure. And the CAT8 Ethernet Reference 'PRO' fits quickly and easily into the network socket and nothing else is needed.
The Recommendation for the length of the cable is two meters because after testing this was found to give the best system performance. And performance is what this is all about!
Customer testimonies
Pricing
2.0 Meter Ethernet 997 Euros 
Network cables: Airdream / Cat6E / Cat7
If you have enjoyed trading 'Cat8 Reference PRO cable', please share it with friends and colleagues – thank you
 Perkune – Best budget Audiophile Cables