The Matrix S XLR Interconnect is a step from the other Matrix interconnect cables. And, offers superior dynamic performance in every area. Matching perfectly with the Matrix S loudspeaker cable and the Matrix S power cables. You will feel a sense of understanding as you work in close harmony with your system. And will feel more dynamics and detail than ever before, and the Matrix S XLR puts you directly in the driver's seat!

Matrix S XLR
The Matrix S XLR interconnect Cable, assembled using dual 'AirGap' isolation and three-level external Anti-static isolation material. I am using 'Neutrix' professional 24K gold plated connections, allowing for perfect signal transmission. Also added are PTFE and PVC compounds to inhibit micro-vibration and electrical interference. And, after construction, the cables pass through a three-day process designed to 'break' or burn in the Matrix S XLR interconnect.

Cable Static
The Matrix S XLR Interconnect Cable, fitted with full-length Anti-static material, reduces static charge and static buildup. Static is a killer when it comes to audio and the effect it has on audio performance. Anti-static liquid, when sprayed over the audio cable and equipment, will disperse any existing static charge. As well, inhibit future accumulation. And the effects easily heard, adding a dramatic increase in system performance.

Performance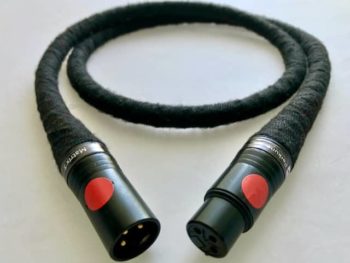 It is said, the Matrix S XLR interconnect Cable performance reaches new levels. And offering all the attributes and advantages of a balanced cable. A balanced cable is preferred as it allows more realism and life to enter the music. The sound stage appears all around you, allowing the 3D feeling. Image positioning is razor-sharp with total transparency. And, as a result, you are aware of more detail and micro details. Also a greater feeling of air and space in the music. And, as a result, bringing an even higher level of excitement to your listening experience!
The Matrix S XLR interconnect Cable is well designed and constructed. It is providing a fantastic listening experience. The Matrix XLR interconnect is a balanced cable in a class of its own. And must be heard to understand what this offers to your system.
Technical Data
The Cable size: 12.0 mm
Cable length: 1 – 2 Meters
Conductors: Twisted pairs, High-purity 99.99% OFC 
Shielding: Copper braid 
Resistance: 0.47 Ohm/meter
Capacitance: 55 pF/meter
Insulation: PVC/PTFE/ Felt Compound
Low-loss PE with PVC Jacket
Outer sheath:  PTFE
Antistatic static compound tripple layer
Recommendations 
Matrix Interconnect
The Matrix USB
Matrix Cat8
The Matrix Power cable
Matrix Loudspeaker Cable
Customer testimonials
Pricing
2 x 1.0 Meter – XLR/XLR connection 597 Euros
1.5 Meter – XLR/XLR connection 697 Euros
2 x 2.0 Meter – XLR/XLR connection 797 Euros
If you have enjoyed reading, 'The Matrix S XLR Interconnect cable', please share – thank you.
Perkune Best Audiophile Cables Online