The Matrix Black cable (introduced in May 2022) employs a great new design. And the Matrix line is designed to allow you to enjoy your music as intended to be heard. All audiophiles are passionate about great music and want to hear the music as recorded. And this is why I am continuing to improve my cables.
The Matrix Black power cable fits perfectly with every component in your audio system, Including Amplifier, Pre-amplifier, DAC, CD player, Media player, Streamers, Amplifier and Power-heads used for guitar.
Matrix Black 

Construction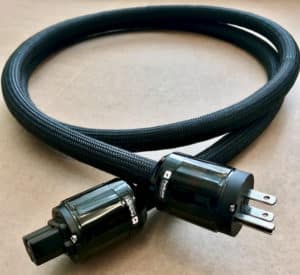 The Matrix Black power cable has five separate, insulated conductors sealed in a 15.0 mm 'Air-tube'. Also, by covering the 'Air-tube' with foil shielding, layers of PTFE, anti-static and fleece material, aid the conductor insulation. And as a result, the cable is extremely light and flexible. Also, very easy to lay and move around any components in your audio system.
The Matrix Black power cable, made in 1.5, 2 and 3-meter lengths, incorporates anti-vibration composite plugs. The plugs, fitted with Rhodium pins, ensure a perfect electrical connection every time a connection made. And the cable also fitted with a Ferrite ring helping with removal of electromagnetic interference (EMI)
The plugs comply with EU/US/UK standards and meet industrial tamper-proof specifications. Also, for ease of use (with the EU cable), the positive side of the plug reveals a red spot, which allows for quick and correct component connection. 
As a reminder, before listening, please ensure all of your Power cables are connected correctly. Which means, the 'live' or positive side of the power plug, goes to the positive connection of your power outlet.
The Rhodium plug, is considered the best within the audio industry. I personally have tried many different plugs with different material, but for my ears, a Plug having Rhodium plated pins gives the best audio performance than any other plug.
The reason for this, is because Rhodium is a very hard-wearing and long lasting material. And Rhodium does certainly does not rust or oxidise giving a perfect electrical connection every time your plug is used. 
AirGap shielding
One of the best-known insulators in the world is Air. And I have been able to increase the amount of Air within the cable by using a 15.0 mm 'Air-tube'.
Meaning the cable conductors are resting in a tube full of Air. And, as a result, the conductors are prevented from lying on the floor due to the AirGap produced. Any vibrations and external interference are removed, allowing a higher level of performance in the musical presentation.
Specification
Cable size: 18.5 mm
Weight 480 – 890 Grams
Length: 1.5, 2 and 3 Meters 
Conductors: 3 x 12 AWG + 2 x 16 AWG
High purity OFC 99.9999% 
Resistance: 0.0057 Ohm/meter
Capacitance: 0.960 Pf/meter
Inductance: 0.0270 uH/meter
Insulation: PTFE/ PVC /Fleece 
Additional elements: Ferrite ring
Shielding: Aluminum foil 100%
Voltage: 600 volts, 25 Amps
Temperature: -40 to +70 C
Secondary AirGap: DERAY-PBFSP/Plastic ribbed
Second level shielding: Thermaflex/PTFE
Testing the cable in a High-end audio system located in Kauno g 31, Vilnius, Lithuania, turned out to be one of the best experiences ever.
The speakers used were Pylon audio (Jasper 25 MKII loudspeakers). The amplifier by Musical Fidelity (M6S preamplifier and M6SPRX power amplifier). Also, the M6s PRE is effectively a preamp without limits. And can form the heart of any audio system. Also, it is know that Class A design can drive any power amplifier over any cable length. 

Results
I am a music producer and love testing audio cables, and happy to have tested the latest Matrix Black power cable with Lukas, who is the owner of the studio. The cable was an absolute pleasure to work with when connecting to the preamp. And was because of the flexibility and lightweight, and something g I had never experienced before, So hats off to this achievement! I am thinking, how is the cable made, and how good could it sound with such a light weight?
I have to say, I was shocked at the difference made in the sound heard at the speakers. The music portrayed fullness and ease whilst it filled the room. Also, I listened to a more transparent and, at the same time, more natural sound from the music. The Bass was the best Bass on the planet and gave such tonal intensity and depth, it really grabbed hold of me. Also there was a new sense of air and space in the music, and we realised we were up on the stage because the sound was all around us.
Another new experience for me and I will never forget how real everything became. Also, I was very excited about what I heard because I wanted to keep listening, and so three hours flew past. I Loved the cable, and certainly one of the best sounding power cables I have ever heard. And will have to find the technology used to enable a cable to produce this amazing sound from the music!
Conclusion
The Matrix Black power cable exhibits extremely vivid tone colour, superb dynamic response, live-like timbral complexity, and fantastic image presence. Also, the natural life-like level of resolution and excellent soundstage portrayal is breathtakingly musical. And with such a high level of intensity of emotional engagement makes for a great experience. Also, a black background allows increased dynamic range, imaging and focus. The Bass is very tight, with great depth, and the tonal qualities of different Basses easily heard. Yes, an exceptional sounding cable, beautiful bottom end, and excellent control over the music through the midrange. 
Author: Tommy Blinder, Lithuania. (Music producer)
Pricing
1.0 Meter EU/US 997 Euros
1.5 Meter EU/US 1147 Euros
2.0 Meter EU/US 1397 Euros
3.0 Meter EU/US 1597 Euros.
If you enjoyed reading 'The Matrix Black cable', please share with friends – thank you.
 Perkune  Best budget Audiophile Cables