The Matrix Guitar Amp/cabinet cable's made in 1.5 and three-meter lengths. And the perfect choice to give you the best sound possible from your guitar amplifier. Also, the Cable is flexible and easy to use and can be easily fed through small spaces. The Cable is robust, and you need not be afraid of damage if anything is dropped on the Cable. The Guitar Amp/cabinet cable is well protected in all areas and fitted with the latest NP2X-B professional Jack plugs. The cable size is only 10 mm and takes very little space and concealed very easily. But performance increase is what counts. And you will be surprised just how good your guitar sounds with this cable.
Amp/Cabinet plugs
The plugs used are supplied by Neutrik and are a 2 pole 1/4″ professional plug. And have gold contacts, with a black outer shell. Also, the heavy duty professional phone plug series improves on the design of the existing C series. By offering the thinnest available A-gauge 1/4″ plug with unique Neutrik chuck type strain relief on the market. Also, the slimline shell with a width of 14.5 mm meets the most recent requirements for highest density (15.88mm jack pitch). And the precise machined one-piece tip contact without rivets makes it unique. And avoids hook up in a socket or break off the tip.
Cable Performance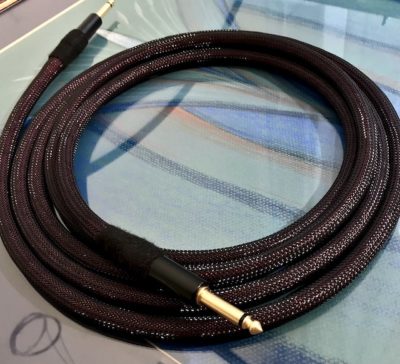 The performance of the Guitar/Amp cabinet cable is genuinely outstanding. And the sounds experienced have Knife-edge clarity and transparency. The tones from your guitar are separated, allowing you to control the sound you want in a much quicker time. The musical experience has reached entirely new energy, excitement, and passion. And you will listen to and feel sensations of pleasure, emotion, and shock as the cables reveal even more of your guitar performance.

Specifications
Cable sizes: 10 mm OD
Conductors: 2.97 mm2 
High purity OFC 99.9999%
Resistance: 0.0057 Ohm/meter
Capacitance: 0.960 Pf/meter
Inductance: 0.0270 uH/meter
Connectors: Neutrik PRO series
Connecters: Stand jack 24K gold plated
Construction: Double Symmetrical – Helix
Low-loss PTFE and PVC Insulation 
Additional support elements  PE 
Anti-static pads: Two per cable
Pricing
One meter 'Matrix Guitar Amp/cabinet cable' 397 Euros
Two meter 'Matrix Guitar Amp/cabinet cable' 497 Euros
Three meter 'Matrix Guitar Amp/cabinet cable' 597 Euros
Cables tested
Customer testimonials
If you have enjoyed this 'Matrix Guitar Amp/cabinet cable', article. please share with friends and colleagues – thank you.
Perkune – Best budget Audiophile Cables