The Matrix black amplifier cable (introduced in Sept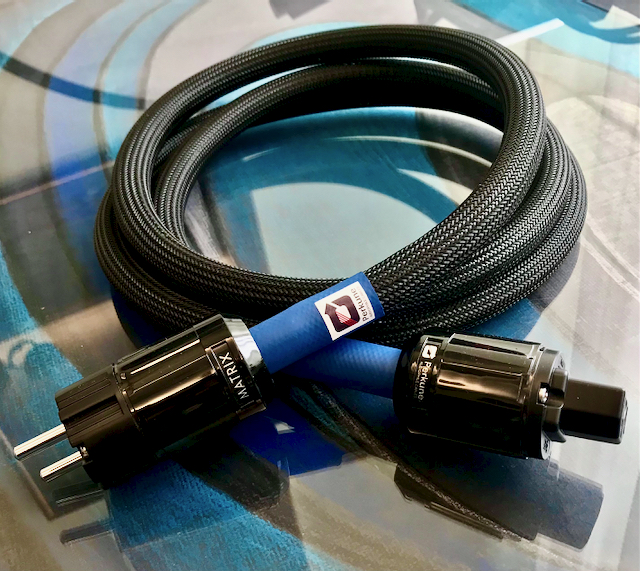 2022) employs a great design. And allows you to enjoy your music as intended. Also, audiophiles are passionate about music and want to listen to music as it were live. The Matrix black amplifier cable is perfect for every component, but ideally suited for your power amplifier. And it is important to understand an abundance of power an essential component when it come to audio. And the avaiable power allows your amplifier to operate at maximum efficiency, giving maximum performance. Which is why I created the Matrix black amplifier cable, a step nearer perfection!

Matrix c

onstruction
The Matrix, black amplifier cable, has seven separate conductors. Four of which are covered in a black PolyCast dielectric, and are 26 strand x 0.25 mm OFC 'tinned' copper. Also a 14 AWG (solid copper) conductor included for earthing offerers a real and positive earth. The conductors work in a 15.0 mm 'Air-tube', covered with foil shielding and layers of PTFE. Also anti-static and fleece material added to the conductor insulation inhibit external interference. And as a result, the cable is extremely light, flexible, and easy to move around any component.
Also, the Matrix black amplifier cable (fitted with the latest 'Snug-fit' anti-vibration plugs) has Rhodium-plated pins for perfect electrical contact. And the Matrix amplifier cable plugs, comply with EU/US standards meeting industrial tamper-proof specifications. Also, for ease of use, the positive side of the plug reveals a red spot, which aids in quick and correct component connection. Always check for cable polarity when installing the power cable in your system because it is essential that all cables must be in phase to achieve correct performance.
Rhodium plugs
A Rhodium plated plug pin is considered by many
audiophiles, the best solution within the audio industry. I have tried many different plugs with different materials with different prices. And for my ears, a plug having Rhodium plated pins gives the best audio performance than any other plug used in a high-end amplifier, and additional components. Also, Rhodium is a hard-wearing, long-lasting material that does not rust or oxidise. And as a result, it gives a perfect electrical connection every time. Also, the plugs have an upper body and a lower body. And if the customer is from the US or Canada the bottom plug body is changed to the correct pin configuration. However if the customer is from the UK and different plug used.
AirGap shielding
One of the best-known insulators in the world is Air. And I have been able to increase the amount of Air inside the Matrix black amplifier cable by using a 15.0 mm 'Air-tube'. The 'Air-tube' is sealed after the conductors added. Which, means, the conductors are resting in a tube filled with Air. And, as a result, the conductors are prevented from lying on the floor, and immune from vibrations and external interference. This is a new way of constructing a power cable. And the result is more than you could imagine. The Matrix black, gives and increased level of performance in the musical presentation. And, allows more than heard before. This cable is the result of over a  year working with different components and different construction techniques. And aimed at developing the best power cable available for the audiophile with lowest cost.
Specification
Cable size: 18.0 mm
Weight 480 – 890 Grams
Length: 1.5, 2 and 3 Meters 
Conductors: 4 x 16 AWG + 2 x 12 AWG
Earthing: 1 x 14 AWG (solid copper)
High purity OFC 99.9999% 
Additional element: Ferrite ring
Resistance: 0.0012 Ohms/meter
Capacitance: 80 pF/meter
Inductance: 0.0270 uH/meter
Insulation: PTFE/ PVC /Fleece 
Shielding: Aluminum foil 100%
Voltage: 600 volts, 35 Amps
Temperature: -40 to +70 C
Secondary AirGap: Plastic ribbed tubing
Second level shielding: Thermaflex/PTFE
Testing
When a  cable has been constructed and burned in, the
cable's taken to the testing studio in Vilnius Lithuania. And this is where we are able to hear just how good the cable is. Also it will show any weakness or something not up to spec on the finished cable. The studio is owned by Lukas Svedas and located in Kauno g 31, Vilnius, Lithuania. The speakers used Pylon audio (Jasper 25 MKII loudspeakers). The amplifier by Musical Fidelity (M6S preamplifier and M6SPRX power amplifier). Also, the M6s PRE is effectively a preamp without limits. And can form the heart of any audio system. Also, it is know that Class A design can drive any power amplifier over any cable length.
Flexibility
The cable is an absolute pleasure to work with when connecting to the preamp. And because of the flexibility and lightweight, was something Lukas never experienced before. So hats off to this achievement! I have to say, I was amazed at the difference made to the sound heard at the speakers. The music portrayed fullness and ease whilst it filled the room. Also, I listened to a more transparent and, at the same time, more natural sound from the music. The Bass was the best Bass on the planet and gave such tonal intensity and depth, it really grabbed hold of me. Also there was a new sense of air and space in the music, and we realised we were up on the stage because the sound was all around us. Another new experience for me and I will never forget how real everything became. Also, I was very excited about what I heard because I wanted to keep listening, and so three hours flew past. I Loved the cable, and certainly one of the best sounding power cables I have ever heard. 
Conclusion
The Matrix black amplifier power cable exhibits extremely vivid tone colour, superb dynamic response, live-like timbral complexity, and fantastic image presence. Also, the natural life-like level of resolution and excellent soundstage portrayal is breathtakingly musical. And with such a high level of intensity of emotional engagement makes for a great experience. Also, a black background allows increased dynamic range, imaging and focus. The Bass is very tight, with great depth, and the tonal qualities of different Basses easily heard. Yes, an exceptional sounding cable, beautiful bottom end, and excellent control over the music through the midrange. 
Customer testimony
I was utterly shocked when I heard the Matrix black amplifier cable at my friend's listening room. And being an audiophile and interested in all forms of music for the past twenty-five years, I am impressed to say the least. Over the years, I worked with three Audio companies and know how to pick the good from the bad. Also, with power cables, not every power cable is suitable for every component, which can cause many people to make a mistake when buying a power cable. 
The Matrix black amplifier cable is a 'step forward' in design thinking. And provides an excellent floor for musical generation. Also reviling a vast sound stage and provides your music with a rich and warm texture. Allowing detail and micro-details with a transparency bringing out goosebumps. I am more than impressed with the Matrix black amplifier cable, and will certainly add one to my system because this cables allows me to hear more in my mix. And so is a perfect tool for my creations – Tom Blinder (Music producer) Vilnius, Lithuania
Additional cable info – 
Matrix amplifier, Matrix Black, Matrix Source, Matrix XLR, Matrix digital, Matrix loudspeaker, Matrix Results
Pricing
1.5 Meter EU/US 1797 Euros
2.0 Meter EU/US 1997 Euros
3.0 Meter EU/US 2297 Euros
If you have enjoyed reading the 'Matrix black amplifier cable', please share with friends and colleagues – thank you
Perkune  Best budget Audiophile Cable