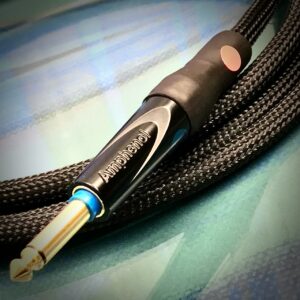 The Matrix 3:1 guitar cable introduced January 2023. And a great way to use this unique guitar cable because it does everything. The cable is lightweight and 8.00 in diameter, which offers greater flexibility. You can us this as a regular guitar cable (from guitar to amplifier or pedal). Also, as a powerhead to cabinet cable. And from pedal board to amplifier. Three uses for one cable and you can select length required.
Matrix 3:1 guitar cable
The connectors used, supplied by Amphenol. And are the Latest 'T ' series 'Switch plug', Gold-plated. Also, after construction the connectors filled with Epoxy sealant. And therefore cannot be damaged whilst playing or moving during performance. Also you will be instantly aware of your guitar's dynamic tones, (which may be a bit of a shock). And your guitar has life, energy and gives a feeling of superiority.  
Stylised shell design with Ergonomic grip.

Straight or Right Angle

Robust die-cast shell in Satin nickel or Black finish

Keyed shell

Optional heavy duty metal back-shell / boot

Great 

solder-ability

Increased solder area on ground contact

"Jaws" Cable Clamp

Precision machined contacts
Specification
Cable diameters: 8.0 mm 
Type: Noiseless/Coaxial 
Conductor: Solid core OFC (17 AWG)
Sheathing: Textile Jacket
Insulation: Teflon layer
Resistance: 0.060 Ohms/meter
Capacitance: 55 pF/meter
Insulation: Compact Braided giving 100% coverage
Primary AirGap: DERAY-PBFSP
Outer sheath: Tape or Canuflux
Pricing
One meter 'Matrix 3:1 guitar cable' 397 Euros
Two meter 'Matrix 3:1 guitar cable' 497 Euros
Three meter 'Matrix 3:1 guitar cable' 597 Euros
Four meter 'Matrix 3:1 guitar cable' 697 Euros
Five meter 'Matrix 3:1 guitar cable' 797 Euros
Testimonial
I am a guitarist and know the importance of hearing what you are playing. And just blown away how flexible this cable is.  I tested on guitar and pedals, and as to how this cable performs. I Use different guitars from a three pick up guitar incorporating a five position selector switch. And never heard the different sounding tones that I can now hear. Also with my 1961 Stratocaster, and I am hearing just how good it really sounds! And the addition of the Guitar cable brings a whole new meaning to performance. As, with everything in this life, you must try for yourself to see how it feels. And, you will also hear the difference. Steve, London, UK
If you have enjoyed reading the 'Matrix 3:1 guitar cable', please share with friends and colleagues thank you
Perkune audiophile cables 2023 I Professional audio