Matrix power cable review – unparalleled Mr Paul Goodwin, a British hi-fi cable constructor stationed in Vilnius, Lithuania, has recently made himself known again. (And my first contact with him took place over five years ago). This time, at the beginning of January this year, he informed me by letter that he had just released a new, budget line of power cables. 
Matrix power 
The cable sent by DPD courier service from Vilnius, and the next day it was at my home in Gdynia. Oh, the modern power of the post office and the speed of courier shipments. This time I received a power cord with an intriguing systematic-genre name: Perkune Audiophile Cables "Matrix Power Cable". According to Paul, a power cable provides 95% of the "reference efficiency" but at a significant price reduction. And it is primarily aimed at people who are starting their audio journey. 
The "Matrix Power Cable" is equipped with industrial rhodium-plated plugs additionally wrapped with two antistatic ATS washers. The diameter is 18 mm, the wire is multi-core, ultra-high purity 99.9999% OFC, and the wire size is 3 x 3.0 mm2 (10 AWG). The cable made by hand by Paul Goodwin – is a single product, not a factory product. Importantly, along with the line, the buyer receives an impact-resistant aluminium transport case and an antistatic liquid for the connectors.
Specifications

review
Cable size: 16.0 mm – Length: 1 – 3 Meters – Multi-stranded, ultra-high purity 99.9999% OFC Conductors size: 3 x 3.0 mm2 (10 AWG) – HDPE dialectics for each conductor x 3 – Protective conductor – Pure copper (class 1) – 2-level shielding: pure braided copper – Cable weight: 1.25 kg – Voltage: 300 – 500 Volts Test voltage: 2,000 Volts Temperature: -40 to +70 C Resistance: 0.005 Ohms / meter. Secondary shield: PTFE / PVC / Tape compound Outer sheath: CanuFlex.
The Sound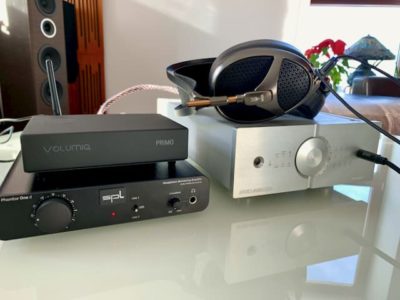 To start the Matrix power cable review, I connected the "Matrix" cable in several main configurations: headphone amplifier and DAC Audio Analogue Adac (SPL Phonitor One d), streamer Rose RS150 and integrated amplifiers Creek Voyage i20, PMC cor and TEAC AI-503. Before I started any tests, I first connected the title cable to the PMC cor amplifier, which I started (i.e., connected to the power supply), but I did not use it; it worked "dry". It was only after 5-6 days of "warming up" the Perkune power supply that I started listening to it intensively.
I know that some may be surprised or even amused, but with practice, I know that many cables (and not a power cable at all) often change their sound characteristics after several or several dozen days of use. Why is it like that? – I have no idea, but I have experienced this phenomenon many times empirically. Sometimes it felt more, sometimes less – but it has always been. I must honestly admit that I like cables constructed by Paul Goodwin.
This amateur electronics (because his profession is an oil engineer) has a keen ear for "tuning" cables and a sensitive nose for searching for various conductors for constructing his conductors. Sometimes even very exotic. He also does some "magic" He demagnetizes them and wraps the plugs with antistatic bands. Using the proprietary AirGap air insulation – all to minimize static interference and adverse external influences. After construction, the cables are subjected to an antistatic "firing" procedure and precisely cleaned of artefacts – using three unique frequency "sweeping" programs. You may wonder why Paul is doing all this? – these treatments are effective; they have a positive effect on the sound of the cables.
Differences
The influence of most power cables on the sound is quite subtle and hard to feel – especially at the very beginning of the listening process. Nevertheless, these changes – after longer listening and a bit of goodwill – can be noticed and observed. Visible by the hearing organ and assimilated by the brain. However, you have to listen carefully to them, experiment, wait for them patiently. It's not that after replacing one cable with another, you immediately "hear more bass here, and better extension of space".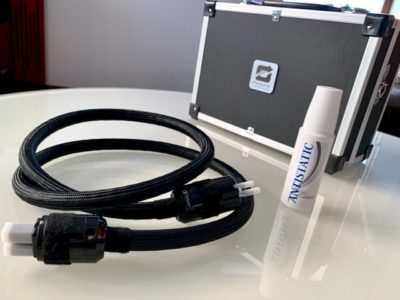 The "Matrix power cable review" brings, above all, great integrity of the sound, its harmonious arrangement and reduction of hyperactivity while at the same time enhancing the visibility of details and sharpening the clarity of the entire presentation. It benefits from the sonority, selectivity and richness of the sound—physical structure and substance of apparent phenomena. The sound is like "more", and it is more easily perceived, tonally more differentiated – or in other words – deeper and clearer defined. 
Impact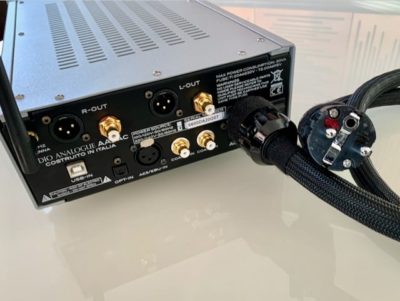 The Perkune Audiophile Cables power cable has an undeniable impact on the size of the stage – it certainly widens it a bit, facilitates the imaging and localization of virtual sources – it sharpens them (in the sense of focusing, not sharpening). The music becomes transparent, with a more straightforward presentation, with a more precise carving of details and nuances of the recordings. And not only due to the "spatialization" but also due to the darkening of the background. The displayed tones are more visible and more apparent because the entire message is more contrasting. Easier to distinguish in detail and single tonal highlight. Therefore, the whole expression of the sound gains – its tangibility and suggestibility.
Notably, the Perkune Audiophile Cables "Matrix Power Cable" power cord is very versatile. As I wrote before, for over a month of listening, I applied it to various hi-fi devices (including integrated amplifier, DAC / headphone amplifier, streaming player). It has proven itself one hundred per cent in all – to its full potential and in perfect synergy. And enabled systematic transparency and detail of the sound. Also, revealing the efficiency and productivity. And you can even write that in what he does and how beneficial it is for the message. He is undoubtedly referential. However, it is not a high-end reference but "universal".
Conclusion
The Perkune, "Matrix Power Cable", is an original product of small manufacture located in the heart of Lithuania, in Vilnius. It is a project thought out from the beginning to the end and then constructed and hand-made by the "hi-fi audio mage" – Mr Paul Goodwin. And the result is a "craft" cable with excellent sonic qualities that positively affect the audio-stereo system. The new "Matrix Power Cable" is universal, synergistic, and be successfully applied in many different ways (amplifier, player, DAC, turntable, etc.). And, I recommend Perkune Audiophile Cables "Matrix Power Cable"! Price in Europe – 397 € for a 1.5-meter cable (i.e. about 1,850 PLN).

Listening system
Amplifiers: YBA Genesis PRE5A / YBA Genesis A6, Creek Voyage i20, TEAC AI-503, PMC cor, Haiku-Audio Origami 6550 SE and Pathos Classic One MKIII. Floorstanding loudspeakers: Living Voice Auditorium R3 and AudioSolutions Overture O305F. Stand mount speakers: Martin Logan Motion 35XTi, Spendor Classic 4/5 and Guru Audio Junior. CD player: Musical Fidelity A1 CD-PRO. Network players: Auralic Aries Mini, Audiolab 6000N Play, Rose RS150, Volumio Primo, Rose RS201E and CocktailAudio N25.
DAC-i: NuPrime DAC-10H, Audio Analogue Adac, S.M.S.L. M400, SPL Phonitor, Lampizator Amber 3 DAC and Encore mDSD. Computers: Dell Latitude 7390 and MacBook Apple Pro. Smartphone: iPhone XR and iPad Air 2. Turntable: Nottingham Analogue Horizon. Cartridge: Ortofon 2M Black. Phono preamplifiers: Musical Fidelity MX-VYNL and Musical Fidelity M6x Vinyl. Radios: Rotel RT-1080, Sansui TU-5900 and Tivoli Model One. Cassette deck: Nakamichi Cassette Deck 1. Minisystem: Pioneer P1-K. Bluetooth wireless speaker: Mooer Silvereye 10. Bluetooth / DAC receiver: iFi Audio ZEN Blue + iFi Audio iPower X power supply.
Headphones: Fostex TH610, Meze 99 Neo, Meze Empyrean and MTX Audio iX3BT. Power strips: Solid Core Audio Power Supply and ZiKE Labs Powerbox. Accessories: Rogoz-Audio 3SG40 anti-vibration base, Rogoz-Audio 4QB80 speaker stands, Solid Tech Radius Stand speaker stands, Rogoz-Audio BW40 anti-vibration feet, Solid-Tech Radius Duo 3 audio cabinet, Harmonix TU-800EXi turntable mat and a clamp for the Clearaudio Clever Clamp turntable. RCA Seven rods plugs. Seven rods Speaker Jumper and bi-wire Perkune Audiophile Cables.
Polish review
Author: Ludwig Hegel (Stereo I Kolorowo Underground) Poland
Date: April 2nd 2021
If you enjoyed the 'Matrix power cable review', please share with friends – thank you.
Perkune – Best budget Audiophile Cables