The Reference subwoofer cable, for audiophiles, interested in the best bass sound for home cinema application. A subwoofer (or sub) is a loudspeaker designed to reproduce low-pitched audio frequencies known as bass/sub-bass. And, lower in frequency than those which can be (optimally) generated by a woofer. The typical frequency range for a subwoofer is about 20–200 Hz for consumer products. And, below 100 Hz for professional live sound. Also, below 80 Hz in THX-certified systems. Subwoofers, are never used alone and intended to augment the low-frequency range of loudspeakers covering higher frequency bands.

Subwoofer
The first home audio subwoofers were developed in the 1960s to add bass response to home stereo systems. And, subwoofers came into greater popular consciousness in the 1970s with the introduction of Sensurround in movies. In the 1990s, recorded DVDs with 'surround sound' processes included a low-frequency effects (LFE) channel. And, In the 2000s, subwoofers became almost universal in sound reinforcement systems in nightclubs and concert venues.
Connections
The Reference subwoofer cable is a great sounding cable. And, has two conductors plus shield: the positive OFC copper and negative silver-plated OFC. Also, the protection shield is braided and made from silver-plated OFC. Anti-vibration XLR connections with 24k gold plated male/female pins also used. And the Reference subwoofer cable supplied with XLR or RCA connections or a combination.
Construction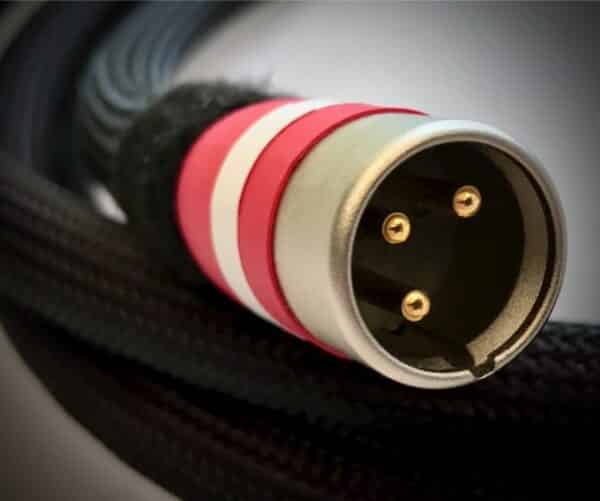 The construction technology minimises static and external interference. And, allows the cable to reveal the minutest detail and information. Balanced audio connections themselves use several techniques to reduce noise. A balanced XLR is known for having superior signal transmission, and best for bass application. And, use of a balanced connecter is perfect to avoid signal loss. Also, the Reference subwoofer cable can be supplied up to twenty meters.
Performance
The Reference subwoofer cable offers top-level performance exceeding all expectations. The listener will be aware of perfect bass positioning with a sense of realism. The sound reaches new depth and exhibits sensitivity and passion. And, has a feeling that makes you want to hide and protect yourself. The centre of impact explosions and the sense of realism that you are there is a new experience. And, all added by using the Reference subwoofer cable!
Specifications
Cable: 12.00 mm.
Type: Noiseless. 
Conductors: 3 x 0.35 mm, OFC 99.9% (containing 9 x 0.15 mm strands).
Resistance: 0.060 Ohms/m. 
Capacitance: 55, pF/m.
Insulation: Compact PE plus tinned copper braided sheath.
First line: Single 'AirTube.' 
Primary AirGap: DERAY-PBFSP. 
Second line: 'Aluminum' foil sheathing.
Secondary AirGap: DERAY-PBFSP.
PTFE/PVC/Felt binding.
Outer sheath: CanuFlex PE-HB.
Anti-Static pads x 2
Pricing
3.0 Meter – XLR/RCA connection 497 Euros
5.0 Meter – XLR/RCA connection 597 Euros
8.0 Meter – XLR/RCA connection 797 Euros
If you have enjoyed reading, 'Reference subwoofer cable', please share – thank you.
Perkune Best budget Audiophile Cables