Introduced in July 2022, the Matrix Black XLR interconnect cable. The cable, is Filling the slot between the Matrix S and Reference series. And delivers a precise, clean and neutral feel. The Matrix Black is ideal for  lovers of good sound
A balanced cable, in the Hi-Fi world, is used to improve the analogue RCA signal. And has a positive effect when using a high-level cable. Also, you are able to transmit the balanced signal between your equipment with efficiency. And allows you to enjoy the full potential from your audio system.

Matrix Black XLR
DESIGN: The Matrix Black XLR represents the nest step towards perfect signal transmission. And technological solutions are derived  from the Reference series. And is a guarantee of exclusive and durable support for your equipment.
CONDUCTORS: High purity OFC 99.9999% having Resistance: 0.0057 Ohm/meter. Also the semi-balanced geometry with insulation eliminates conductor stress.
CONNECTORS: Silver-plated Neutrik XX suitably, provide a firm, high-quality contact.
SHIELDING: Balanced geometry supported by double shielding. And having Aluminium/Mylar foil.
INSTALLATION: Thanks to the unique raw materials, the Matrix Black XLR has above-average flexibility. And allows easy use in any situation
Matrix Connections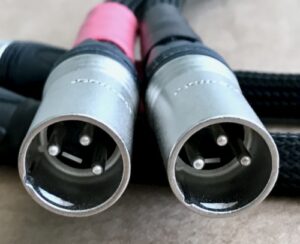 The Matrix Black XLR interconnect cable, fitted with Neutrik's Professional Silver XX connectors. 
Three poles Male/Female cable connector with Nickel housing and silver contacts. And are the next generation of worldwide standard of XLR cable connectors. Offering several new features making it more reliable.
Unique cage design for low contact resistance and high signal integrity

Male/Female contacts incorporates a solder barrier. 

Connectors with an improved solid metal latch. Which is larger and easier to handle

Additional ground spring contacts for better shell ground continuity

Improved chuck-type strain relief. Providing higher pull-out force

Boot with polyurethane gland gives high protection, avoiding bending stresses

Sleek, lightweight and ergonomic design 

Rugged zinc diecast shell, long-lasting and dependable

The internal body thread is well protected against any damage
Performance
The performance of the Matrix Black XLR interconnect cable is staggering. And you hear greater detail and expression from within the music. Also, there is greater transparency, and energy. And more than you have heard from any cable at this price point.
The Matrix Black XLR interconnect cable allows more of the music and offers greater depth. Also, Vocals have an authority which sets them apart. And the Matrix Black XLR interconnect must be heard to be appreciated. Because this cable, is so good, you may decide to keep forever!

Specification
The Cable size: 9.0 mm OD               
Cable length: 1, 1.5 or 2 Meter
Conductors: 3 x 18 AWG
Connections: Neutrik XX series (Silver-plated)
High purity OFC 99.9999% 
Resistance: 0.0057 Ohm/meter
Capacitance: 0.960 Pf/meter
Inductance: 0.0270 uH/meter
Insulation: PTFE/ PVC /Fleece 
Shielding: Aluminum foil 100%
Secondary AirGap: DERAY-PBFSP
Second level shielding: Thermaflex/PTFE
Pricing
2 x 1.0 Meter – XLR/XLR connection 1397 Euros
1.5 Meter – XLR/XLR connection 1597 Euros
2 x 2.0 Meter – XLR/XLR connection 1797 Euros
Every production stage is carried out entirely by hand. And the meticulous checks on every item consists of precise human control
If you have enjoyed reading, 'Matrix Black XLR Interconnect cable', please share – thank you.
Perkune – Best budget Audiophile Cables