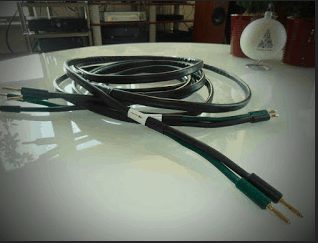 Speaker cable that has a review.  And Six weeks ago I published a report on a Power cord and a pair of Interconnect cables made by Perkune audiophile cables in Vilnius, Lithuania. I must admit these cables had given me an excellent impression and were a great addition to the hi-fi system. And I am now using the loudspeaker cable and power cord. Because they sound great!Loudspeaker cable review
Speaker cable 
I was more than happy to review the Perkune three-meter loudspeaker cable that Mr Paul Goodwin (living and working in Lithuania) proposed to send. Paul gave the consignment to the post office in Vilnius, and a few days later, I received at the post office in Gdynia.
Construction
This Perkune speaker cable is the lowest in the Audiophile Range. The cables fitted with gold-plated connectors, either banana or spade. And, are excellent, well made, flexible and not too heavy. They look outstanding and certainly are a professional product and not a DIY product. Mr Goodwin ensures me that contrary to other cables, his cables will allow you to hear the full sound. And, is because they receive a burn-in and antistatic treatment.
Testing
I connected the Perkune audiophile speaker cables between the AudioSolutions O203F Overture speakers, the sister gowany amplifier, and the Audia Flight FL3S amplifier. And, this was so I could change from the Hegel H160 and Dayens Ecstasy III.
I fitted the tube amplifier Fizz audio Silver Luna and the transistor Pioneer A-70DA. The speakers remained the same for all the testing and were Lithuanian Overture O203F.
The Perkune Audiophile speaker cable is simply the optimal signal transmission studio-quality cables. They are showing 100% truth and nothing but the truth. You can read in various reviews that sometimes cables add the lowest bass or lite up the treble, but this does not affect the very essence of the sound. Loudspeaker cable review
Thanks to the transparency of the Perkune loudspeaker cables, they are capable of showing the complete sound coming from the source. And, is the real sound, because the amplifier has produced it. Not coloured, not flavoured, not modulated but immaculate and neutral, which is a huge advantage from these Lithuanian cables.
Ratings
A few words about grades, because I certainly want you to know which amplifier works the best with these cables. Perkune audiophile cables prefer from a distribution amplifier that is highly analytical and fast. In this regard, the tube amplifiers ( Fezz audio, Silver Luna, and CAYIN CS-55A) did not have the same qualities. Loudspeaker cable review
I think this speaker cable deserves a solid-state amplifier in the vicinity of 8,000 – 10,000 PLN or even higher. The Japanese Pioneer A-70DA amplifier, which is ultra-fast and very neutral, in conjunction with Perkune audiophile cables gave a fantastic sound that showed acceleration, magnification, and momentum. With the combination of an organic, colourful amplifier like the Audia Flight FL Three S and the Dayens Ecstasy III, the result was a highlighted colour, underline flash treble and a much bigger sound stage. I do not wish to write that before the cables added, it was wrong and not impossible to hear because it was not. Loudspeaker cable review
However, with the addition of the Perkune cables revealed the best characteristics of these amplifiers, their potential, to energise and lift restrictions. Yes, there were significant changes and audible, moving in the right direction of the sound. The amplifier Hegel H160 is a very high calibre amplifier with excellent dynamics and a beautifully rich, full sound. All tones are complete, with a high mass density and weight to the music. However, it is a highly proportional amplifier with no tonal overload but has balance.
After the addition of the Lithuanian cables, the sound volume grew and became more powerful. However, saturation gained in weight, and the importance of the sound was more apparent in structure and composition. You can write that the Speaker Cables are spectacularly neutral and objective squared. They showed the best qualities of the amplifier Hegel H160.
Test equipment
Amplifiers – Hegel H160, Audia Flight FL Three, Fez audio Silver Luna, CAYIN CS-55 A, Dayens Ecstasy III, Audio Analogue Fortissimo and Taga Harmony HTA-700B
Speakers: Triangle Esprit Antal EZ, Vienna Acoustics Mozart Grand, Polk Audio RTi A7, AudioSolutions Overture O203F, Zing Zero Bookshelf, Zing Client Nano Sub Guru Audio Junior, Taga Harmony Platinum One and Studio 16 Hertz. Canto Three SE. Digital sources: CD Musical Fidelity A1 CD PRO CD / Audio Analogue Fortissimo.
DAC: Audio Analogue Vivace and NuForce Air DAC.
Computers: Apple MacBook Pro and Toshiba Satellite S75.
Turntables: Clearaudio Emotion insert Goldring Legacy, and Pioneer PLX-1000 insert Goldring 1042 and Ortofon 2M Red. Phono preamps: IFI Phono, Primare R32, Sonus Oliva and Ri-Audio PH-1.
Tuners: Rotel RT-1080, Yamaha T-550 and Sansui TU-5900
Cassette: Cassette Deck Nakamichi 1. Mini system Pioneer P1-K. Headphones: RHA MA750, Final Audio Design Adagio V, Final Audio Design Pandora Hope VI, Oppo PM-3 and AKG K545.
Headphone Amplifiers: CAYIN C6, C6 CAYIN DAC, Divaldi AMP-01 and Taga Harmony HTA-700B.
Cables: Laboratory Audiomica series Red and Gray, the DC-Components and Harmonix CI-230 Mark II. KBL Sound power cord fluid. Power cord and RCA interconnects Perkune. Speaker cables Speaker Cardas 101, Melodika Brown Sugar BSC 2450 and Taga Harmony Platinum-18.
Accessories: a base under the turntable is Rogoz Audio 3SG40, the bottom of the speaker Rogoz Audio 4QB80, interest vibration Rogoz Audio bw40, cabinet audio Solid-Tech Radius Duo 3 and mat pickups Harmonix TU -800EXi. Plugs RCA jacks Seven rods.
Conclusion
My summary will be brief. The Perkune audiophile speaker cables are just Phenomenal. They allow natural and clean musical sound. Also reveal the full energy and dynamics. And are as transparent as crystal. They offer superior sound, and I recommend 100%.
Perkune audiophile speaker cables three-meter  – price EU 295 (including delivery).
Author of review: Ludwig Hegel (Poland) Loudspeaker cable review
FYI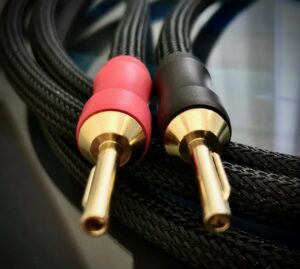 The information above, was one of my first loudspeaker cable. And now a picture of my latest loudspeaker cable, which is the result of new techonolgy. Many things have happened in the audio world and now I am able to produce a loudspeaker cable that performs better than many other loudspeaker cables in the market place. Also if you wish to read about my new loudspeaker cable, please follow this link
If you enjoyed 'The Speaker cable that has review' please share with friends and colleuges – thank you.
Perkune Best budget Audiophile Cables