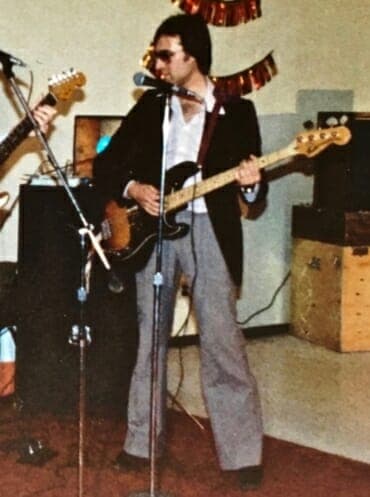 Since 1960, I have been involved, with music and audio equipment. And I hope you enjoy reading 'This is My story,' which all began many years ago in my mother's kitchen. My story
Music
I was about twelve years old and a member of the church choir. I could sort of sing but knew I would never be another Tom Jones! I loved all types of music and would spend hours listening to the Grundig. When my mother was working, I would use her cleaning bowls as a drum kit. The drumsticks were dense knitting needles and worked very well. I spent hours making a horrible noise but got better as time passed. And, again, Ginger baker had no worries in this respect.This is my story 
The next step in my musical adventure was when I tried my father's acoustic guitar. The guitar was his pride and joy and kept locked up under his bed. But one day, the guitar was left out by mistake and, that was the start of my real musical experience! My next step was to buy the Bert Weedon 'Play in a day' guitar book and felt that I was on my way to 'fame and fortune'This is my story 
I very soon because a 'Shadows', fan and would spend hours listening to the beautiful music they played. And, of course, trying to achieve 'note perfect' the same as Hank! Hank Marvin had such a captivating sound I wanted to also perform in the same manner. At school, I made my first electric guitar (which was a copy of the Fender 'Stratocaster'. The guitar worked very well and sounded great through my Watkins Westminster amplifier. And I decided to form a school group. 
After a couple of weeks, I was able to get the group organised. The Deputy Headmaster played the drums, and the fitness instructor was on rhythm guitar. The drama master playing the bass and I played lead guitar. The music we played was taken from 'The Shadows' but, just not quite as good as the real thing! We practised intently and became very proficient. We eventually performed at the school concert and were a huge success. And, even today, people still talk about Paul and the "Educators".
Electrical
After leaving my senior school, I served a four-year apprenticeship in electrical and electronic Instrumentation. Which, gave me an excellent background in the basic understanding of electrical and electronics. And, naturally tied into all types of musical equipment. I was able to form my group (as most of us did in those days) and was fortunate to meet and play with some of the great artists who are still with us today. Eric Clapton, Jack Bruce, Jimi Hendricks and Gary Moore, to name but a few.
I was fortunate to see many of the groups performing live. And, actually got to play with some of them as the 'back up ' group. The groups were: The Pretty Things, The Sex Pistols and Boy Bastin. I also spent time with Mathew Holt (Moody Blues) mixing for 'Pearly Brown'. Last week I watched one of the Rolling stones very first tours on 'You-tube' and saw how they improved over the years. Which is what life is all about. Living, learning, and growing in everything we do! This is my story 
Direction my story
As time passed, so did my path. And, rather than play music, I began to work with live mixing and recording. I was always able to get a great mix and could create a musical picture. Also, positioning and re-positioning of audio equipment in the listening room came naturally to me. And, I was always ready to help friends and other groups set up their systems and to paint that musical picture. I loved the compliments and liked what I did. But, never realised it would take me to where I am now!
Oil and Gas 
In 1970 my direction once again changed because I had lost the urge to become rich and famous. I joined the Oil and Gas industry, which was a tremendous challenge, but at the same time, very rewarding. And, gave me a tremendous opportunity to expand my knowledge and life experience. This is my story 
I visited different countries worldwide and was able to see many beautiful places. My life was exciting because my work allowed me to keep up with my passion. And, my love was 'High-end audio'. I was always able to buy the latest audio components that were available in the market place. I obtained one of the very first quadrophonic systems that came into the UK.
At the beginning of 2015, the oil and gas industry started to slow down. Which told me the industry wanted a rest. As a result, many things began to change in my life. I lived in Vilnius, Lithuania and became friendly with a group of doctors who were all 'Tannoy' loudspeaker enthusiasts.
System set-up
My new friends were always trying to get the best sound from their audio systems. The systems had cost a lot of money and, I might add, my friends spent many frustrating hours. I had developed my technique for this, and when I was able to show my audio system set-up technique, my friends were impressed! This is my story 
During the same year, I began experimenting with audio cables and eventually found something which worked well. One of my Doctor friends advised me to get a name for my cables and bring them into the marketplace. Why? Because my cables sounded so good! And, said to me, "Paul, every Audiophile needs to know about your cables". Which was 'Doctors orders'. And, to cut a long story short, I created a website to bring my cables into the marketplace!
Learning
I think the biggest thing I have learned is we all hear sound differently. And this is one of the reasons why there is always so much discussion about cables. Do cables make a difference to the music heard? Well, to some people a big fat yes and to others no difference at all. You see only you can be the judge because it is you and your ears that is the judge on whether you hear the difference a cable makes. I make high-quality cables, and all my customers think the same! This is my story 
My Goal – my story
I love what I do and have learned so much over the past five years. My goal is to take my audio cables around the world. And, to help others improve their audio system sound by using my audio 'set-up' technique. I want to say that, If you have an interest in helping me to take my cables around the world, you are more than welcome to join me at any time. Maybe you would consider becoming a distributor or a country importer?
If you have enjoyed reading 'This is My story', please share with friends  – thank you.
Perkune Home – Best Audiophile Cables Online The Best Audiophile Cables Online