The use of high-quality materials reduces signal losses in the cable. Resulting in better sound reproduction especially in high power audio sets and over long distances between loudspeakers and amplifier. On the whole, highly-flexible wires have a larger conductor surface compared to solid designs. This benefits the transmission of high-frequency ranges. As well as the fine wire design (0.07 mm), the silver-plating also supports the transmission of high frequencies. The low-loss PE wire insulation and the additional PE dielectric also relieve the burden on the amplifier for more dynamics and pleasure.
3.5 meters – Banana
The Ultimate loudspeaker cable is a beautiful sounding cable, which brings the music right into your room. Filling with micro detail, echoes, after echoes and a sense of realism, just like you were at the recording or live event. Silver plated (2.45 g/m) 99.99% OFC multi-strand conductors, 24 Gold plated connectors, two-level AirGap isolation, and PE sheath make this cable a must for the serious Audiophile!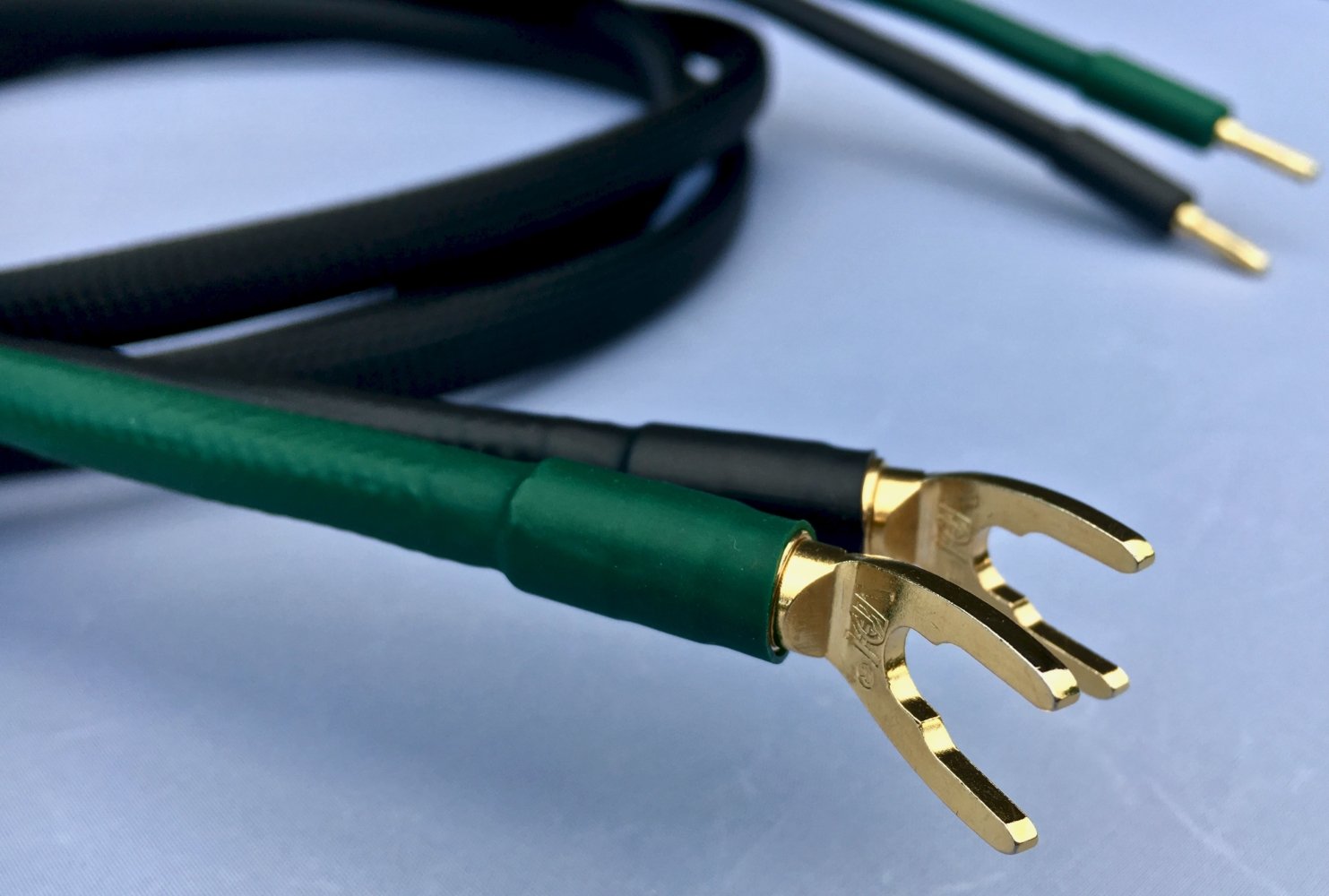 Termination is normally 24K gold plated banana connection but can be supplied with angled spade terminal blades. these are 2.0 mm thickness, 15 mm external width and fits studs from Ø 5.0 mm to Ø 9.0 mm. The Ultimate loudspeakers cable can be supplied in 2.5, 3.5, 4.5 and 5.5-meter lengths.
Specification
Cable size: 14 x 8 mm. Conductor size: 2.50 mm. Conductor number: 2 Silver-plated (2.45g/m) O.F.C 99.99% (Each containing 50 strands x 0.07 mm). Resistance: 0.014 Ohms/meter. Capacitance: 60 pF/meter. Inductance: 0.7uH. Insulation Vinyl. Primary AirGap : DERAY-PBFSP. Secondary AirGap : DERAY-PBFSP. Outer sheath: CanuFlex PB-HB. Certificate: ISO 9001:2008
To read Customer testimonials please click here
To see Price list please click here
***
If you have enjoyed reading about the Ultimate Loudspeaker cable please share with friends by using the buttons below – Thank you