The Perkune Guitar cable range, allow you to produce music from your Guitar, having, life, energy and dynamics. And giving you a feeling of control! The guitar wire provides remarkably wide bandwidth and impeccable signal integrity. Performance is in another league compared to many of the popular brands which are available in the market place.
The Perkune guitar cable is available in multiple lengths and, the perfect addition if you are a dedicated guitar player who demands the best, in every sense of the word!
Perkune Guitar cable
The Perkune reference guitar wire, made for the ultimate experience during musical performance. And, Fitted with the latest 'Silent' 24K gold plated plugs. The silentPLUG automatically mutes (shorts) an instrument (guitar) cable to avoid pops and squeals when changing the instrument (guitar) under load.
The integrated silent switch (pat. pending) is based on REED-technology and guarantees a lifetime beyond 10 '000 mating cycles. The new PX silentPLUG features a rugged metal shell enhanced with a rubber cushion overlay for improved shock protection. The Guitar reference cable is 10.0 mm and easy to work with. Designed to give the best possible protection against unwanted noise and vibration suffered during live performance. These elements affect signal quality in many ways. And, using Perkune shielding and 'AirGap' techniques help eliminate and offer a superior signal resolution. The result is better clarity and dynamics from your musical performance
Guitar studio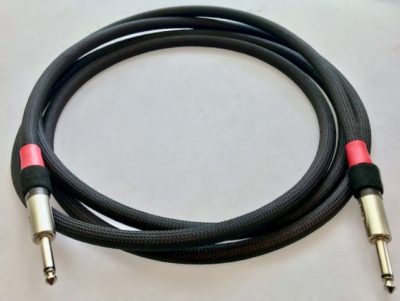 The Perkune studio cable, designed for studio recording sessions. Cable size is 12.0 mm with triple shielding. External noise and vibration from other instruments must be reduced to a minimum during sessions. And, using the Perkune shielding techniques, help eliminate unwanted noise, and offer a superior signal resolution. Result is better clarity and dynamics from the music.
Guitar standard

cable
The Perkune Guitar cable is available as a standard guitar 11 mm cable. And, constructed with Silver-plated OFC 99.99% with 100% braided copper shield coverage. And fitted with 24k gold plated or Polished steel 1/4″ Jack plugs.
Also 'AirGap' isolation, aluminium Foil and PTFE shielding allow this cable to reveal the minutest detail and information from your music.
Performance
The Perkune guitar cable is a great sounding cable. Whether used between pedals, from pedal to amp, Guitar to amp or Amp to the speaker the Perkune Guitar cable will bring clarity, life, and dimension to the music you make.  And, also brings more of the music into your performance. Whilst holding back rubbish and cable clutter to mar your performance. And the  and has to be heard to be fully appreciated.
Cable Protection
To protect your cables, I have focused on factors, crucial for developing excellent Guitar cables. And, offering the perfect solution for the protection of your cables. Supplied with your cable is a case. Your case contains; Anti-static spray, and a cable test certificate (Which is signed, dated, and carries the cable identification number). You are now able to take a Power cable, and many cables with you on location
Specification
Cable diameters: 10.0, 11 and 12.0 mm
Cable types: Noiseless/Coaxial 
Conductors: 3 x 0.35 mm. Plated OFC 99.99 comprising 22 x 0.2 mm strands
Conductor: Solid core OFC/HP (20 AWG)
Sheathing: Textile Jacket
Insulation: Teflon (Dual layer)
Resistance: 0.060 Ohms/meter
Capacitance: 55 pF/meter
Insulation: Compact PE with, tinned copper giving 100% coverage
Primary AirGap: DERAY-PBFSP
Secondary AirGap: DERAY-PBFSP
PTFE/PVE insulation
Outer sheath: CanuFlex PB-HB
Anti-static pads x 2
Pricing
The three meter 'Reference' Guitar cable 597 Euros
The Four meter 'Reference' Guitar cable 697 Euros
Four meter 'Studio' Guitar cable 597 Euros
Five meter 'Studio' Guitar cable6 697 Euros
Guitar Power cable
Cables tested
Cable results
If you have enjoyed  'Perkune Guitar cable', please share with friends – thank you.
Perkune – Best budget Audiophile Cables