The Perkune Guitar cable allows you to produce music from your Guitar, having, life, energy and dynamics, giving you a feeling of control! The cable provides remarkably wide bandwidth and impeccable signal integrity. The Perkune guitar cable is available in multiple lengths and, is the perfect addition if you are a dedicated guitar player who demands the best! Whether used between pedals, from pedal to amp, Guitar to amp or Amp to the speaker the Perkune Guitar cable will bring clarity, life, and dimension to the music you make.
Guitar cable
The Perkune Guitar cable is available as a Reference guitar cable or a standard guitar cable. And, constructed with Silver-plated OFC 99.99% with 100% braided copper shield coverage. 24k gold plated or Polished steel 1/4″ Jack plugs used with Two-level AirGap isolation, aluminium Foil and PTFE shielding allow this cable to reveal the minutest detail and information from your music.
Powerhead cable
T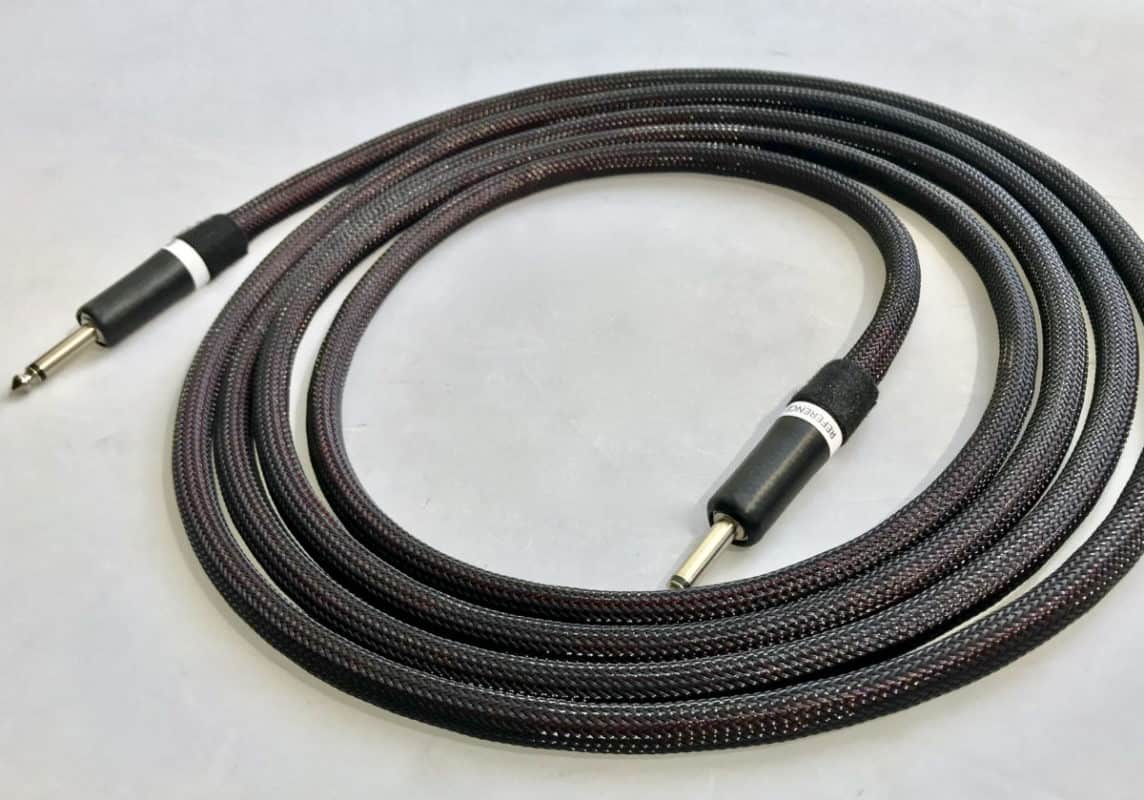 he Powerhead cable is the best way to connect your amplifier to the loudspeaker cabinet. And, now, you will hear what your system is delivering. A new level of power and energy becomes apparent, and you will hear more detail and clarity in your music. The Powerhead cable is supplied in any length you require and with any type of connection. And, you will find, it works even better with the Perkune Reference Power cable!
Cable Protection
To protect your cable, I have focused on critical factors that are crucial for developing an excellent Guitar cable. And, offering the perfect solution for the protection of your cables. Supplied with your cable is an impact-resistant (fully lined) aluminium lightweight flight case. Your case contains; A set of keys, Anti-static spray, and a cable test certificate (Which is signed, dated, and carries the cable identification number). You are now able to take many cables and even a two-meter power cable with you on location!
Specification
Cable diameter: 10.0 or 12.0 mm. 
Cable type: Noiseless.
Conductors: 3 x 0.35 mm. Plated OFC 99.99 comprising 22 x 0.2 mm strands.
Resistance: 0.060 Ohms/meter.
Capacitance: 55 pF/meter.
Insulation: Compact PE with, tinned copper braided shield giving 100% coverage.
Primary AirGap: DERAY-PBFSP.
Secondary AirGap: DERAY-PBFSP.
PTFE/PVE insulation
Outer sheath: CanuFlex PB-HB.
Anti-static pads x 2
Certificates: RoHS 2002/95/EC, 2011/65/UE, CEI 20-22/11
I can speak as a guitarist and know the importance of being able to hear everything you are playing. But, when you have experienced the difference heard, you can understand. As, with, everything in this life, you must try for yourself to see how it feels for you. Because we are all different and hear and feel things differently, I am happy people are getting the same results as I am getting. And, you will undoubtedly hear the difference when you use The Perkune Guitar Cable!
Cables tested
Customer testimonials
Pricing
Three meter 'Reference' Guitar cable 597 Euros
Three meter 'Standard" Guitar cable 347 Euros
Two meter 'Reference' Powerhead cable 497 Euros
Two meter 'Standard' Powerhead cable 247 Euros
One meter 'Reference' Powerhead cable 397 Euros
One meter 'Standard' Powerhead cable 197 Euros
If you have enjoyed  'Ultimate Guitar cable', please share with friends – thank you.
Perkune home – Best Audiophile Cables Online.