The audiophile cable Intro range – beautiful sounding cables, which gives the feeling of air, and space in the musical presentation. The 'Intro' range of cables is the perfect example of quality at an affordable price and will make any system sound better.
Loudspeaker
The Loudspeaker cable is OFC red copper and terminated with 24K direct Gold-plated banana connections. The connections are double screwed (which avoids soldering) for ultimate signal transfer.
The cable consists of seven strands of OFC Red copper in the main conductor (each of which has 32 strands). Three of the strands are 'Tinned' which brings out minute detail in the middle and upper regions. The cable is very dynamic, very fast and music is a real joy to listen to music from this cable. I have heard the term "bright" used and would certainly agree this cable is a Bright cable
Conductors: O.F.C Red Copper.
Insulation: Vinyl.
Outer sheath: Plastic shrink-wrap.
Cable Diameter: 6.0 mm.
Conductor size: 2.5 mm2 (13 AWG).
Conductor Number: 7 strand – each strand containing 32 x 0.125 mm.
Resistance: 0.02 Ohms/meter.
Capacitance: 75 pF/meter 
Jumpers
Jumper cables are the perfect solution for achieving the exceptional sound. And, achieved by replacing the standard, bent metal plates and generic wires supplied. The Perkune design provides a straight-line, low-loss jumper that ensures optimum results.
The Jumper cables are supplied with the Banana/Banana connection, which is ideal for a person who is using loudspeaker cables with spade connections. The Jumper cable set also comes with 4 spade connections that allow for mix and match!
Interconnect
The 1.0-meter audiophile cable Interconnect is a neutral cable and terminated with 24K direct gold plated connections. Flexible, very easy to use and designed to give maximum performance at the minimum price point. This is an excellent cable giving an extremely high level of performance.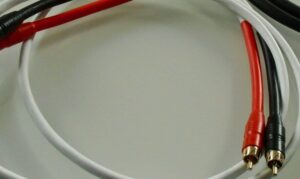 After construction, the cables are subjected to a 'Burn-in' procedure using three carefully chosen discs. And, this allows the cables to reach their full potential. Does 'burning-in' make a difference? Yes, it certainly does. You can hear the difference very easily providing you know what you are listening for. And, following this procedure, the cables receive an Anti-static treatment and made ready for shipping. 
Conductors: O.F.C Red Copper.
Insulation: Compact PE.
Shield: Spiral covered O.F.C Red Copper.
Sheath: PVC.
Outer sheath: Plastic shrink-wrap.
Cable Diameter: 6.0 mm.
Conductor size: 2 x 0.25 mm2 (23 AWG).
Conductor Number: 8 x 0.2 mm.
Resistance: 0.075 Ohms/meter.
Capacitance: 55 pF/meter.
Certificate: CEI 20-22/II°, RoSH 2002/95/EC, 2011/65.
Power cord
Today, there are a lot of misconceptions about power, power transmission and power quality that make it difficult for some people to understand why a power cord makes a sonic difference. But it is important that you are able to deliver good clean power to your amplifier and audio equipment to get the best sound possible.
This is the latest variant for 2018 and is a 2.3 meter Power cord fitted with Rubberised EU plug and 'AirGap' insulation protection. The 'AirGap' system employed completely with an elegantly engineered suspension system offers a Black background and is ideal electrically and mechanically controlled construction for speed and dynamics
conductors 3 x 2.5 mm2.
Resistance: 9.98 ohm / km.
Rated voltage: 300-500 Volts
Test Voltage: 2 Kilowatts.
Temperature: -15 to +70 Centigrade.
Sheath: White.
Short circuit: +150 Centigrade
Minimum storage: -35 Centigrade
Conductor: Copper.
Sheath: PVC  (Inner) Shrinkwrap (Outer).
Insulation: HD 308 S2.
Certification: H05W-F:EZU, RHOS, REACH ~ Self Extinguishing: IEC60332-1-2.
I discovered the 'Surprise' loudspeaker cable in 2011 and really loved it. I have supplied this cable to many members of the Tannoy group (worldwide) over the past few years and all results positive. The Surprise cable is one of my favourites and is why I have decided to add this cable to the 2018 range!
Professional review
If you enjoyed  'Audiophile cable Intro range', please share with friends  – thank you.