The audiophile Extreme series of cables offer an outstanding level of performance. Built by hand in our own facilities in Vilnius, Lithuania.
The biggest step forward has been the development and introduction of the 'AirGap' isolation and 'Airtube' suspension. Designed to reduce vibration and reflections from interference from within the cable. On the loudspeaker cables, the 'AirTtube' system has been added to the tails making an impact on the sound Heard.
The second change has been the introduction of Aluminum foil sheathing. Aluminium foils provide better sound insulation and help to eliminate unwanted noise sources. The Aluminum foils ability to absorb sound allows unwanted noise to be picked up at the source and prevent further propagation.
Loudspeaker cables
The use of high-quality materials in the extreme series of cables reduces signal losses resulting in better sound reproduction. Highly flexible wires have a larger conductor surface compared to solid designs.
And this benefits the transmission of high-frequency ranges. As well, the fine wire design (0.07 mm), and silver-plating supports the transmission of high frequencies. The low-loss PE wire insulation and additional PE dielectric, relieve the burden on the amplifier. Resulting in, more dynamics and pleasure. 
The three-meter, Bi-wired loudspeaker cable provides the ultimate listening experience. And offers total transparency with pinpoint imaging. New energy is there with a feeling of air and space in the presentation. And you become totally involved in the music in more ways than ever before. I personally prefer a three-meter loudspeaker more than any other length. But it is personal preference!
Specs
Cable Size: 19 x 11 mm.

Conductor: 2.50 mm. 

Number: 4 Silver-plated (2.45g/m)

O.F.C 99.99% (Each containing

50 strands x 0.250 mm).

Resistance: 0.014 Ohms/meter.

Capacitance: 48 pF/meter.

Inductance: 0.77uH.

Insulation: Vinyl.

First line: Aluminum Foil sheathing.

Primary & Secondary AirGap: DERAY-PBFSP.

Outer sheath: CanuFlex PB-HB.

Certificate: ISO 9001:2008
2 x 3.0 meter Bi-wire connection 1297 Euros
Interconnect cable
The professional quality RCA connectors are low capacitance. And, have the lowest possible metal contact so minimizing eddy current formation, and signal degradation. Signal and signal return connections are made in a single piece, avoiding joined contact losses, thus achieving very high conductivity. 
The audiophile Extreme interconnects deliver a level of performance, which far exceeds the 'Ultimate' gold series interconnects. You will experience total clarity with a true feeling of 'Air' and space. A Highly Improved sound stage, with Ultra deep bass, and pinpoint imaging.
These are some of the features that become apparent. The two-meter extreme interconnects offer silver-plated, OFC 99.99%. Three levels 'AirGap' isolation with Silver foil shielding and 24K gold plated connectors. The two-meter interconnect gives the extreme listening experience!
1.0 Meter – RCA/RCA connection  847 Euros
Two-meter XLR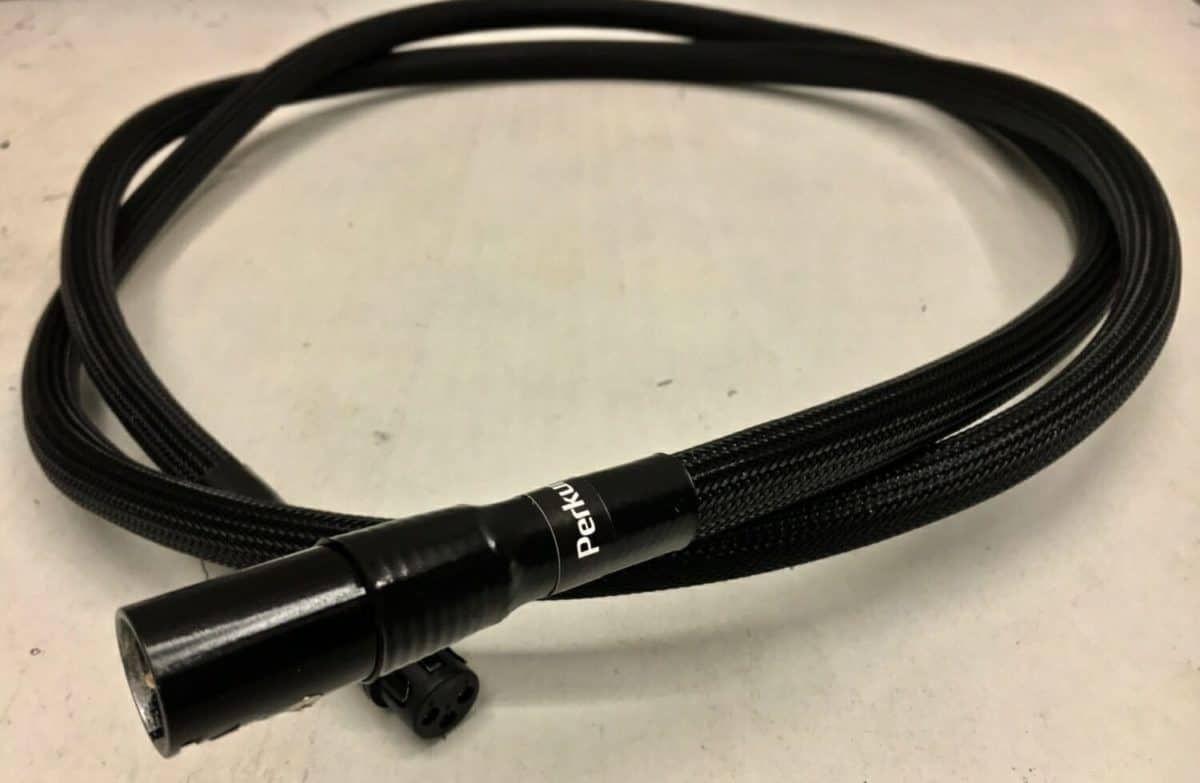 The audiophile Extreme series balanced Interconnects offer an outstanding level of performance for the serious audiophile. Improved sound stage, transparency, instrument position and a true sense of realism. Which makes them ideal for the audiophile who demands the very best. 
Silver-plated OFC 99.99% conductors, Anti-vibration XLR connections with 24k gold plated male/female pins. Three-level 'AirGap' isolation (tip to tip coverage) with Silver foil shielding. The technology of construction used to minimize static and external interference allows the cable to reveal the minutest detail and information from the music. Balanced audio connections use a number of techniques to reduce noise.
1.0 Meter – XLR/XLR connection  997 Euros
Technical
Cable size: 16.0 mm

.

Type: Noiseless.

Conductor: 3 x 0.35 mm2 (Plated OFC 99.99%) comprising 11 x 0.2 mm strands.

Resistance: 0.060 Ohms/meter.

Capacitance: 55 pF/meter.

Insulation: Compact PE with a tinned copper braided shield.

First line: Aluminum Foil sheathing.

Primary & Secondary AirGap: DERAY-PBFSP.

Outer sheath: CanuFlex PB-HB. (Black covering).

 Certificates: 2002/95/EC, 2011/65/UE, CEI 20-22/11.
The Power Cords
Everything starts with power and essential to have a good power cord. This is often neglected but, is the foundation of your system. Power cord, performance is achieved because the conductors are produced according to harmonised standards. (H) for voltage 300/500 V (05), in PVC insulation (V) and in PVC sheath (V), with the copper flexible multi-wire cores (F).
Designed to minimize and eliminate vibrations, reflections, static charges and unnecessary distractions from electrical interference. The addition of Aluminium foil sheathing combined with Three-level 'AirGap' isolation, designed to reduce unwanted noise and electromagnetic interference
2.0 Meter Power cord EU Schuko/C-13 connection 997 Euros
Specification
Cable size

: 16.50 mm

.

Type: Multi-wire class 5.

Conductors: 3 x 2.5 mm,  OFC 99.9%.

Resistance: 0.0033 Ohms/m.

Weight: 1.2Kg/m.

Insulation: PVC type T12.

Sheath: PVC type TM2.

First line: AirTube suspension.

Primary and Secondary AirGap: DERAY-PBFSP.

Second line: Aluminum foil sheathing, AirTube.

Secondary AirGap: DERAY-PBFSP.

Outer sheath: CanuFlex PE-HB.

Voltage: 300 – 500 V @ -70  to +40  deg C.

Certificate: IEC 60320-1:2001
Bi-wired adapters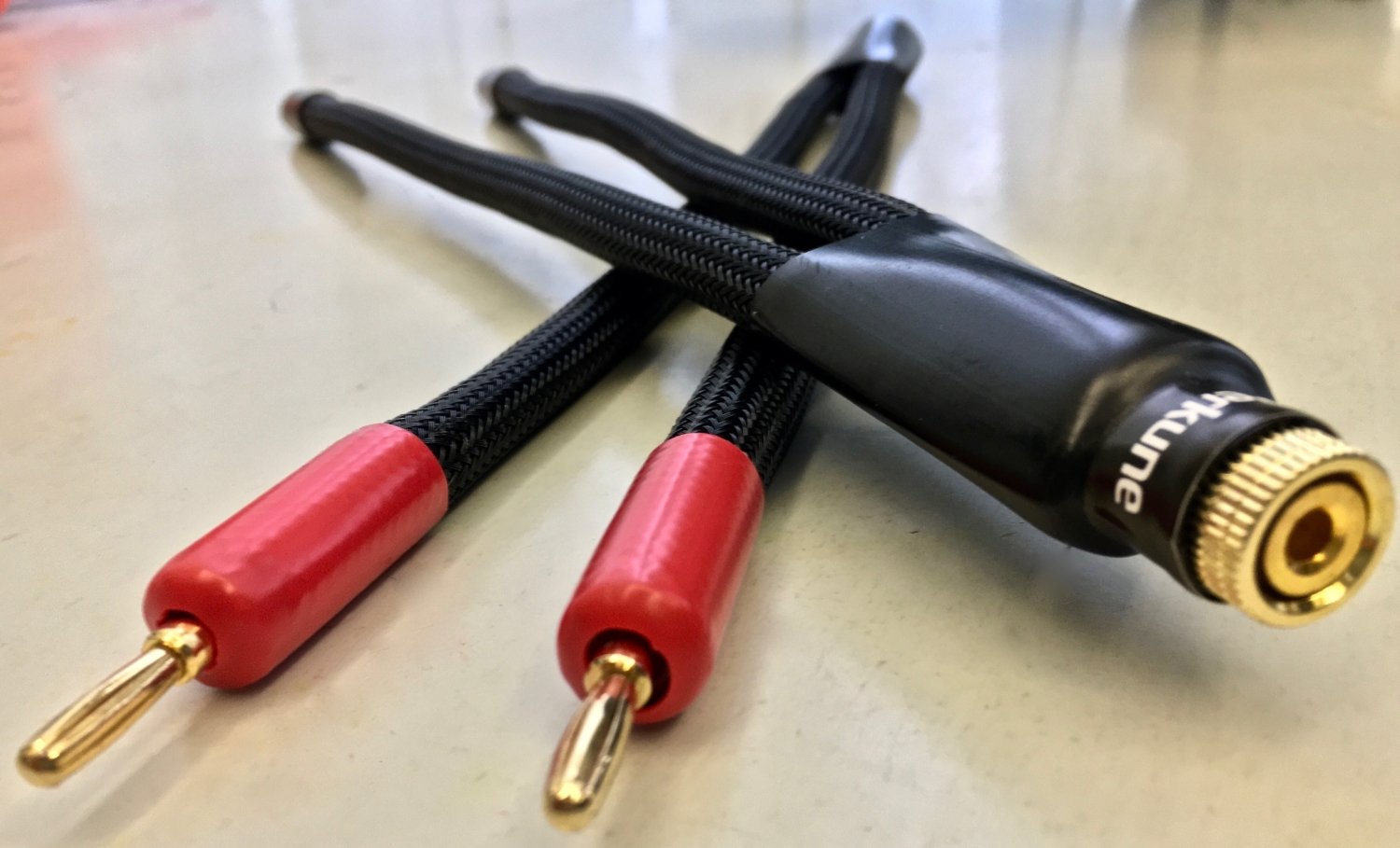 Bi-wiring is the best way to run with an audio system. Many people own loudspeakers (which are quite capable of accepting a Bi-wire cable) but sadly are left with the metal bridging plates installed. One method is to remove the metal bridging plates and replace them with jumper cables. This works very well but only to a certain extent. And in many cases lacks the signal speed necessary to produce the optimum signal transfer correctly.
The BI-wire adapter cable provides a quick and easy solution. Which is converting a two-wire loudspeaker cable into a four-wire Bi-wire cable? The results are easily heard and your system has reached a new level of performance
4 x 25 Cms banana/female banana connection 397 Euros
Customer Testimonials
Price List
If you enjoyed 'Audiophile Extreme series Best Audiophile Cables Online', please share with friends – thank you.
Perkune – Best budget Audiophile Cables