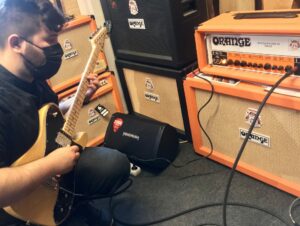 Guitar cable results. I am a guitarist and manage the guitar section at 'Tamsta' music studios, and I have just been testing the Matrix Source power cable. First, I listened to my system to get the feel  and inserted the power cable. I was amazed at how light and flexible it was and thought to myself, can this be any good. I started to play and nearly fell off my stool.
The sound just leapt out from my systems like an angry lion with speed, energy and clarity. And I thought, what kind of magic and what is this cable. Because this cable is nothing like I have ever heard before. Somehow, the amp got a more low and low-middle punch in the guitar sound, less noise from the amp, and some more highs. And really great to hear! Poulas, Vilnius, Lithuania
Guitar cable results
My first experience with Perkune was the purchase of a two meter Guitar power cable. And I must say how impressed I am with this wonderful sounding cable. In so much I decided to try the Amplifier cable. And once again, I was amazed at what the amplifier cable does. My electrical guy worked on one of my old Gibson amps and removed the old power cord. And then, he was able to fix the new power cable onto the amp. And when I turned on the amp, I noticed how quiet it was, and non of the humming noise it had before.
I plugged in my old Gretch flat body and started to play. Bloody hell, was that me making the sound because it was so alive and open. Everything was cleaned clear, and the sustain just went on and on. And I will try and get Richard Fortus of 'Guns N' Roses' to try you cables! Scott, Florida, USA 
USA
Hi Paul, I received your cable. And, have about 35 hours on the audio cable now. I asked my wife, who is a musician and has perfect pitch, to assist me in assessing the tonal difference between your cable and a professional quality Fender cable I have been using. I switched the cables between my guitar and amp several times and played the same tune. On all of the tests, my wife said your cable was better, having a fuller and more vibrant tone! And since the one-directional technology will produce an even better tonal quality with 100 hours of use, I'm very excited and glad I purchased your cable. I hope all of you guitarists are reading and listening! Kudos, Paul, on such a high-quality musical resource for guitarists! I highly recommend your cable and happy to give my guitar cables results – Best regards Marty, Denver USA
Canada
Hi Paul – Walked back in the door a few hrs ago and settling back into being home. Went down & plugged everything in & played a bit, and seemed to notice quite a difference right from the start. The annoying static & buzz is gone. I can hear distinct mids and highs that were not very clear before. Had my oldest over for Dinner last Saturday while I was off, and between writing more content, and cooking our meal, he even played a bit. He might do a musician's site, and include a link to your site. Will let you know. Am pre-stripping my truck now, and getting ready to drive 3 hrs to get my load for today, deliver two stores and Lord willing make it home to my bed. – Thx Wayne, Edmonton, Canada
Denmark
Hi Paul, I am a happy customer and Love your speaker combination cable. Just got done rocking' a bit tonight. I found that it drives me to play more precise because you hear more clearly. NICE!!! :-)" Thanks Again regards Edvin, Viborg, Denmark
Thailand
Paul, I Am still completely blown away by the difference in my sound. And, made me focus more on my playing & techniques. Since you can hear so much more of the flavours than what I heard before, it motivated me to play so much more precise. Wish I could send you some mp3's of before & after. Thank you for also being my WA friend & fellow College." regards – Lou, Thailand
The UK
Hi Paul, hope all is well with you. I am just so pleased with my birthday present. When I opened the box and saw your cable inside, my heart skipped a beat! I have been playing all night till 4 am because it makes me sound so good! I am just Gobsmacked hoe different the sound is coming from my amp. More tones and better sustain. Just really so good. I thank you paul so much, my friend. Regards, John, Chiswick, UK
If you enjoyed 'Guitar cables results', please share with friends and colleagues – thank you.