I wish to share with you information about the Reference 'PRO' power cable test. The importance of a high-quality power cable is a crucial part of a HiFi system. And responsible for running each component to achieve and determine the maximum performance.
Reference 'PRO' power cable
The Reference 'PRO' power cable is in another league when it comes to a performance upgrade. And simply adding this cable enables you to increase performance from your audio system buy up to 20%. I have spent the past three days working with three different audio systems testing the Reference 'PRO' power cable. And I am pleased to share the results with you. Because it will change your thinking.
Power cable test
I decided to visit my friend Lukas Svedas, owner of 'Garso Namai', located in Kauno g 31, Vilnius, Lithuania. And the reason was Lukas had an excellent range of audio components and a critical ear when it came to testing. So, after a morning coffee, we decided to keep things simple and chose the Arcam SA30 amplifier and  a pair of Vela FS 407 loudspeakers for the power cable testing. The Arcam SA30 amplifier offers an impressive 120W of Class G amplification for impeccable sound. And, features Dirac Live, state-of-the-art room correction technology equipped with eARC support. Which delivers unparalleled performance and sound quality optimised to its surroundings. 
Loudspeakers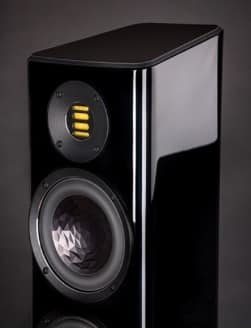 The loudspeakers supplied by Elac were the Vela FS 407. They consist of lacquered and wooden veneered cabinets. Having a trapezoid shape and are angled rearward, combined with aluminium and glass. The design catches eyes but conduces acoustics, too. The sound of VELA shows its family background to successful series 400. But the advantages are distinct. The angling of the cabinet in combination with the new waveguide of the JET tweeter improves the definition of stereo and multi-channel audio. But there are more than the noticeable changes. For example, the optimised drivers can reproduce high-energy transients more precisely.

Testing
I knew the Arcam SA30 amplifier very well as we had tested several audio cables in the past. And now time to test the Reference 'PRO' power cable. The music was supplied by 'Yello' and taken from their latest album 'Point.' We allowed the system to warm and listen to the selected track. The sound heard was excellent, and we noted all parameters. Next, we removed the power cable from the Arcam and fitted the Reference 'PRO' cable. The music played, but what an incredible difference. The music had more life and energy with a much better definition and transparency. 
The Arcam SA30 amplifier is something special but can only have a high-quality power cable for it to work  correctly. Nevertheless, the amplifier is terrific in every way and must be the best value for money in the audio industry. We both agreed, the overall amplifier performance had increased from 7/10 to 10/10 because the Reference 'PRO' power cable really is that good. And offers a remarkable performance upgrade!
The second test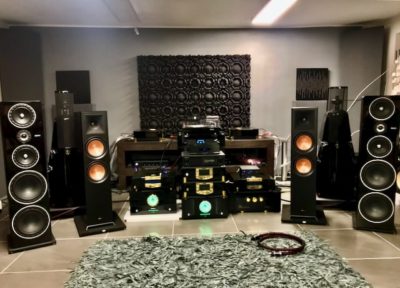 For the second test, I decided to visit another well-respected audiophile Mr Virgilijus Dovidas. Virgilijas owns the company 'MATRIX' UAB, Vytenio g.10, Vilnius, Lithuania. And Virgilijus agreed to test the Reference 'PRO' power cable. Although there was a great selection of equipment to choose from, we decided to keep things simple. And choose a pair of loudspeakers supplied by Elipson. The Facet 34F because they perform flawlessly. The enclosures contain two 10″ bass drivers and two 7″ mid-low drivers. The latter is fitted with a bullet-shaped phase plug to limit vibrations and reduce distortion. In addition, a 25 mm 'soft' dome tweeter reproduces highs with finesse and precision. The lacquered front panel is a dense, thick material and strengthened by several internal brackets. And a very impressive build, and finish.
In addition, the speaker's steep-slope filter relies on highly efficient, audiophile-grade components. Finally, the finish quality is not overlooked and offers benefits such as premium-quality vinyl and a lacquered front panel. The loudspeakers rear counts as much as the front. And why the designers created rounded, high-end dual speaker terminals with silver-plated contacts, maximising signal transmission. Banana plugs or spades may also connect to the terminals. Neutral and accurate, this speaker delivers sound free from colouration and is faithful to the original recording. High sensitivity allows pairing any amplifier having a power rating of 300 W or less per channel. And personally I think they are best that money can buy on the planet!
Amplifier
The amplifier used was supplied by YBA design and classed stereo receiver. With 50 watts of power and SNR of 90dB, it provides a fantastic sound. Design products are not the usual standard 430 mm width but rather a highly attractive 320mm. In addition, the amplifier does not have the accepted 'standard' four feet supported by extensions of the casework giving three-pointed support.
The WA202 receiver has four push-button fascia controls and include source, function, volume down, and volume up. At the far left-hand side is the power on/off. The receiver also comes with a most attractive remote control handset. And has five RCA connections on the rear panel, including a pre-out for those who may like to connect a separate power amplifier. Also powered speakers, or subwoofer. USB connection for iPod charging together with an IR in and out to link products one to the other.
Finland
Today we were fortunate to have an audiophile friend from Finland who was pleased to participate in the testing. Teppo is a Pink Floyd fan for many years, and delighted to hear his favourite music sounding so good. So first, we played a few tracks from Pink Floyd followed by Phill Collins. And then switched to 'The vanishing of Peter strong' from the duo 'Yello'. Teppo had never heard anything from 'Yello' before, and it was a great new experience for him. And he certainly found out that, 'Peter Strong' did not vanish!
We played our test music to establish audio levels. Next, we removed the Perkune reference power cable and replaced it with the Perkune Reference 'PRO' power cable. As soon as the music started, we all heard the same thing. A big difference in the system sound. And Virgilijus said, "It sounds like I have removed cotton wool from my ears". We all laughed, and Teppo said, "This is amazing, and how can a cable make it sound so good?" And I said, "Everything is just so clean and clear, and can liken it to liquid gold in the way it flows from the speakers". So we just kept listening and enjoying the music with many comments along the way! And we all agreed the Reference 'PRO' power cable certainly had something very special to offer. A massive upgrade on an amplifier costing 950 euros, and making it sound like a hi-end amplifier costing 3500 euros.
Third test
For the next testing session, I decided to visit Antanas Šėmis, who is a sculptor/product designer in Vilnius, Lithuania. I had introduced Antanas to audio cables in June 2020 as he was interested in upgrading his computer power cable. But as they say, once bitten, twice shy, and you never will go back. And so it was in this case, Antanas certainly did not go back. But moved forwards in all areas in the audio field and built a great sounding system. We had become good friends as I supplied Antanas with many audio cables for his hi-fi system. And I enjoyed the time we spent together testing and evaluating audio systems.
Antanas used a rudimentary system powered by a lovely old Scott amplifier and a pair of Dali series 7 loudspeakers from 1970. But he does have the best audiophile cables in his audio system, and it does sound incredible.
The specifications of the Scott 420A are undoubtedly impressive and show how things were 50 years ago. Likewise, this build is amazing, and the only change was the fitting of new speaker connections. Amplifier Power (RMS): 2X40 Watts. Total Harmonic Distortion: 0.08%. Frequency Response: 20Hz/20Khz. Damping factor: >60. S/N ratio: 85 dB. Channel separation: 60 dB. Input Phono, Tuner, Aux, Tape1, Tape2. Output Impedance: 8 Ohms. Dimensions: 430 x 300 x 132 mm. Weight: 9.0 Kg. The year 1979.
Results
The music played, and we got our listening levels.  And Antanas changed his existing reference power cable to the Reference 'PRO' power cable. Again, I was not quite sure what to expect, but OMG, what a difference. We first felt a new depth of the bass and a much thicker and richer sound to the music. The sound stage was more extensive, and it certainly felt as if we had moved a few rows towards the stage. There was more life, energy, and speed in the music. And this was the best we have ever heard the music sound. And I realised that I had created yet another unbelievable sounding cable. But, the amazing thing was, this cable filled the room at a low volume setting. And, it was, in fact, at an average speaking level. The power cable was just so proficient, allowing music to flow from the loudspeakers in such a way as never before. The music was dynamic and vibrant but at the same time smooth. Life, energy and passion flowed from the speakers. And we both felt how wonderful this new experience was. 
Conclusion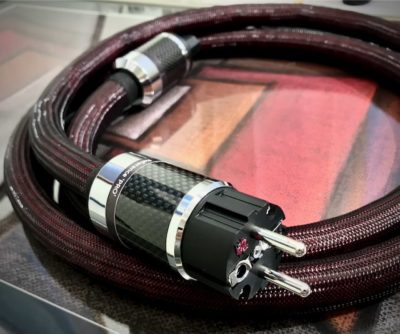 And every person totally agrees with the finial results. In every scenario, the end result was the same. And, we can say the Reference 'PRO' audio cable improves the system performance in all areas of audio. And certainly worth a try for you to improve the sound from your system. 
Having said that the majority of audiophiles think that power cables are all bullshit and snakes oil to quote the term. And I must admit 20 years ago I felt the same way until I tried a Nordost power cable. SO, to all the readers I suggest you go to you local hi-end shop and try a cable for your self.  instead of making negative comments. Another point is measurements – well just what do you want to measure. And how can you measure feeling and emotion?
The Reference 'PR0' power cable not only eliminates EMI and RFI but promotes a faster rise time in the 50/60 Hz cycle. And assures quick and stable delivery of the AC necessary for optimal results. In addition, this revolutionary power cable produces an overwhelming performance upgrade. Furthermore, the Reference 'Pro' power cable offers an invisible noise floor and an enviably black background.
If you enjoyed reading the 'Reference 'PRO' power test' article, please share it with friends and colleagues – thank you. A
Author: Paul Goodwin – Perkune audiophile cables
Dated: 15/11/2021
Perkune – Best budget Audiophile Cables