This article, 'My audio cable tested' is written because I wish to share with you information regarding two items. The first item is how much, the sound from an audio system can be improved. And the second item is to show the difference which cab be made to any type of audio system. Also, It is important to understand just how much the system synergy plays and important role. And I am using just four of the many testimonials received written by my customers in 2021.
Audio cable tested

I didn't know what to expect with this power cable from Paul as it was replacing a stock power cable to my new MCRU Power supply, to my Pro-Ject XTension 10 Evolution TT. I recently upgraded, which made a world of difference in performance from the original wall adapter Power supply. In addition, the sound stage was much more detailed and dynamic, so when Paul suggested changing out the power cable with the new Matrix 'PRO', I thought, really, how much improvement could it make?
The Matrix 'PRO'

My audio cable tested
As usual, and I never should have doubted it, this cable takes the soundstage and dynamics to another level! I am astounded by the overall detail and, in particular, the vocals. I listened to the latest Tony Bennet and Lady Gaga Lp, Love for Sale. The songs resonate magically through the recording above and beyond what I heard with the old cable, especially Gaga's! The soundstage opened up and was much more present with amazing detail. Okay, I keep thinking that my system can not sound any better. WRONG, this has relaunched it. Well done, Paul. Your cables continue to overwhelm me.
And I am hearing out so much more of the emotion from the music. And, that is what this is all about! This cable has brought out the full potential of this turntable, p/s, cartridge combination beyond what I imagined. Highly recommend changing out any stock power cables in your system as they are genuinely a 'weak link'.
My system:
Naim Nap 300 DR, Nac 272, XPS DR, Gold note PH10 phono stage, Gold note PSU-10, Dynavector XX2 Mk II Cartridge, PMC Twenty 26, Perkune Reference Tri Wire Speaker Cables, Perkune Reference XLR from the phono stage to 272, Perkune Reference 2M Power Cables x 2 to 300 P/S & XPS DR. And of course now the latest Matrix 'PRO' – Bill Long Procter, B.C. Canada.
Second testimonial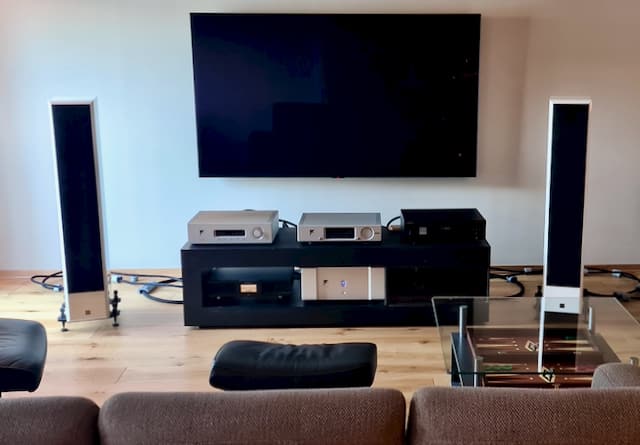 Hey Paul, These are my power cable results. And I have been listening to my sweet new Reference power cable. It's so very satisfying listening to this excellent power cable! I Don't know what magic you are using, but is it indeed working! The Sound now is sublime! The Clarity is phenomenal and with just a hint of softness right on edge. Making it the most pleasingly sound I have gotten out of my system. The tempo is silky-smooth, and with the richness of details, you cannot, other than be amazed about what you hear. And the way you listen to it! It's easy for me to say this is now my favourite power cord, but to truly understand it, you must experience it.
The deep bass tones are so defined, as much as the highest tones! They bring the wholeness in the "sound", where there is a suitable balance between everything in the soundtrack. Truly impressive! The vocals feel free to sparkle when they need to and come through with Clarity and playfulness. It's lovely how the rhythms can now complement and flow along with music in such an organic way!! Like you never get tired of listening because it is offered to you so effortlessly. I intake my music with giant strides, Paul! Now with this level of audio bliss! The music has achieved elegance and emotional warmth on a whole new level never experienced before! Excellent, and what would call authentic reference sound! And thank you for this beautiful experience. Best from Eirik, Bergan, Norway. My audio cable tested
Third Testimonial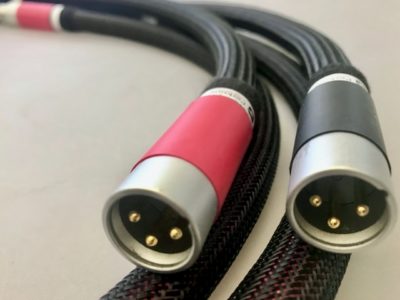 These are my XLR Interconnect cable results. And first of all, let me start by saying I am no stranger to the magical cables that Paul produces. My system is "PERKUNED" as I have his Reference Power cables and tri wire Reference 3M Speaker Cables. Which on their own, have converted my system from sounding incredible to astounding! I am an admitted Vinyl guy through and through. I love the warmth and purity of analogue! These cables arrived with much anticipation, given I had never experienced the XLR world before.
The Interconnect cables came in a gorgeous aluminium case with lots of padding and a certificate of authentication. The cables themselves have actual weight to them and are, in my mind, works of art visually! The sound right out of the box caught me off guard just how transparent these cables are. So much, so I had to adjust my settings! Once I changed, I listened to Patrica Barber – Cafe' Blue, an excellent standard for both vocal and instrumentation. For me, music is all about EMOTION. And how it is revealed. Not only from the artist but how presented through our systems. And to the point where it all disappears, and we're left with just the soundstage presentation.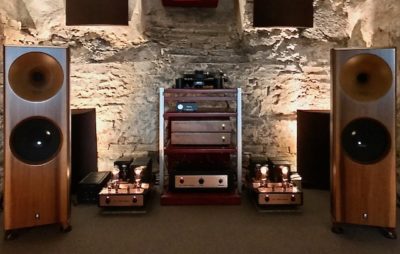 I have to say the addition of the XLR cable has brought that emotion to the forefront by merely broadening the soundstage, the instrument placement and vocals that make you feel like the artist is right in front more so than ever before! Once again, I am very familiar with my system, and this addition has increased the transparency, accuracy and soundstage that instils that EMOTION! I can't say enough about this cable combination, and the XLR is the icing on the cake "magical". The XLR has opened the signal path. And bringing out the mids, highs and bass to another level. Paul, you have done it again, just a fantastic addition to what is already an excellent system. And thank you, and I can't recommend PERKUNE cables enough.  Sebastian – Odense, Denmark.
Fourth testimonial 
Today is an exciting day because I can offer this Audiophile cable review. I am testing the latest Loudspeaker cable from Perkune audiophile cables. And more than impressed by the results obtained. I started working with Perkune audiophile cables in February 2021. Because I was interested to hear if a power cable could help improve the sound from my computer.
If you read the article I wrote (from the link above), you will find the power cable certainly worked. However, the result surprised me because I was sceptical. And I did not believe a power cable could make any difference to the quality of the sound. I had the top of the line computer fitted with a Sound Blaster AE-9 sound card. Audiophile-grade hi-res ESS SABRE-class 9038 DAC delivering an ultra-high DNR of 129 dB. And a cooling system by Noctua  model NH-D15.
As time passed, my interest in sound improvement increased. And I once again decided to upgrade my system. It was June 2021, and four months passed since my power cable adventure. I added a pair of loudspeakers from the seventies. The model is Dali series seven, needing a Recone. I also installed a Scott amplifier and a set of Matrix 1.5 meter interconnects from Perkune audiophile cables. My sound quality greatly improved yet again, making me realise how necessary good audio cables are. 
Loudspeaker cable
It was August 2021, and my audio system was undoubtedly at a different level than when I started. And I thank Paul for his invaluable help and support throughout my journey. However, it was now time for the final upgrade because the desire to improve my sound had overtaken me. And, as a result, decided to change my loudspeaker cables to the latest Perkune audiophile cables loudspeaker cable. The Matrix S 'Singles' Loudspeaker cables. 
Paul delivered the Matrix S 'Singles' in person, who arrived with a big smile on his face. And said, "Antanas, prepare to be amazed." Paul removed the cable from the packing and handed them to me. I was already amazed by the look and feel of the cables because they were the best looking loudspeaker cables I have ever seen. I took the first cable and asked which way round it must be. To which Paul replied, "Perkune always goes to the source." So the first cable fitted, and I was already excited. And could hardly wait to connect the second cable.The second cable, in position and secured. And it was time to hear if the cables sounded as good as they looked. Was it possible to sound as good as they looked? I wondered. And, had Paul worked his magic yet again? Audiophile cable review
The sound
I fired up my system and started with my test music – The Vanishing Of Peter Strong, by Yello. This music has everything you could want, and I am familiar with how it sounds. I looked at Paul and said, "This is the best I have ever heard music sound. The music is just so clear, and everything is separate from each other". Paul said, "you mean 'Transparency." I agreed and told Paul the bass also had a fantastic sound. Again, having so much depth, and another thing was how big the soundstage was. Paul smiled and told me he was amazed at how good the Matrix S made my system sound—performing much better than he ever thought possible.
Result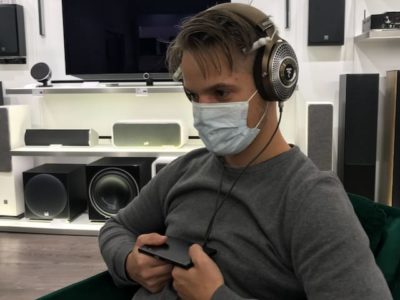 As I stated earlier – This was the best I have ever heard music sound. And I realised that Paul had created yet another unbelievable sounding cable. But, the amazing thing was, this cable filled the room at a low volume setting. And, it was, in fact, at an average speaking level. The cable was just so proficient, allowing music to flow from the loudspeakers in such a way as never before. The music was dynamic and vibrant but at the same time smooth. Life, energy and passion flowed from the speakers. It was making me realise how wonderful this new experience was. I am now listening to the latest headphones from Focal at 1500 Euros a pair. But I prefer the sound from my system, especially with the new Matrix S 'Singles' loudspeaker cables. Antanas (Sculptor/product designer) Vilnius, Lithuania. 
Conclusion
I hope you have enjoyed reading the testimonials and now understand how a good audio cable can make a difference to your system's sound. Also, many people think they have the best sound possible, but that is not always the case. You have to be open minded and prepared to try something different. And maybe you will find it is not as hard as you thought to improve your audio system's sound!
Author: Paul A. Goodwin
Dated: November 3rd, 2021
If you have enjoyed reading 'My audio cable tested', please share with friends – thank you.
Perkune – Best budget Audiophile Cables