A person must hear The Jade 20 Loudspeaker. Music, since time immemorial, has been our faithful companion. But, of course, it constitutes a variable, a liquid matter. And over the years, it has been influenced by fashion and styles. There is, however, a thing that characterises it's constancy, and the only static component of music is sound.
Jade 20 Loudspeaker
One of the properties of sound is that its essence remains the same. Only its bonds and unusual, almost theatrical symbiosis keeps us constantly amazed. And Pylon construct loudspeakers that help capture the sounds. Tuning the ears, and satisfy you with tones' purest and most perfectly coloured.
Pylon, offer loudspeakers of the highest quality, which accurately and precisely test to ensure that products you purchase are perfect. And t
he high quality offered is proven by awards, reviews, and the highest rating the products receive. And the Pylon website lets you acquaint yourself with the latest products and professional articles on high-quality audio equipment.
Jade 20 construction
The Jade 20 is an outstanding concert-like performer: a combination of "strong sound" with unlimited freedom and the natural scale of the instruments. And a modern, technologically advanced loudspeaker with a solid but colourful and spatial sound wrapped in a tasteful, timeless vintage-style enclosure. The loudspeakers sound vital, with a strongly marked foreground, rhythmic and strong bass and a colourful high. This set would create a friendly concert atmosphere during hours-long listening sessions and a suggestive background for work and relaxation. 
Design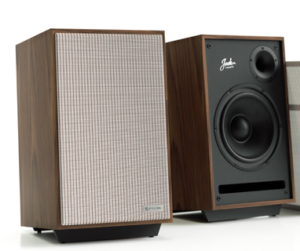 In this two-way design, we entrusted the lower bandwidth to a designed in-house, 12-inch mid-woofer with a classic, paper diaphragm. The BMS compression driver, responsible for the top, works in a short tube with a Tractrix profile designed by our engineers. The appropriate selection and efficiency of the transducers allowed us to obtain a bandwidth division at around 1200 Hz. Thanks to the 8-ohm impedance and efficiency of 91dB, the Jade 20s are easy to set up – a low-power tube amplifier can quickly drive them, and they're showing their claws and full potential with a powerful transistor amp. 
Construction
The loudspeaker housings are made of massive MDF boards, additionally reinforced with internal ribbing and trusses, ensuring the appropriate rigidity of the structure. We have optimized the casings to work on low support (included in the standard equipment) and an accessory, a higher stand. The Jade 20 is finished with a natural, oil-waxed American walnut veneer, emphasising its vintage aesthetics. Also, t
he columns dedicated for use in rooms with a floor area of 18 to 45 m2.
Specifications
Dimensions 386x640x420 mm 
– height with wooden stand 691 mm  
– height with metal stand 857 mm.
Tweeter Pylon Audio PST 25PO.8 
Woofer Pylon Audio PSW 32.8 CS 
Available colours: – American Walnut, with oil-wax PURE
Performance
The Jade 20 loudspeaker was honoured, with a title 'Product of the Year' by HighFidelity.pl magazine!
And without further elaboration, let me quote:
"They are distinguished by a modern sound, i.e. resolving, broadband and well-balanced. With "vintage" we get sound building in a tight cocoon between the drivers and us, as well as the immediacy of the message. Their appearance is unique and the workmanship is very good.
I will add the Performance of these speakers is outstanding. And although I have heard great words and read excellent reviews, I have proof. Yes, I was at a listening session myself last month and wrote an article with my thoughts. And I suggest you follow this link so you can read for yourself – Jade 20 loudspeaker 
Conclusion
Pylon audio makes excellent components, and we loved the sound from the Jade 20 loudspeaker. And more than impressed by the quality of the build and performance. Also, the music had more weight and depth, unlike what we had heard before, so indeed a new experience. And with a retail price of 2700 euros, are the best value in the marketplace by far. And if you have enjoyed reading 'The Jade 20 Loudspeaker', please share with friends – thank you.
Perkune I Best budget audiophile cables