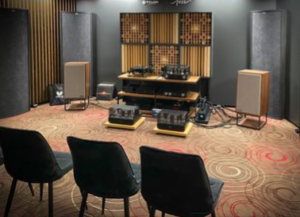 A modern, technologically advanced loudspeaker, with a strong, but colourful and spatial sound wrapped in a tasteful, timeless vintage-style enclosure motivated us when designing the Jade 20 loudspeaker, made by Pylon audio. And this article is Jade 20 loudspeaker tested
Jade 20 loudspeaker tested
In this two-way design, we entrusted the lower bandwidth to a designed in-house, 12-inch mid-woofer with a classic, paper diaphragm. The BMS compression driver, responsible for the top, works in a short tube with a Tractrix profile designed by our engineers. The appropriate selection and efficiency of the transducers allowed us to obtain a bandwidth division at around 1200 Hz. Thanks to the 8-ohm impedance and efficiency of 91dB, the Jade 20s are easy to set up – a low-power tube amplifier can quickly drive them, and they're showing their claws and full potential with a powerful transistor amp. 
Loudspeaker housing
The loudspeaker housings made of massive MDF boards additionally reinforced with internal ribbing and trusses ensure the structure's appropriate rigidity. We have optimized the casings to work on low support, included in the standard equipment, and an accessory, a higher stand. The Jade 20 is finished with a natural, oil-waxed American walnut veneer, emphasizing its vintage aesthetics. 
The Jade 20 is an outstanding concert-like performer: a combination of "strong sound" with unlimited freedom and the natural scale of the instruments. The loudspeakers sound vital, with a strongly marked foreground, rhythmic, strong bass, and colourful highs. This set would create a friendly concert atmosphere during hours-long listening sessions and a suggestive background for work and relaxation. 
Loudspeaker position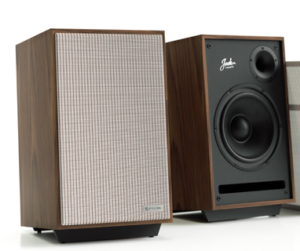 One difference is how the loudspeakers can angle back by a few degrees—making them ideal for standing operations.
Also, adding the optional speaker stand allows greater possibilities of sound dispersion.
And the columns dedicated for use in rooms with a floor area of 18 to 45 m2, making them a versatile companion!
Specifications
Impedance: 8 Ohms
Bandwidth: 35Hz – 20KHz
Power: 140 – 220W
Efficiency: 91 dB
Dimensions: 386x640x420 mm 
height with wooden stands and slides: 691 mm
Height with the optional metal stand: 857 mm.
Weight: 25kg / pcs 
Tweeter: Pylon Audio PST 25PO.8
Woofer: Pylon Audio PSW 32.8 CS
Warranty:  4 years
Colours: American Walnut
Loudspeaker introduction
I am 'Old school' and love the amps and speakers made in the seventies. And today, I was visiting my colleague with a power cable I made for a colleague in Canada. And as I walked into his office, I saw these beautiful-looking loudspeakers, just asking to be played! So I told Lukas, OMG, these look amazing, and I have to hear them. So he replied a perfect item with which to test your power cable!
The Jade 20 loudspeakers were in position, and we let the system warm up whilst we drank coffee and discussed the latest world events. Which took little time as we were both eager to hear these speakers. We chose a selection of familiar music as we used these tracks on another testing session with a pair of Jasper 25 MKII loudspeakers, again made by Pylon.
Loudspeaker testing
The first track played, and the sound heard was certainly unexpected. We were both taken aback because we moved into a far bigger room, or so it seemed! Lukas played the next track, and again we felt like we were in a different room. The soundstage was much bigger than we had heard before, with impressive bass and clarity in all instruments. Jade 20 loudspeaker tested
An hour passed like 5 minutes as we were utterly engrossed in the sound from the Jade 20 loudspeakers. And I told Lukas I loved what we heard, but we should try the new power cable. He agreed, connected the power cable to the junction box, and played the first track.
Another hour flew by, but it felt like only five minutes this time. And the reason is because of the difference in the quality of music the Matrix PRO power cable provided. And once again, the soundstage expanded, bringing more details and excitement with the music. The vocal became clear and crisp, as if the person was in the room. And you could hear every breath taken. Also, the room had more life and excitement and what a fantastic-sounding room it had become! 
The music had more weight and depth, unlike what we had heard before, so indeed a new experience. Also, we are familiar with testing audio cables as we spent the past two years testing many lines with various audio components. And we both agree this is the best sounding system we have ever heard!
Conclusion
Pylon audio makes excellent components, and we loved the sound from the Jade 20 loudspeaker. And more than impressed by the quality of the build and performance. Also, the music had more weight and depth, unlike what we had heard before, so indeed a new experience. And with a retail price of 2700 euros, they are the best value in the marketplace by far!
If you have enjoyed reading 'Jade 20 loudspeaker tested', please share with friends – thank you.
Author: Paul Anthony Goodwin – Perkune audiophile cables
Dated: 19/02/2023
Perkune – Best budget audiophile cables