This is me in 1970 playing with my group which was called "Staircase" why this name you ask? Because, we were on the way up – or so we thought at the time! I have been playing the guitar and working with music since the seventies. And, now have something positive that I wish to share with you how Guitar players Improve your sound.
Little did I know, that I would still be involved with audio? But I would have my own company and be making cables. And, who could imagine what the future had in store for me!
Improve your sound
I was fortunate to have a great mother who bought me my first guitar. And, was able to put up with the noise coming from my bedroom at all hours. When I got inspiration, then nothing would hold me back. And. It did not matter what time it was. I just had to play music.As time marched on into the eighties, I was still involved with music and playing. I was always happy to jump up on stage whenever I was to lend a hand. I always wanted to get everything to sound the best I could. And, would spend time helping to set up the equipment before playing.
I was born on September 17th, and this makes me a Virgo. And, if you follow the star signs, then you will know why I am the way I am. A Virgo wants everything to be perfect, whatever it is. And, will take the time needed to make whatever it is accurate. So all Guitar players, please read!
Moving on
Once again, time marched on, And, found, as I changed, everything around me changed. For one thing, we are learning so much about others and also ourselves. And, we become far more tolerant of real-life situations. The time is now in the nineties, and I was living in Denmark. But, still involved with music and audio. I was fortunate to meet Gary Moore when he was playing with his band in Esbjerg. And this is something that I will never forget because it was one of the best live performance I have ever experienced.
Technology
The music industry has been an enjoyable experience for me. But things began to change, and equipment began to change. And, so I became more aware of audio and the changes that technology was having on computer. I started living in Lithuania, and that is when I because involved in High-end audio. If you read the about me page, it will give you a good idea of what has happened to me over the years. And, how I have ended up with Perkune audiophile cables. I still love my guitar and have a 2002 Burns marquee that I play every evening before I go to bed. Because it relaxes me and also gives me ideas.
One evening I was sitting playing, and I thought why don't I try to use the cable for guitar. Just to see how good it would make my guitar sound. The next day, I made up a cord, and indeed it did make the guitar sound better. I had been working with a new shielding material and was getting better results. I thought that I would make up a set to try with my guitar, but, this time, I went one step further.
The visit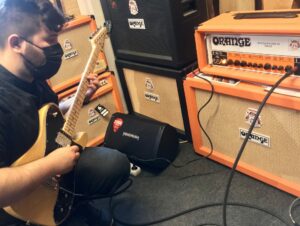 After I had made up the new cables, I visited the local music store. The company is named Tamsta music. Which, has been operating in Vilnius for many years. And, it is one of the biggest and best music companies in the Baltics. The guitar was a lovely old Gibson, and the amplifiers were Marshall and Orange tube amplifiers. The guitarist had been playing for about 12 years and could do wonders with his fingers. And, it was so good to hear a person play as he did.
The results
The amplifiers were warmed up, and the tests started, The first thing we did was to change the power cord and immediately the sound improved. There is more detail, speed and energy in the notes played. We looked at each other as we both heard and felt the differences. We then changed back to the standard cord, and it was like everything had slowed down. Back to the power cord. And. This time, after a few minutes, we replaced the standard cable with the three-meter Perkune guitar cord. This time, we both heard very noticeable changes.
The most significant change was the clarity of the notes played. And it also gave a noiseless background. And it is crucial because it shows the richness and beauty of the records. Also, making a difference, to the feeling and expressions because the notes were now open and not cluttered with background noise. We then removed the Guitar cord and replaced it with the standard cable. But, the sound became not so exciting, And, we simply changed back and continued with the music.
The guitar cable
I thanked my newfound friend for all his help and his incredible playing. I packed up my cables and left Tamsta with a big smile on my face. Because it was so good to hear what my cables can do in the real world. The new Guitar cord is three meters in length and fitted with Neutrik 1/4″ jack plugs. The cable shielded with the original PVC heavy-duty shrink wrap. Which is heated and applied, and this gives the "air-gap" shielding.
If you have enjoyed 'Guitar players Improve your sound',  please share with friends – thank you.
Customer comments
Perkune Best budget Audiophile Cables