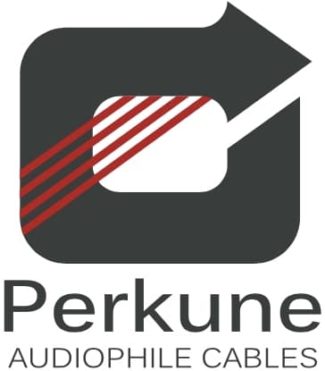 The Best Budget Audiophile Cables 2022 are from Perkune audiophile cables. My cables are handmade, and LIMITED EDITION. And if you are looking for neutral cables providing the best performance and best value for money, look no further. I offer Loudspeaker Cables, Power Cables, and Interconnect Cables. Also, Digital, USB, OTG, HDMI, and network cables. And can advise how to re-position your loudspeakers and fine-tune your audio system. Also I have spent the past twenty-five years working with audio and cables, and LOVE what I do!
Matrix Black Power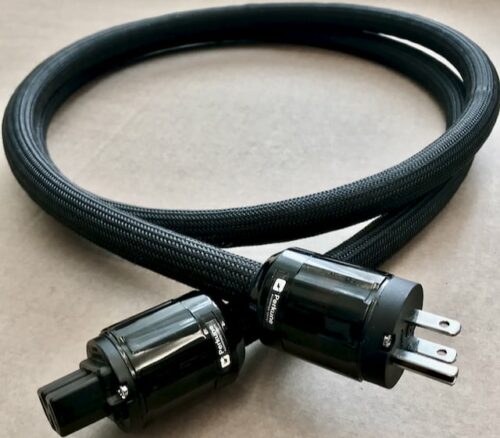 The Matrix Black is a very high quality power cable. And has five separate, insulated conductors sealed in a 15.0 mm 'Air-tube'. Also, by covering the 'Air-tube' with foil shielding, layers of PTFE, anti-static and fleece material, aid the conductor insulation efficiency. And as a result, the cable is extremely light and flexible, easy to lay and move around any component. Also, because of the new construction, the sound of your audio system becomes open, relaxed and so involving. And you get a feeling of not wanting to stop listening to what you are hearing →
Matrix Black XLR
The Matrix Black XLR is the best quality interconnect cables added to the range. And fill the slot between the Matrix S, and the Reference series. And, as a result, delivers a Precise, Clean and Neutral feel. Which is ideal for all lovers of good sound. The Matrix Black XLR balanced cable, in the Hi-Fi world, is used to improve the analogue RCA signal. And has a positive effect when using a high-level cable. Now, you are able to transmit the balanced signal between your equipment with efficiency and protection. Allowing you to enjoy the full potential from your system →

Matrix Reference Power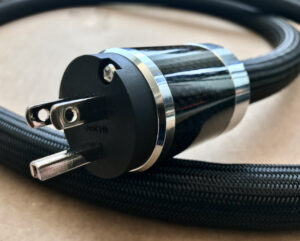 The Matrix Reference PRO is a premium Power cable introduced to the range April 2022. And employs a unique design of mixing old and new. And the cable brings rich and timbral correct, colourful music to your audio system. Offering naturally sounding vocals without sibilance and brings an intensified performance with perfect character information. The power cable allows Significant image presence, allowing exciting and engaging listening, with many new timbral textures presented →
Matrix Source Power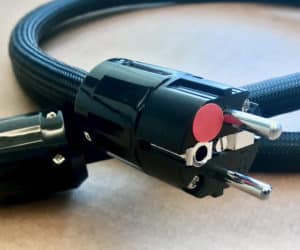 The Matrix Source cable (introduced to the range March 2022), employs a unique design of working from the inside out. And offered as a very competent cable in terms of performance and value for money. The power cable, employs 'tinned' copper OFC conductors sealed in a 12.0 MM "Air-tube'. And isolation is further aided by covering the 'Air-tube' with foil shielding. Following the foil, layers of PTFE, anti-static and Fleece material. The Matrix Source cable is flexible, and easy to use  →
Reference PRO Power
The Reference PRO power cable is two meters in length, and has a specific weight. Helping to ensure stability and contact. The cable is attached to the connections and secured by FOUR clamping screws. The clamping screws provide safety and complete reliability. Also, Another significant development is an additional internal protection shield. And fitted to act as a barrier. Providing protection against RFI and EMI interference→
Matrix PRO Power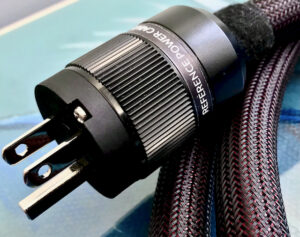 liquidity to the music. And the performance increased, along with dynamics speed and detail. The Matrix 'PRO" power cable, testing in different audio systems with results which are simply exceptional. Also, when you remove the matrix 'PRO' power cable, going back to your regular power cable, you realise just how good the new Matrix PRO power cable really is. And you ask, yourself just where did all the music go?→
Matrix 'S' speaker cable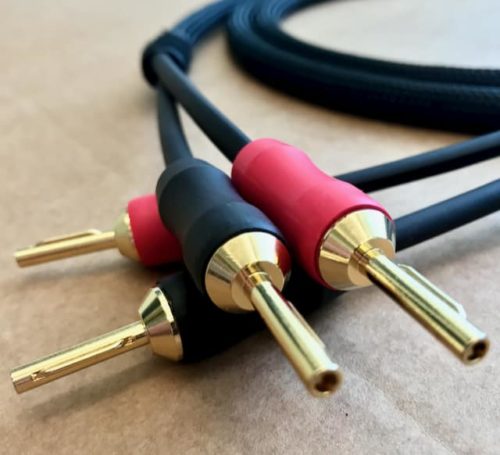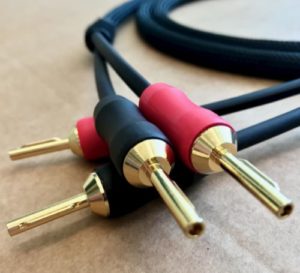 The Matrix 'S' loudspeaker cable added in June 2022, takes music to the next level. In so much, allowing more heard at the loudspeakers. And, as a result, the music flows without restriction.  The sound is crystal clear and transparent. You are revealing new details and dynamics as never experienced. The Matrix 'S' comprises independent cables within one external shielded construction. One line feeds the speaker's positive side, and the second cable signals the loudspeaker's negative side. And, as a result, it brings you a more outstanding listening experience. The music flows from the loudspeaker. And, you do not have to listen for the music, because it just flows! →
The Matrix PRO  

Audiophile Cables
The Matrix PRO Loudspeaker cable is of a unique design, meaning every conductor has 2.97 mm2. And arranged in double symmetry, containing 37 concentrically stranded wires. The Matrix PRO loudspeaker cable uses the latest 'Slimline' Rhodium plated banana connections. Also, shielding is four level, incorporating PTFE and PVC. And assists with reduction of micro-vibration and external electrical interference. Which is a critical addition to overall performance→
Reference PRO Loudspeaker  
Three meters in length is optimal for a loudspeaker cable to reproduce signals with speed, and quality. And the Reference PRO loudspeaker cable combines conductors of 2.97 mm2 with multi-level 'AirGap' technology.
The cable, Having OFC 99.9999% conductors, with a resistance of 0.0057 Ohm/meter, it is no wonder the sound is spectacular. And allowing you to hear things such as micro details as never heard before. The Reference PRO loudspeaker cable is fantastic, and must be heard →
Matrix Reference PRO interconnect
T
he Matrix Reference PRO Interconnect is another step up in audio quality. Offering superior dynamic performance than previous interconnects in the range. The musical performance seems presented more efficiently than ever before, and the performance passes quickly. It is like time has passed before your eyes, and all you want to do is play that track again. Why? Because your audio system is offering a new experience than before →
Reference PRO  

cables 2022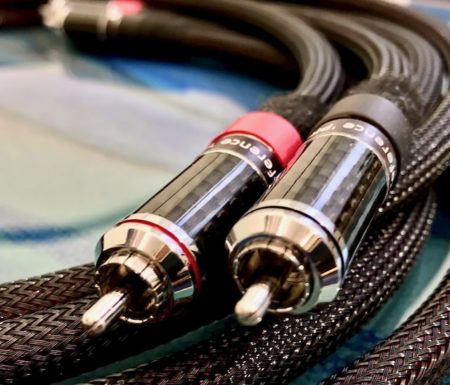 The Reference PRO Interconnect has reached a new level. Offering a larger Sound-stage with greater depth and width. Also, the image positioning is razor-sharp and spot-on. Which, allows total transparency and a full 3D effect. Also, you become aware of more detail and micro-details. Bringing higher levels of excitement and involvement to your overall listening experience. Also, the Rhodium/Carbon fibre connections add to you listening pleasure →
Reference PRO digital

Audiophile Cables 2022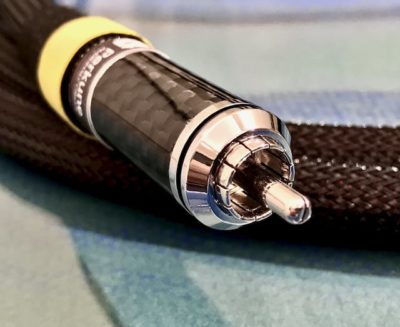 The Reference PRO digital offers improvement in signal quality and signal speed. And assembled using dual 'AirGap' isolation and external Antistatic isolation material. Also, the reference PRO digital cable significantly impact the sound heard at the loudspeakers. Also, having the addition of the latest Rhodium-plated/Carbon fibre connections. Which, offer perfect signal transmission. Also, fitted additional PTFE shielding to reduce micro-vibration→
Matrix PRO digital
The Matrix PRO Digital, is the ultimate audiophile cable. Designed to obtain the best performance possible without breaking the bank. The Matrix PRO Digital cable is a reference cable but has a price that will suit most. And offers the best value for money in the industry. Also, because of technology development attention to detail, and the highest manufacturing quality, the Matrix PRO digital cable is now available for every application →
Reference PRO Network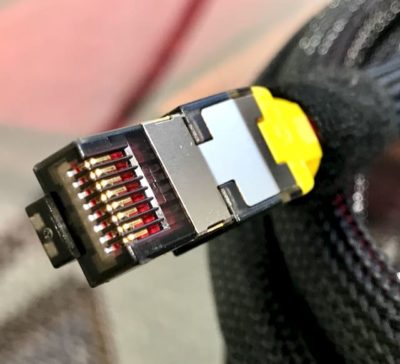 The Cat8 Reference PRO network cable is a must for the serious Audiophile. And has to be tested to feel extra performance the cable offers. The Cat8 Reference 'PRO' cable uses the latest technology and operates at 25G/40. And it was manufactured and tested following ISO and TIA standards for a Cat 8 cable. Also, the Reference 'PRO' network cable is a tripple shielded S/FTP Ethernet Cable with gold plated connectors (RJ45 M/M) and hassle-free locking tabs. And is ideal for installation in areas that require high data transfer speeds exceeding 40Gbps→
Testimonials 

2022
Hi Paul, had time to listen to the reference pro, inserting into my friends system. We listened to a couple of his regular tracks, changed out the RCA cable, and started with the first track. And within 5 seconds he said wow what the hell, that's awesome. We continued with more of his favourite tracks and he loved the cable and believe me my friend does not jump on anything. Well, unfortunately he wouldn't let me leave with the cable and kept it. I said fair enough, and he was grinning ear to ear. The quietness between instruments was amazing with beautiful detail. The music really jumped out at us like never before. He now loves his Perkune – Regards Graham, Canada Audiophile cables 2022
Hey Paul, I got the reference slimline power cable this morning, thanks very much. And I have to say, this cable is the real deal! Right from the first note it bested my reference, Onda Systems Rush PC, which sold for $2800 when it was current.  It's breathed new life into my power conditioner.  Beautiful tone, nicely detailed without being fatiguing and a nice open soundstage, amazing! There is a rightness to the music now.  Makes me wish I'd grabbed your Reference cable awhile back. Take care for now…Rick, Canada
Air-Gap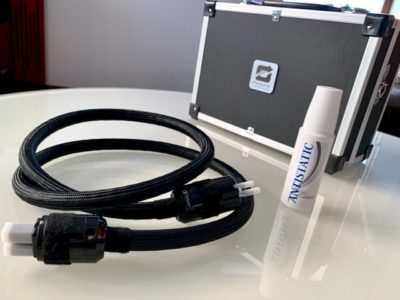 The 'AirGap isolation' and 'AirTube suspension' represent progress allowing a reduction in vibrations, reflections and unwanted noises generated by electrical interference. The aluminium foil sheathing and the vinyl tape insulation proceed in the same direction. The Matrix's diminished capacitance and inductivity result in almost complete neutrality. And it permits you to have a cable that doesn't add or subtract anything from the original recording. This ultimate achievement is nothing but a shining trademark from this small company destined to become known in specialised circles and successively among customers. The Performance of the cable is spectacular. And what more would you want from a power cable costing 497 Euros? Markus Ganzherrlich Webzine (www.rockmetalbands.com) Italy → Audiophile cables 2022
Hello Paul and just want to say how pleased I am with how my system is now sounding. And your cables certainly have done a great job. It seems like there is more of everything in the music and the quality have really improved big time. I know that Bose are not the easiest of speakers to do things with. But, your cables have just brought out more than I could ever imagined. And I will continue to use your cables. Thank you so much – Sudakar, Oman
Experience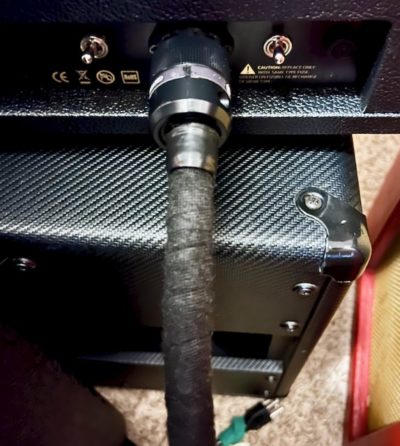 My first experience with Perkune Audiophile Cables 2022 was the purchase of a two-meter Guitar power cable. And I must say how impressed I am. In so much, I decided to try the Amplifier cable. And once again, I was amazed at what the amplifier cable does. My electrical guy worked on one of my old Gibson amps and removed the old power cord. And then, was able to fix the new power cable onto the amp. And when I turned on the amp, I noticed how quiet it was and non of the humming noise it had before. I plugged in my old Gretch flat body and started to play. Bloody hell, was that me making the sound? Because it was so alive and open. Everything was clear, and the sustain just went on! Scott, Florida, USA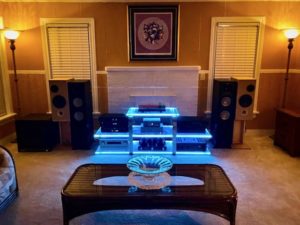 HI Paul, and totally amazed at what your cables have done to my sound. And results heard my me and my wife who is a complete Skeptic. My sound is now warm and alive with realism and musical expression that I have never heard before. And how can a cable do this I wonder. I have spent money in the past on cables with big names. And my friend told me about you making  me get in contact. Thank you so much for what your cables have done and highly recommended – Josh Parker, USA
Hi-end
Hi Paul and just want to thank you for helping me with my speaker positioning. And has made such a difference to my sound. Also it is hard to understand how you are able to do this by just looking at a picture from half way around the world.  The results now are better focus and image positioning. And also more bass which is cleaner and not wooly like before. And I feel more information in the room, and the details seem to fly past and gives me a 3D effect which is great experience. OR maybe it was the latest Matrix 'Pro' power cable – Thank you very much for you help – Eirik, Bergan, Norway. Audiophile cables 2022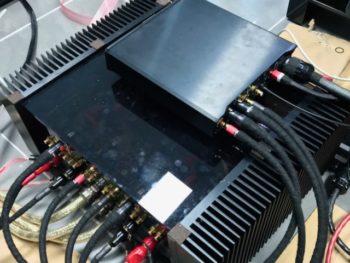 Hi Paul and I have to say I have never experienced anything as I have with these latest Matrix S cables. I have used your cables for the past three years. And started with a power cable which, changed my thinking. I guess I have been upgrading every time you introduce something new. And am at a stage when I thought it could not get better. These new 1.5-meter Matrix S interconnect cables are in a league of their own. The transparency and quality are the best I have ever heard, which makes the vocal so lifelike. And, as if the artist is here in my listening room. Bravo Paul, Edvinas, Odense, Denmark Audiophile cables 2022
Weakest link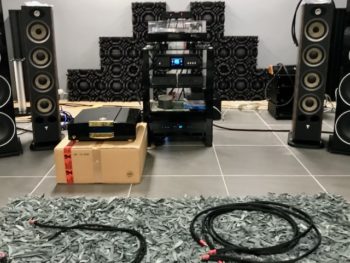 I must say the sound from an audio system depends on its weakest link. And if the amplifier (like we used costing 26K) and speakers (costing 9K). Plus the DAC and transport (costing 4K) and, not forgetting, cables and power cables (costing around 4K). One would expect the sound to be just outstanding. However, if you were to try and save money by using cheaper cables, you would indeed feel a drop in sound quality. And the cable testing article you wrote has opened my eyes and my ears, and a great audiophile experience  – Tomas, Vilnius, Lithuania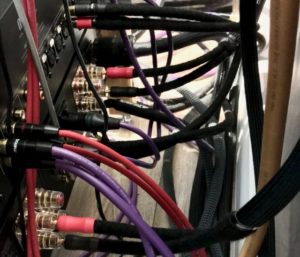 Hi Paul, and let me start by saying that my stereo system has never sounded better. My initial investment in the Matrix-S power cords was my first step. And a significant leap forward in sound fidelity. It would help if you gave your head a shake for those who thought power cords don't make any difference because they don't carry a musical signal. Trust your ears. The Matrix-S power cords made a massive difference in the music's sound stage, detail, and depth. And If you are using stock power cords that came with your equipment you just have to try these amazing audio cables. Wayne, BC Canada. 
Differences
I didn't know what to expect with this power cable from Paul. And it was replacing a stock power cable to my new MCRU P/S to my Pro-Ject XTension 10 Evolution TT. I recently upgraded, which made a world of difference in performance. Also, In addition, the sound stage was much more detailed and dynamic. And when Paul suggested changing out the power cable with The new Matrix 'PRO' I thought, really, how much improvement could it make? And as usual, I never should have doubted it. I am astounded by the overall detail and, in particular, the vocals. The songs resonate magically through the recording above and beyond what I heard with the old cable. Well done. Regards Bill Long, B.C. Canada. Audiophile cables 2022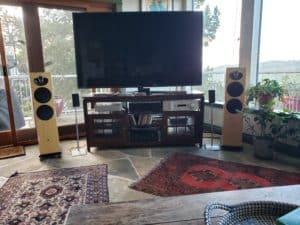 Hi Paul, I have the latest reference pro power cable and interconnects in my system for a week. The sound fidelity has never been better. And I am extremely impressed with Soundstage, depth & dynamics your cables have brought. Also I am exited for my three audiophile friends, who will be demoing them over the next month. Our lunch & listening afternoon is scheduled for the 20th. My friend Wayne has just left after a couple of hours of listening. And after incorporating the Matrix PRO digital cable, we were both stunned by the exquisite reproduction of sound. I played "Winter wonderland" (a CD I have had for several years). And I heard for the first time, a band member going "de de do" faintly as he played. The microphone picked it up, and I heard it distinctly. Isn't that wild? And delighted sound your new digital cable produced. Larry, BC
Technique Audiophile Cables 2022
The audiophile techniques used by Perkune Audiophile Power Cables reduce vibration, reflections and external interference. Thus, making an impact on the sound heard at the loudspeakers. Also, impressive how these components bring forth a cleaner, more defined and dynamic musical presentation. Audiophile Cables 2022 audio
AirGap isolation (AGI) – Air is used to insulate and achieved by isolating the line from external interference.

Audio

Aluminium foil shielding (AFS) – is 85% effective as a noise insulator. And unwanted noise is picked up directly at the source. Aluminium foil absorbs sound, preventing further propagation. Best Budget Audiophile Cables
Anti-static pads (ASP) The slow build-up of static charges undermines all audio and AV systems' performance—flattening perspectives, dull colours, and inhibiting dynamics. And, we know it's there. But ignore its impact.

Audio

Teflon/PTFE Insulation (TVI) has excellent dielectric properties. And suitable for connector and cable assemblies.

Audio

Thermaflex protection (TFP) eliminating micro-vibrations from floor and surrounding components. Best Budget audiophile cables
Ferrite 'Ring' added into the power cable, removes unwanted Electro magnetic interference (EMI).
If you enjoyed reading 'Best budget audiophile cables 2022', please share with friends and colleagues – thank you
Perkune – Best budget audiophile Power cables