The Matrix Interconnect Cable is a very competent interconnect cable. And, offers dynamic performance, comparable to cables three times the price. The line, designed to match perfectly with the Matrix loudspeaker cable and Matrix power cable. And working in close harmony with your system to reveal more dynamics and detail than similar procedures cables in the market place.
Matrix interconnect cable 

Matrix
The Matrix Interconnect Cable, assembled using dual 'AirGap' isolation and Aluminium foil shielding. 24K gold plated connections. And allowing for perfect signal transmission and connection. Also, PTFE, PVC and Tape compounds to inhibit micro-vibration and electrical interference. And, after construction, the cables pass through a process designed to 'break' or burn in.

Cable Static

Interconnect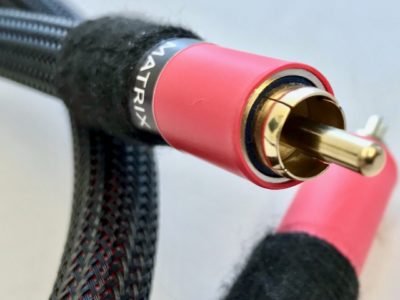 The Matrix Interconnect Cable, fitted with two Anti-static pads, help reduce static charge and buildup. Also, Static is a killer when it comes to audio. And the effect it has on audio performance. Anti-static fluid sprayed over the audio cable pads and equipment will disperse an existing static charge. As well, inhibit future accumulation. And, the effects are easily heard, with a dramatic increase in performance.
Performance 
The Matrix Interconnect Cable performance reaches new levels. And, offers an improved Sound-stage, Image positioning with razor-sharp transparency. Also, music has greater solidarity and depth. The detail and micro details become more apparent. And, as a result, bringing an even higher level of excitement to your listening experience!
The Matrix Interconnect cable has a unique sound—deep rich bass, warm and full middle range with outstanding high frequencies. And, the line is in a class of its own and must be heard to be fully appreciated.
Technical Data
The Cable size: 12.0 mm
Cable length: 1.5 Meters
Conductors: High-purity OFC copper
Resistance: 0.18 Ohm
Capacitance: 84 pF
Inductance: 0.30 uH
Shielding: Aluminium foil/ 2-fold Braided
Insulation: PVC/PTFE/ Felt Compound
Low-loss PE with Textile Jacket
Outer sheath: CanuFlex PE-HB (2-fold)

Anti-static pads x 2 
Pricing
2 x 1.5 Meter – RCA/RCA connection 497 Euros
2 x 3.0 Meter – RCA/RCA connection 597 Euros
Recommendations

Matrix Interconnect Cable
The Matrix USB
Matrix Cat8
The Matrix Power cable
Matrix Loudspeaker Cable
Customer testimonials
If you have enjoyed reading, 'The Matrix Interconnect cable', please share – thank you.
Perkune – Best budget Audiophile Cables