I am writing this article 'How to get perfect sound from loudspeaker' because it will help. And helping you to understand the importance of loudspeaker position is critical. So many people buy audio systems and never told how to get the best sound from their investment. And I will explain my techniques, hoping to help you improve your sound. I am working today with two colleagues, and we performed testing at Matrix UAB, Vytenio 10, LT-03112, Vilnius, Lithuania.
Perfect sound
What is the perfect sound, and how do you get it? But, first, let me tell you there is no such thing as a 'Perfect' sound. And cannot be achieved because so many factors are involved in listening to an audio system. So, the first thing I wish to say is that every person is unique and hears differently. And who is the authority to define the 'Perfect' sound? The perfect sound is a combination sound that portrays emotion and feelings. And colours surrounding the sound.
The system
The picture shows a high-end audio system set up by a specialist. But, initial listening revealed the sound was a touch boomy at the bottom end. And it lacked in definition and instrument positioning. So the system needed adjustments to raise the listening level. And please look where the speakers are positioned in the room. But, first, I will introduce you to the quality of components used in the system design. And giving you an idea of a perfect sound one would expect.

Source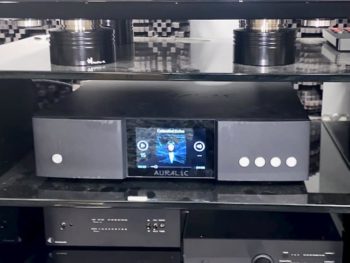 The ARIES G1 connects over Wi-Fi to digital sources, and Network-attached storage. Internet streaming services. TIDAL, Qobuz, Internet Radio, and USB drives. Designed to bring high performance streaming to your home audio system. On-Device Playlists, Memory Caching, Gapless Playback are among the features found in all AURALiC streaming devices. Also support for Spotify Connect, AirPlay, and Room Ready. And in addition, improved hardware offers a severe boost in performance. The ARIES G1, a perfect choice for streaming audiophile-grade resolutions up to DSD512 and PCM 32bit/384k. Also, a supercharged hardware platform with a completely transformed industrial design. And outfitting your home audio system with state-of-the-art streaming performance.
DAC
The PONTUS II is DENAFRIPS premium DAC. And achieves the highest possible sound quality within the cost constraint. PONTUS designed around the similar architecture of the TERMINATOR DAC. The chassis is made of massive aluminium plates, securely fastened with an internal bracket. And no visible bolt from the front panel and top cover. The all-aluminium enclosure, doubles up as shielding. Also anti-resonance, which is the criteria for the audiophile.
The PONTUS II is true balanced, dual-mono R-2R network arrays DAC. Each channel is equipped with independent high-speed FPGA. To control the decoding are four 0.01% R-2R network sets. This design has a minimal linear error, high decoding speed, and low digital noise. Ensuring the audio signal is low distortion and provides a very low background noise.  All digital inputs are FIFO buffered and re-clocked by the onboard FEMTO clocks. The excellent rejection of word-clock jitter makes DENAFRIPS DAC less reliance on the source equipment clock quality. PONTUS can transform your consumer-grade computer, CDPlayer, to high-end sound quality.
Amplifier
Mr Friedrich Schäfer, owner and designer of ASR Audio, is one of the most compelling characters in the  business. His vast amount of knowledge, and unpretentious personality makes him a fabulous interlocutor. And you don't have to be careful to avoid some mistakes he could hold against you! The way he is, his character, reflected in the sound of his amplifiers manufactured since 1980. ASR devices from the Emitter line have been known for many years. And both the design and the sound are easily recognisable, so you don't need anything special to remember them. 
These are huge devices with chassis having acrylic panels and LED indicators. And show the present state of the device. One of Mr Schäfer's priorities is proper power supply circuitry. That's why he uses an external power supply. Having large and potent high-quality Philbert Mantelschnit transformers. Additionally, the current pool equipped with an enormous amount of high grade buffering capacitors. The reviewed basic version of Emitter II has two external power supplies (one per channel). And equipped with total capacitance of 586000μF. The Emitter II (Exclusive version) equipped with battery-powered preamplifier section, total capacitance reaches 1 140 000μF.
Energy
That is vast amounts of energy stored. Which, means, it has to be managed by a unique microchip. The amplifier is a dream of the most demanding audiophile. And customised in many different ways. You can add additional speaker posts, headphone amp or phono stage. Or change number of inputs and outputs. And then come power supplies – a number of all combinations is almost infinite. The device is equipped with two radiators. Offering 2 x 250W at 8Ω. 2 x 450W at 4Ω. And 2 x 800W at 2Ω. Also, the advanced safety circuitry turns off Emitter when shortcut appears.
Loudspeakers
The loudspeakers are certainly a step into the future, And regardless of the type of music. The patented radial-beam principle is the guarantee for your total listening pleasure. The sound waves are radiated spherically, thus creating a natural three-dimensional acoustic pattern.
The MBI 111F gets its hybrid character from complex pressure-chamber technology in the woofer range. And offer the bass foundation. Also two force-balanced chassis in the lower mid-range. Providing virtually unlimited dynamics and impressive impact. Thanks to radial-beam technology in the mid-range speaker and tweeter. The sound of your music remains enjoyably airy and light. And the most delicate nuances reproduced with ease. The interplay between these individual elements gives this speaker sound purity and beauty. 
System: 4-way

Frequency range 24 Hz to 40,000 Hz

Impedance 4 Ohms

Continuous power 320 – 550 Watts

Peak power 2.200 Watts

Subwoofer 2200 mm 8" Alu

Woofer 2 x 150 mm, 5″ Alu

Midrange Radial MT50 CFK

Tweeter Radial HT37 AL, CFK

Dimensions 450 x 1130 x 55 mm

Weight 60 Kg
Cabling
The Cabling used in the final testing resulted from which cables made the components sound the best. We took four power cables and tested them against each other, using the Perkune Reference power cable as the benchmark.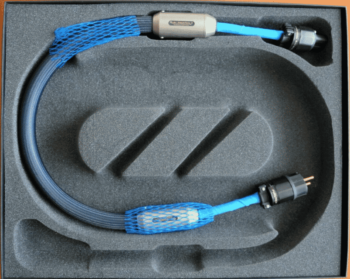 Siltech classic 1-meter power cable. The culmination of over thirty years of research into conductor and insulation materials. Massive in sound quality and accurate timing. The Classic Legend range has low capacitance, excellent high-frequency characteristics. And  low possible distortion despite its moderate pricing. It offers a superbly resolved sound with a smooth, balanced tonality. 
Nordost Heimdall 2, Two meters (3×16 AWG) Norse 2 Series power cords deliver a level of performance not previously possible at this price points. Nordost's proprietary Micro Mono-Filament construction creates a virtual air dielectric. Complete with an elegantly engineered suspension system. When combined with silver-plated OFC solid-core conductors and FEP insulation throughout.
Tyr 2, Two meters – Nordost's new Tyr 2 Power Cord benefits from the extensive research made in creating Valhalla 2. Therefore extending the celebrated Norse 2 cable range into the realm of the Reference line. In addition, by employing Nordost's proprietary Dual Mono-Filament technology (also found in Valhalla 2). The Tyr 2 Power Cord can achieve the most effective insulation. 
Perkune Matrix S Four meters (3 x 10 AWG) The Matrix S series offers 95% performance of the Reference series but at a fraction of price. In addition, the Matrix power cable improves the performance of your audio system. And, you will hear the improvement in the first seconds after installation. Which is because of the 'Air gap' and advanced insulation techniques employed. And every person who hears this power cable is impressed!
Test result
Loudspeakers: Nordost Valhalla Bi-wired x 2
Source: Perkune Audiophile cables Matrix S
DAC: Perkune Audiophile cables Matrix S
Amplifier: Nordost Valhalla Bi-Wire x 2
Main Power: Perkune Reference.
Amp Power: Perkune Matrix S, Nordost Tyr 2, Nordost Heimdall 2
Good power is essential and often overlooked, and we wanted to get the best performance possible. After testing the four power cables, we can state the length of power cable certainly does make a difference. And the Perkune Matrix S four-meter power cable quickly claimed top spot!
Positioning
If you look at the picture where it says, 'system' (near the top of page), you will see the initial position of the loudspeakers. And if you look the picture on the left, you can see to what extent the loudspeakers moved. First, the loudspeakers were moved forwards about thirty centimetres. After which, the speakers moved inwards about twenty-five centimetres. And this movement brought the sound into focus, allowing us to hear the system as intended to be heard.  And reach that perfect sound.
Conclusion
The loudspeaker positioning is one of the most exciting tests I have taken part in this year. And, it certainly was a challenge to get the correct Cabling to suit the component. Also, it did take a long time to set up, but was well worth it. The way to get perfect sound from the speakers is to position them correctly. But it takes experience to look at the room and make the change. I am more than happy to help you set up your system. And you may contact me at paulgoodwin1949@gmail.com or Virgilijus at info@matrix.lt
Author: Paul Goodwin – Perkune audiophile cables
Dated: 21/09/2021
If you have enjoyed reading 'How to get Perfect sound from speakers', please share with friends – thank you.
Perkune – Best budget Audiophile Cables