The Matrix Source power cable, introduced in March 2022, is proving to be very versatile. And I am pleased to share the results of the first five cables with you. The cable is a 'World first' because it is constructed not as a standard power cable. Instead, three 16 AWG conductors run inside a 10 mm sealed air tube. After which, the AirTube is coated with aluminium foil, PTFE and three layers of Fleece 'antistatic' isolation material, eliminating vibrations and external electrical interferences.

The Matrix Source Power Cable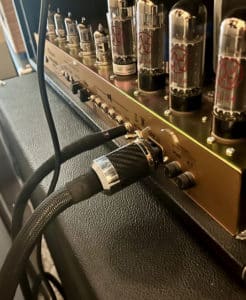 As a professional guitarist and an audiophile, I have tried many different power cords over the past 40 years. I came upon Paul just over a year ago and used his power cable and instrument cable in my amplifiers. I first used the cables in my guitar amplifiers, 60s marshal, Vox and various others.
The difference was astounding. Everything across-the-board was exceptionally better. And, from base to mid base to mid-range to High end, everything Improved to a level that was quite astounding.
The results were much more than I ever excepted from this four meter cable. Moreover, each note's musicality and harmonic decay became so exciting and palatable that it's like the amp transformed. And the sound is Just so rich and musical.The latest cable I received from Paul was the Matrix Source power cable, and four meters in length. But, this cable had a complete feel to it and weight. And it was Just so light and easy to work. I used the cable for about two weeks, and because it well burned in as I know about burning lines. And I can tell you this is the best power cable I have ever used in my life, as the tone of my guitar has become so rich and musical it's hard to believe. Scott, Florida, USA
Three-meter cable
Hi Paul, and finally got some time to write my thoughts on the Latest Matrix Source three-meter power cable. I plugged the cable into my cd player, CEG belt drive (which had my Perkune Reference 2 power cable), and I was thinking, how can this light cable be suitable) Listening time – I picked some of my typical tracks from the 'StarWars' soundtrack, Elvis, Pink Floyd, Diana Krall, and took some notes as I went along the way. 
The presentation was on the higher side of the midline; the cable was a 'wow' straight off the bat, with my friend saying that's probably the best Power cord he's ever heard just after two tracks. First, however, I noticed it had an exquisite presentation, transparency and refinement in abundance, detail and separation of voices and instruments were second to none. And the best I have heard.
To sum up, this is an exceptional power cable. Immersing us in the music as we put it through its paces. And I can't wait to get another listening session going. Graham, Edmonton, Canada
Hi Paul, and just finished installing the Power cable. And it is fantastic stuff. Sound-wise it's all a bunch of candies. Holographic presentation is there – instruments and voices are now 3D and have way more condensed energy, meaning they are more tangible. The presentation is more lifelike. The resolution has improved quite a lot. On practical aspects, I had a little difficulty bending the cord to plug it into my amp, but I succeeded finally.
My power cable has now bedded incorrectly, I suppose. It ensures a more holographic rendering of instruments and voices. There's more depth to the soundstage. Agents are more precise and focused, which is a source of deep satisfaction. All I need is an upgrade of my other cables to make another step in the right direction. Thank you very much, Paul. You are a true wizard of your craft. But, let me take a breath and save some money for the next one. Tomasz, Lasota, Poland
One meter cable
I am a guitarist and manage the guitar section at Tamsta music studios, and I have just been testing the Matrix Source power cable. First, I listened to my system to get the feel and inserted the power cable. I was amazed at how light and flexible it was and thought to myself, can this be any good. I started to play and nearly fell off my stool. The sound just leapt out from my systems like an angry lion with speed, energy and clarity. And I thought, what kind of magic and what is this cable. Because this cable is nothing like I have ever heard before. Somehow, the amp got a more low and low-middle punch in the guitar sound, less noise from the amp, and some more highs. 
Overall, the sound becomes much cleaner and more articulated. I don't know how it's possible, but it works =) My guitar had come alive with tones and details I had never heard before, and it was like I had just fitted new strings. I will say this power cable is different and works, and in fact, is just mind-blowing – Jonas, Vilnius, Lithuania
Conclusion
The above testimonials are from people in four countries who all have the same results with the new Matrix Source power cable. And these were the first four produced. The Cable lengths are very different but results the same. Which goes to show that it really is a great cable, easy to use with spectacular results.
If you have enjoyed reading this 'Matrix Source Power cable results', please share with friends and thank you.
Perkune – Best budget Audiophile Cables