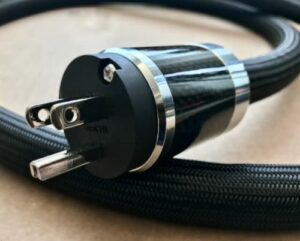 Matrix Reference power tested. The Matrix Reference PRO Power cable (introduced to the range in April 2022) employs a unique old and new technology design. And the line brings rich and timbral correct, colourful music to your audio system. Offering naturally sounding vocals without sibilance and brings an intensified performance with perfect character information. Also, the Matrix reference 'PRO' power cable allows a more significant image presence, allowing exciting and engaging listening, with many new timbral textures uncovered.
The Matrix Reference power tested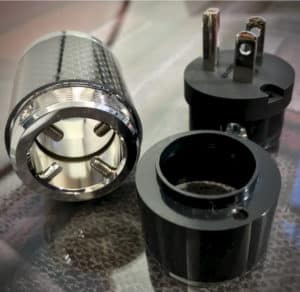 It is all well and good to read what the intro says, but how does it sound in reality? And, what is the difference between this cable and others to make it sound different? The answer is the addition of larger 'AirTube' and 2 x 12 AWG OFC conductors. And the Carbon fibre Rhodium-plated EU and US connections plug. Which is specially made and has a cable opening of 22 mm and an additional inner sleeve to help reduce electrical interferences; such as EMF, EMI and RFI.
EMF – defined as "Electromagnetic fields" or "Electric and Magnetic Fields". EMF is, under either definition, a thing, an agent, or a force. 
EMI – defined as 'Electromagnetic Interference'. And is the result of an electric or magnetic field acting on a device, causing it to malfunction. It is this interference that affects the proper functioning of a device. EMI is a broad term that covers all interference from all frequencies in the electromagnetic spectrum – DC, Quasi-DC, AC and RF.
RFI – is defined as "Electromagnetic Interference" caused by an electromagnetic field in the "Radio Frequency" band.
Reference

power

 
The Matrix reference 'PRO' power cable is very light and flexible, making it easy to thread past other components stacked together. The cable diameter is 21 mm (which is not a baby) but can be easily tucked away and can also connect better than most!
The weight of a two-meter power cable is only 895 grams. And this makes shipping costs much lower than the cost of shipping a 2-kilo power cable.
Testing
I spent the past couple of days visiting friends and testing the power cable in different systems. And the first person I saw was a Doctor (actually the head of the department) I had known for the past seven years. And it was 'Vidas' who first heard my cables and told me to build a website and start selling because they were so good. 
First test

Matrix reference 'PRO' 
Vidas is a true audiophile and has one of the best sounding systems in Vilnius, Lithuania. And it is always with such pleasure when we are together testing cables. Vidas has a pair of Tannoy 15″ Golds mounted in Autograph cabinets. The Golds run without crossovers, and the sound from the speakers is fantastic!
In the picture hanging over the chairs, you can see many power cables as Vidas and friends are busy doing their yearly testing. Remember I said he is a true audiophile? That is what audiophiles do – constantly test to improve their sound.
We listened to his system and used his CD player, powered by a Perkune Reference power cable, and the system sounded terrific. We changed the power cable to the Perkune Matrix reference 'PRO' power cable the heard the difference within seconds. Vidas turned to me and said these words. 'You know Paul; I never thought it possible these Golds could sound as good as they do now. Matrix reference power tested
Second test
Matrix reference power tested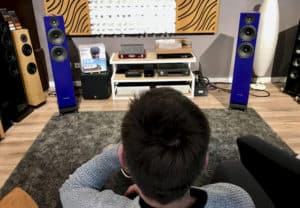 The second test took me to my excellent friend Lukas, whom I have known for eighteen months. Lukas is a supplier of audiophile equipment and also an audiophile. Also, we have carried out many tests on speakers and equipment over the past year. And, I will say that Lukas is a very hard person to please, but if he says it is good, it is good.
The loudspeakers used were the Jasper 25 MKII loudspeaker from Pylon Audio, a company in Poland that make great loudspeakers. The amplifiers are Musical Fidelity (M6S preamplifier and the M6SPRX power amplifier). The M6s PRE is effectively a preamp without limits. Its wide range of inputs, coupled with excellent performance, means it can form the heart of almost any system, regardless of price. Moreover, it's a pure Class A design capable of driving any power amplifier over any cable length.
The Music
I also decided to use the Matrix reference loudspeaker cables in the test because I knew it would paint a better picture! Matrix reference power tested
The music chosen was from the album 'Point' by the group named 'Yello' and our favourite test track (the vanishing of Peter Strong). We played the music, listened for a few minutes, removed the power cable from the amplifier, and replaced it with the Perkune matrix 'PRO' power cable. There was an immediate difference in the sound. And the music had become cleaner with an improved sound stage, and detailed better defined with greater transparency and cleaner bass. And Lukas said, 'Well, Paul, you have done it again. 
I said OK, now I want to test the preamp for hearing the difference. So Lukas changed the power cable over to power the preamp. And when the music played by both sat upright, there was a considerable difference. The music had moved even closer, and it was like I was wearing headphones. The soundstage was huge, and details filled the room. The energy was excellent, and the bass was like nothing I had heard before.
Play on
Lukas said OMG; I want you to listen to a CD by Hugh Masekela called Stimela (the Coal train) as you will love it. The music played, and what a performance it was with so much energy and detail. And Lukas said, I want to hear Micheal Jonasz. So we did, and then it was a 'freshly ground' group. And was followed by Morgan James and Diana Krall, and Michael Jackson.
Lukas said this was the best system had ever sounded. The music was so smooth and easy to listen to, but with a new depth and energy. And three hours later, we just had to stop for lunch. Matrix reference power tested
Third test

Matrix reference 'PRO' 
After lunch, I saw another well-heeled audiophile whom I have known for 15 years and who owns a very well-known audio saloon in Vilnius. Paulius welcomed me as it had been two years since we last met due to the Corona. And he smiled and said OK, Paul, what do you have to show me today. I pulled out the power cable and handed it to him. My god, so light, what the heck is this you have made. I laughed and said, " But wait till you hear it before you judge, OK. 
We listened to some Eric Clapton to get a reference, and Paulius removed the power cable from the CD player and replaced it with the Matrix reference 'PRO'. And after a few seconds, he rolled his eyes and said, 'Man, oh man, another one bites the dust. We laughed as we all agreed the sound was so much better in every way possible. And it made his system sound the way it was supposed to sound. A room-filling sound stage with a Deep tight bass, having all the details and information a person could ever want. Paulius said I do not know how you can make a cable so good, which makes my 1K cable sound so bad. I replied its Magic.
Conclusion 
The new Matrix reference 'PRO' is a great sounding cable and can be used anywhere in the audio system. I am very proud of this cable, and I know you will love this cable within the first few minutes of listening!
If you have enjoyed reading 'Matrix reference power tested', please share with friends – thank you.
Dated: 25/04/2022
Perkune – Best budget audiophile cables