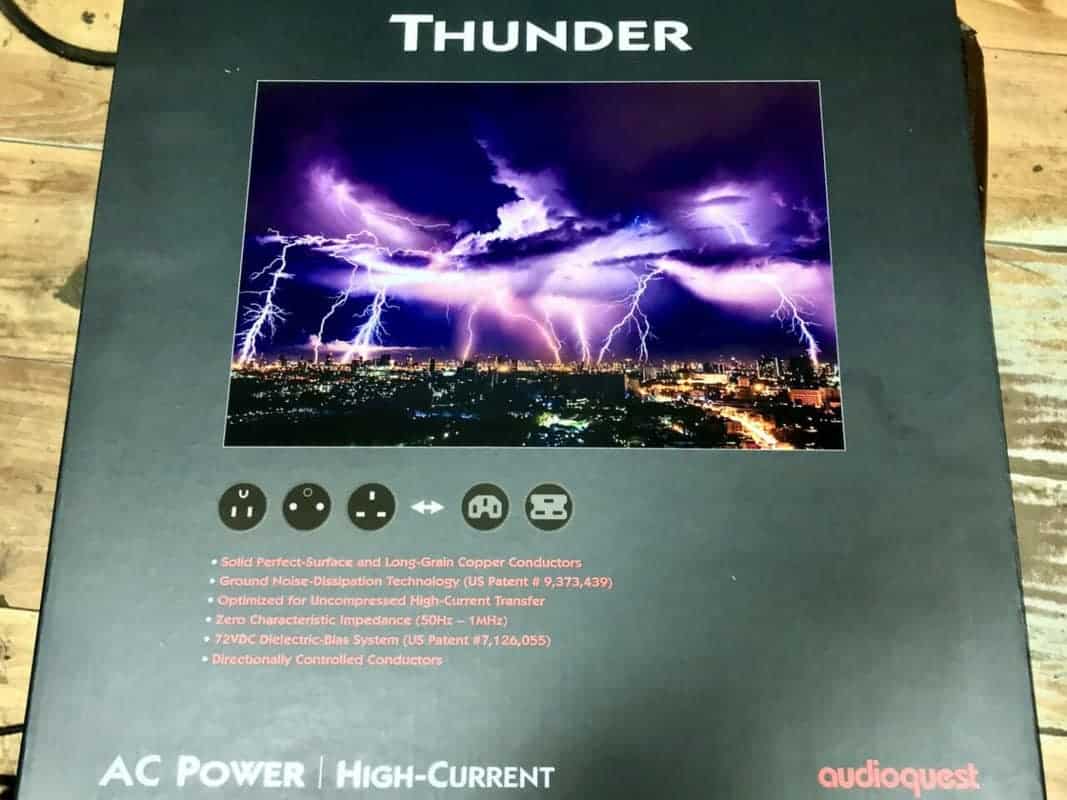 The AudioQuest Thunder is a power cable produced by a company that spent many years in the audio industry. AudioQuest provides a range of products aimed at improving your audio system sound. And, I decided (with the help of a colleague) to make a comparison between the AudioQuest Thunder and the Perkune three-meter Reference power cable.
AudioQuest Thunder
Alternating Current (AC), is a far-from-perfect power source. AC power technology is well over a century old and never designed to meet the exacting standards of today's high-resolution audio-video components. 
Power amplifiers present a real challenge. For any AC power source, as the transient current requirements can be many times that of the average (RMS) current consumption. Power amplifiers are also unique from all other components in that the current draw is dynamic, not constant. 
Solid Perfect-Surface Copper (PSC) Long-Grain Copper (LGC) Conductors
Uncompressed High-Current Transfer
Ground Noise-Dissipation Technology (US Patent # 9,373,439)
ZERO (No) Characteristic Impedance (50Hz – 1MHz)
72VDC Dielectric-Bias System (US Patent #7,126,055)
Directionally Controlled Conductors.
Perkune Reference
I have developed an excellent power cable and will allow better dynamics, tighter bass, sweeter treble and improved depth and imaging.
The power cable is in a class of its own, and I am very proud of the look and the feel. And, of course, the performance increase you will hear!
Interference
The interferences which we call noises can get into your AC power and interfere with your system. And, this 'dirty' electricity harms the performance of your audio-video system. If you listen to your audio system in the early hours, you notice how much better it sounds. The reference Power cable ensures a stable and clean supply of power. Shielding provides reliable protection from Interference. And, the innovative in-plug filter gives additional decoupling to the equipment
Shielding
As well as having, over, three times the prescribed minimum conductor cross-section area, the Reference Power cable has superior shielding. And, is to protect the sensitive audio components in your system. As an example, interference fields caused by the current peaks. Shielding is necessary, and a combination of different materials is selected to provide efficient shielding both inside and out. These features, aid in the removal of external noise and electrical Interference.
Connections
The EU and US connections are High-quality Cryo treated plugs with non-magnetic brass and rhodium-plated pins. The IEC connector with rhodium-plated contacts provides extreme conductivity, insulation and connection. Both of which can withstand 16A / 250V /15A/ 110V/ loads. Rhodium-plated pins are employed as they do not oxidise, which offers greater longevity and better signal contact. The surface area of the pins increased for a more rigid connection. 
Performance
The Reference Power cable allows a more relaxed and more luxurious sounding presentation. And, designed to bring you enjoyable listening pleasure. The Sound-stage is vast, delivering more air and space. Imaging and focus are razor-sharp, spot-on presenting greater solidarity and content. Bass is tighter, with more energy, and at the same time relaxed. The detail and micro details become more apparent, bringing a rich and satisfying experience to the overall presentation.
The Reference Power cord is three meters in length. And, this length provides the best overall performance. Also, the Reference Power cable, fitted next-generation Rhodium plated plugs significantly improve contact. The cap can be either EU or US which, makes the Reference Power cable, an excellent addition to enhancing your system sound. And, as a result, offers the best value for money anywhere in the industry!
Specification
The Cable size: 18.00 mm
Cable length: Three meters 
Multi-stranded, ultra-high purity 99.99% OFC
Ferrite filter (in-plug filter)
Protective conductor – Pure copper (class 1)
HDPE dialectics for each conductor x 3
2-level shielding: braided pure copper layers
Conductors size: 3 x 3.00 mm2 (10 AWG)
Weight: 1.81 Kg
Voltage: 300-500 volts
Test voltage: 2000 volts
Temperature: -40 to +70 C
Resistance: 0.005 Ohms/meter
Shielding: Aluminum foil 
Double PVC jackets
Insulation: Teflon
Secondary AirGap: DERAY-PBFSP
Outer sheath: CanuFlex PE-HB x 2
Anti-static pads (ATS) fitted (2 per cable)
Testing system 
I am very fortunate to have a colleague who is a Russian Engineer and specialises in the building of a variety of Hi-end electronic components. Which, include tube Amplifiers, Transistor amplifiers, Cd players,  Media players, Loudspeakers, and Audio cables. The test system, designed to show any faults the component may have. And, at the same time, show the qualities of the element under test.
Results
The AudioQuest Thunder is a well-built power cable aimed at improving power supplied to the audio equipment distribution panel. Unfortunately, there is limited information, but it performed very well. The Bass was deep and exerted a solid feel. Upper frequencies were all in place with all reverbs and overtones heard. The soundstage was good. And, every instrument was, perfectly positioned. But, I felt. However, there was a bit of a muddle in middle frequencies, and something was not quite in place. Also, after playing for some time, it became not so good to listen. And, as we both felt the same way, decided to change to the Perkune Reference power cable.
.
The Perkune Reference power cable is well-built and easy to handle. It felt good, and the anti-static pads were a great addition! As the music played, everything changed. The soundstage became more significant with more life and energy appearing in the music. Bass had more depth and clearly showed its sound. The vocals became crystal clear, and the middle ranges focused and all instruments had better transparency. Also, it became apparent how defined the upper frequencies had become, showing more information.
Audioquest Thunder ~  9/10
Perkune Reference    ~  10/10
Conclusion
I have tested many audio cables and power cable 'Side by side' but, this is the first time that I have evaluated another company audio cable. My colleague (as he builds audio cables) was looking with a more critical eye than I was. But, as we both agreed on every point, it proved it was an honest evaluation.
If you have enjoyed reading this 'AudioQuest Thunder Vs Perkune Reference,' please share with friends – thank you.
Perkune – Best budget Audiophile Cables