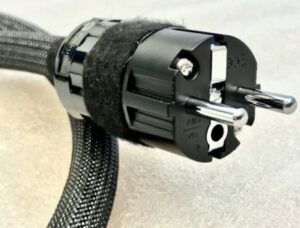 This is the Slimline Power cord pricing. And, I would like to thank you for choosing Perkune audiophile cables when upgrading your audio system. If you have any questions or would like more information on the cables, please send me an email and I will respond normally within the same day – thank you for your interest.
Slimline Power
The Slimline Power cord is the result of experience gained and 'lessons learned', whilst working with audio cables over the past three years. And, I am now able to offer a power cord that is much further ahead in the level of performance and reliability. The look, the flexibility and resulting sound heard are other steps forward, towards building a better relationship with customers. I have found after months of testing that a two-meter power cord does give a better result. Which, is why the pricing starts at 2.0 meters.
Power cords 
2.0 Meter Power cord EU Schuko/C-13 connection 397 Euros
3.0 Meter Power cord EU Schuko/C-13 connection 497 Euros
5.0 Meter Power cord EU Schuko/C-13 connection 597 Euros
Payment details
Payment with 
Please go to the price list in the section that you require.

Select the cable you want to purchase and press the 'ADD TO CART' button

Enter the coupon code (if applicable) and press apply

Press "PayPal" checkout and when the page opens fill in your details

Select the country currency you want to pay in – easy as that!

When you pay please send payment as 'GIFT'
Customer testimonials.
The Slimline Power cords are the latest items to be added to the Perkune audiophile range of cables. And, I am very proud of the results already received by this truly amazing power cord. And, I know you will be as impressed as I am with the results!
If you have enjoyed, 'Slimline Power cord pricing',  please share with friends  – thank you. 
Perkune – Best budget Audiophile Cables