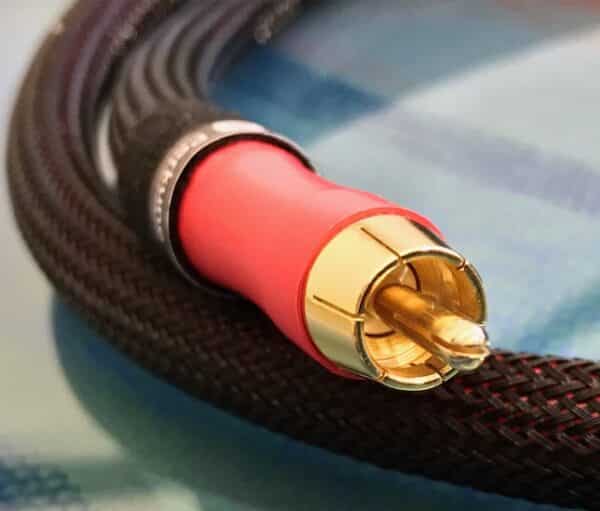 The Reference RCA interconnect cable, introduced January 2022, has two separately routed shields. Meaning, the sensitive audio signals are optimally protected from external interferences. And silver-plated conductors transmit the analogue music signal precisely. Allowing a crystal clear and dynamic sound for high-resolution audio formats. The solid 24-carat gold-plated metal connectors ensure maximum contact and minimal contact resistance. Also, the Reference interconnect cable has a unique sound—deep rich bass, warm and full middle range with outstanding high frequencies. And, this cable, is in a class of its own. Bringing performance to a new level, and 'shivers' to your spine!
Reference RCA interconnect cable
The cable utilises Perkune 'PE' insulation, dual 'AirGap' protection and additional Anti-static isolation shielding.  And aiding to reduce unwanted capacitance, and electrical interference enabling the signal source to work more efficiently. Also, NextGen 24K gold plated connectors  allowing maximum performance to be revealed. Termination is carried out in a dust free environment and pure silver solder is used making the connection perfect. After which all cables are burned in using the Perkune process, which takes three days.
Specifications
The Cable size: 11.0 
Conductor: High-purity OFC copper/silver plated
Contacts: Solid plugs, 24K Gold plated.
Resistance: 0.005 Ohm
Capacitance: 96 pF
Inductance: 0.23 uH
Shielding: 2 x 2-fold Braided/AirGap x 2
Sheathing: Foil (100% Coverage)
 Insulation: Low loss PE/Teflon
 PVC shielding/Textile jacket
Outer sheath: CanuFlex PE-HB
Static: Anti-static pads x 2
Pricing
One Meter – RCA connection 997 Euros
Two Meter – RCA connection 1297 Euros
If you have enjoyed reading, The 'Reference RCA interconnect cable' please share – thank you
Perkune Best budget Audiophile Cables