The Reference PRO interconnects cable designed to complement reference PRO cables range. The line is indeed a step up, offering improvement in signal quality and transmission. Assembled using dual 'AirGap' isolation and external Anti-static isolation material. Also fitted with Rhodium-plated/Carbon fibre professional connections, it allows perfect signal integrity. Also added, PTFE shielding to inhibit micro-vibration and electrical interference. And as a result, the Reference PRO interconnects cable, is designed with true audiophiles in mind.
Reference construction 

PRO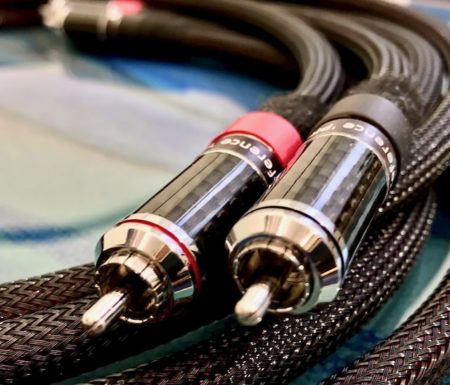 The Reference PRO Interconnect Cable reaches a new level. Offering a larger Sound-stage with greater depth and width. Also, the image positioning is razor-sharp and spot-on. And as a result, it allows total transparency and a full 3D effect. Also, you become aware of even more detail and micro-details. Bringing higher levels of excitement and involvement to your overall listening experience. And the use of two Rhodium/Carbon fibre connections brings your music to a new level and can be likened to removing the cotton wool from your ears!
Performance
The performance of the Reference PRO interconnect cable auditioned to be fully understood. And the experience is quite uplifting! I can only describe the intensity and freshness of the performance as 'Breath tanking'. And the music is likened to a winter's day at – 32 deg C with clear blue skies and the sun warm on your face. But when you breathe, you can feel that feeling of clarity as the cold flows into your senses. And a real experience to comprehend!

Interconnect Protection

PRO
I have focused on factors crucial for developing an excellent Interconnect cable. And I think it is one of the finest interconnect cables produced. I also offer a solution for protecting your cables. Also, to keep them protected during transit and whilst in storage. 
The shipping carton supplied with your cables contains; Anti-static spray, Anti-vibration tubes, and test certificates. Which are signed, dated, and carry the cable identification numbers. Also, this information is necessary for proof of authenticity. And I am helping you with cable resale and upgrades when you are ready, as it is all part of the service!
Specifications –

Reference PRO interconnect 
The Cable size: 10.0 mm
Conductors: Single core, High-purity 0.99997 OFC 
The conductor Size: 17 AWG
Connections: Solid plugs, Rhodium/Carbon fibre
Resistance: 0.004 Ohm/meter
Capacitance: 47pF/meter
Inductance: 0.19 uH
Shielding: Aluminium foil/ Braided layers
Insulation: PVC/PTFE
Low-loss PE with PVC Jacket
Antistatic static pads x 2
Pricing
2 x 1 Meter – RCA connection 997 Euros
2 x 1.5 Meter – RCA connection 1297 Euros
2 x 2 Meter – RCA connection 1597 Euros
Customer testimonials
If you have enjoyed reading, The 'Reference PRO RCA interconnect cable' please share with friends and colleagues – thank you.
Perkune – Best budget Audiophile Cables