The Audiophile Reference 2 loudspeaker cable is now available. And, what a fantastic speaker cable—giving so much more to your music. The cable, although being 18.0 mm, is still flexible and easy to use. The line looks good; feels great. And allows you a feeling of complete involvement in your music as you relax and get drawn deeper into your musical world!
Reference 2
Good sound experiences captivate, give you goosebumps or move you to tears. But only cables perfected down to the last detail can transport this sensual pleasure. And at Perkune audiophile cables, we help perfect signal transmission to convey the most delicate nuances that appeal to all senses. The ultimate proof for this is the Reference 2 speaker cable, made to bring out the very best of your music. 
Construction
The Audiophile Reference 2 speaker cable is of a unique design and a limited edition. Every conductor has a 2.97 mm2 diameter and arranged in double symmetry. Each with 37 concentrically stranded wires. If you want stereo, two full-length conductors used. But, If you wish to Bi-wire, then four conductors used. The Helix winding provides 1.2 meters for every meter of actual measurement.
Termination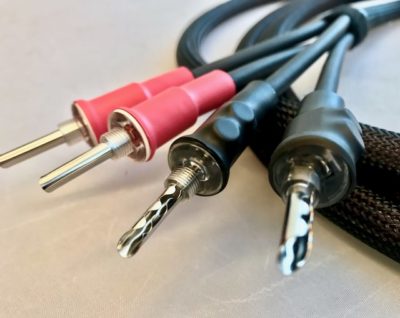 Terminations on the Audiophile Reference 2 are with Rhodium plated bananas, or Rhodium plated spades. And meet the BFA standard's strict requirements. The cable receptacle and plug, constructed in one piece to avoiding contact resistance. Rhodium's surface coating is exceptionally durable and suitable for cables with a diameter of up to 10 mm². And, the spade termination is the slotted spade lug. Which, achieved through contact spring deforming when tightening the screw concave. And  preventing the cable from slipping out of terminals. 
Performance
The performance of the Audiophile Reference 2 speaker cable reached a new level in every respect. And sounds experienced have Knife-edge clarity and transparency. Sensations of pleasure, emotion, and shock as the cables reveal even more of the performance. And allow you to feel and understand how close you are to the music, and you will not want to stop listening!
Protection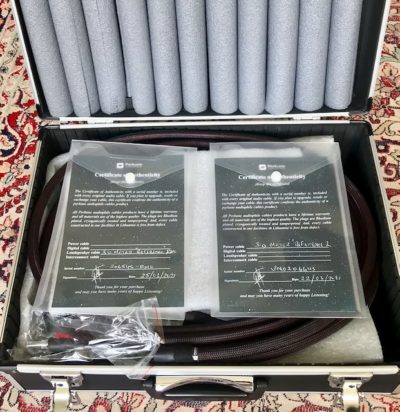 It is essential to produce a high quality set of audiophile  cables. And, I had a big job in finding the best way to deliver your cables to you. An Impact-resistant (fully lined) aluminium flight case supplied with every loudspeaker cable containing the following ~ 
A set of keys. Thermaflex Anti-vibration tubes. Anti-static spray. The audio cable test certificate (Which is signed, dated, and carries the cable identification number). And, will help when you decide to upgrade your cables or even sell your cables.  Audiophile Reference 2
Specification
Cable sizes: 18.0 mm 

Conductors: 4 x 2.97 mm2

High purity OFC 99.9997%

Resistance: 0.003 Ohm/meter

Capacitance: 0.200 Pf/meter

Inductance: 0.0056 uH

Connectors: Banana/Spade (spring-loaded)

Construction: Double Symmetrical – Helix

Low-loss PTFE and PVC Insulation – 2 fold

DUO-PE II insulation around each conductor

PE network jacket reduces micro-vibrations and capacitance

Low induction for homogeneous high-frequency reproduction

Primary and Secondary AirGap: DERAY-PBFSP

Anti-static pads: Two or 4 per cable.
Pricing
2 x 3.0 meter – Reference 2 standard 2997 Euros
2 x 3.0 meter – Reference 2 Bi-wire 3497 Euros
Reference 2 power cable
Matrix Cat8 Network cable
Reference 2 interconnect
Customer  testimonials
If you enjoyed 'The Audiophile Reference 2,' please share it with friends – thank you.
Perkune – Best Audiophile cables online