The Range in 2022 from Perkune audiophile cables started in October 2015. And Perkune Audiophile Cables now has a solid history and excellent track record. The lines are updated and improve every few months. And I am constantly updating!
November 2021, was a great month for me. Because I was able to introduce the Reference PRO range of cables. Power cables, Interconnect cables, loudspeaker cables and a Network cable. And I am proud to offer this great series of cables to you. Because the performance is astounding and you will neaver want anything else!
The Range 
I am pleased to announce the Range in 2022  And I am delighted to be entering the sixth year. Also, many days were travelling and visiting people with different audio systems for listening and evaluation purposes. And for your convenience, the Range in 2022 is divided into sections. Each category has a subcategory to make it easier for your navigation. Also, content is updated when I develop new cables. And a new cable is aways very exciting to test and hear customer feedback. Because the customer satisfaction is undineably the top priority!
It is necessary to realise, the best is not the cable that gets the most out of a system. But, the audio cable losing the least of the original signal. All audio cables act as antennae and attract external interference. One example is from your smartphones. And, these phenomena occur when transmitting signals—crackling from loudspeakers when a smartphone is searching for a network. And is one of the most annoying. Loss of midrange is another annoying occurrence.
Improvements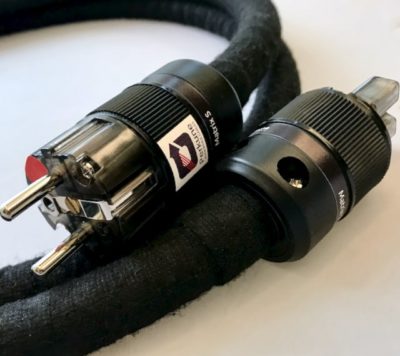 In October 2021, I introduced the Matrix "PRO" series of cables. And the difference heard in performance is astonishing. The reason for this is the use of High purity OFC 17 AWG single conductors. Antistatic material, PTFE and Aluminium foil covers the conductors. Also, noise is an enemy to audio. And, the natural step was the introduction of Aluminum foil sheathing and Vinyl insulation. Aluminium foils provide better sound insulation and help to eliminate unwanted noise sources. In addition, the Aluminum foils ability to absorb sound allows unwanted noise to be picked up directly at the head and prevents further propagation. And as a result, your sound reaches a new level.
The most significant step forward has been developing and introducing the 'AirGap' isolation and 'AirTube' suspension systems. These two items help reduce vibrations, reflections and unwanted noises caused by electrical interference. Air is the best isolation material and the use of air in the cables and connections made tremendous improvements in all areas. The dynamics, transparency and details significantly improve. And  result is a huge impact heard at the loudspeakers.
Next Generation 
The next generation XLR and RCA connections used are the best I have found and made in Poland and Hong Kong. And, the outer shielding is a premium material that helps to reduce those unwanted electrical interferences. The material also offers adittional anti-vibration and anti-reflection properties. I really love the XLR range, and Balanced audio interconnects have superior signal transmission and are always the preferred method of use in a quality audio system.
Power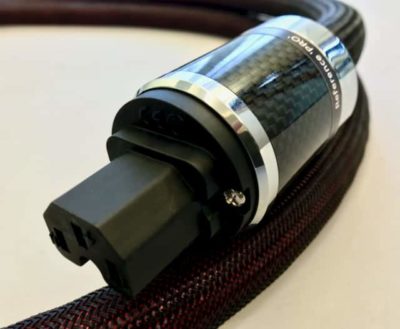 The EU, and US connections are Rhodium/Carbon fiber connections. And as a result, the IEC connector provides perfect conductivity. Also, Rhodium-plated pins are employed as they do not oxidise. And offer greater longevity and better signal contact. The connectors have a secondary inner sleeve adding to reduction of RFI and EFI. The power plug marked with red spot on the positive or 'Power' side for easy installation. And to help ensure stability and contact the cable is attached to the connections and secured by FOUR clamping screws. The clamping screws provide safety and complete reliability. Another important development is an additional internal protection shield.
The electrical power plugs on the other cables, are 24k gold plated male/female pins. And the technology of construction minimises static and external interference. Also, the power plugs and IEC connections are made from unique materials and cryogenically treated. When used correctly, these components bring out more solidarity and depth to the musical presentation. As a result, the sound stage improved, and your music shows speed, dynamics, and new excitement heard after the first few seconds! 
Testing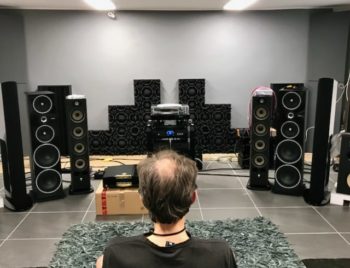 I am able to test my new audio cables with excellent audio equipment. And for me, this is the best way to hear precisely how my cables perform. The duration of testing lasts approximately four hours. And this is enough time to listen to and feel for the positive improvements and any negative points. In addition, I now add a certificate of authenticity with each cable. The certificate being numbered, dated and signed.
Obsession? 
I love what I do, and to say I have an obsession would be an understatement. So, over the years, I have continued working to improve my cables. I have performed tests on a wide selection of audio cables produced by leading cable companies. And performed side by side tests and carried out cable comparisons. And, as a result, I know how an audio cable should sound and how an audio cable should perform. I know how to make your audio system sound better in every area possible! The range in 2022
Testimonial
My first experience with Perkune was the purchase of a two meter Guitar power cable. And I must say how impressed I am with this wonderful sounding cable. In so much I decided to try the Amplifier cable. And once again, I was amazed at what the amplifier cable does. My electrical guy worked on one of my old Gibson amps and removed the old power cord. And then, he was able to fix the new power cable onto the amp. And when I turned on the amp, I noticed how quiet it was, and non of the humming noise it had before. I plugged in my old Gretch flat body and started to play. Bloody hell, was that me making the sound because it was so alive and open. Everything was cleaned clear, and the sustain just went on and on. And I will try and get Richard Fortus of 'Guns N' Roses' to try you cables! Scott, Florida, USA 
If you have enjoyed reading 'The range in 2022', please share with friends – thank you.
Perkune – Best budget Audiophile Cables