The Reference 2 XLR interconnects, are a big step up in design and audio quality. And, bring your musical performance to a new height. The interconnects are 1.5 meters in length, which is considered the optimum size for an interconnect cable. And, connections used are colour coded for easy identification. But, the colour may be changed when ordering your cables.
Reference
The Reference 2 XLR interconnects, allow, outstanding clarity, precision and accuracy. And, two high-speed signal conductors provide signal transport. At the same time, the DUO-PE II insulation and the air-filled PE tubes reduce unwanted capacitance. Which, enable the signal source to work "comfortably". The PE-Network Jacket also prevents micro-vibrations. 
Every sound begins relatively small. Such as a CD or DVD player to send only weak signals. And, the first steps are, therefore, particularly vulnerable. Also, electromagnetic interactions let the delicate tones come easily vulnerable. The Reference 2 XLR interconnects while helping the small pulses, go to the amplifier. And, with intricate designs, select materials and thicker shielding. So every note comes out great, and right into your listening position.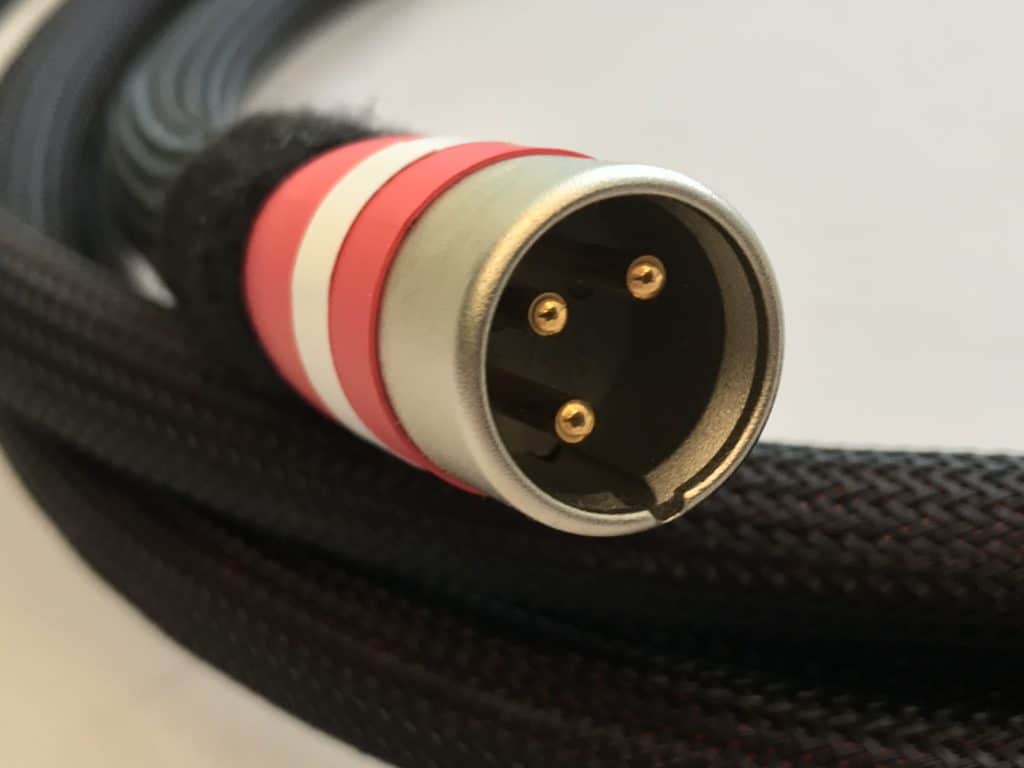 The Reference 2 XLR interconnects fitted with two Anti-static pads help to reduce effects from static. Static is a killer when it comes to audio and the impact on audio performance. Anti-static fluid sprayed over the cable pads and equipment, will disperse an existing static charge as well as inhibit future accumulation. And, the effects are easily heard. A dramatic increase in performance, having greater transparency and broader dynamics. And, you will get into the habit of using the fluid on a regularly.
Coating
The silver-plated conductors transmit the analogue music signal precisely and enable crystal clear and dynamic sound. Which, is mainly for high-resolution audio formats. The robust 24-carat gold-plated contacts ensure optimum contact. Also, offering minimal contact resistance providing a cleaner musical presentation.
The Reference 2 XLR interconnects, have fine stranded signal wires, with each wire having a lacquer coating. This coating insulates the wires from each other, which creates a larger effective conductor surface. And, also prevents eddy currents between the wires. A conductor can also transmit extremely dynamic signal sequences very quickly and precisely.
Performance
The Performance of the Reference 2 XLR interconnects cable is outstanding and has reached an even higher level than the previous Reference cable. And, the result is a broader sound-stage, better Image positioning, with greater transparency. Which, can bring a gasp of amazement to the quality of sounds heard. The details appear in real 3D and open a whole new chapter in your listening experience. Your music has even greater solidarity and depth. And, as a result, brings an even higher level of excitement to your listening experience!
Protection
I have focused on critical factors crucial for developing the Reference 2 Interconnect cable. And, offer the perfect solution for the protection of your cables. A case supplied with your cable contains; Anti-static spray, and cable test certificate. Which, is signed, dated, and carries the cable identification number. And, is better kept in the case, if you decide to upgrade your cable at any time in the future.
Technical Data
Cable size: 15.0 mm
Cable length: 1.5 Meters
Adonized brass shaped connectors
Gold plated pins
High-speed signal conductors
Conductors Material: High-purity OFC copper
Resistance: 0.25 Ohm/m
Capacitance: 27 pF/m
Inductance: 1.02 uH/m
Double-symmetrical Design
Braided shielding: Twin layers
AirGap protection: Tripple
Aluminium foil sheathing (100% Coverage)
'Teflon' insulation: Tripple 
Secondary Felt tape/PVC insulation
Low-loss PE insulation with Textile jacket
Outer sheath: Dual CanuFlex PE-HB x 2
Customer testimonials
Other XLR cables: Airdream /Reference/Ultimate
Pricing
2 x 1.5 Meter – XLR/XLR connection 2997 Euros
If you have enjoyed reading, 'The Reference 2 XLR interconnects', please share with friends – thank you.
Perkune home Best Audiophile Cables Online