The Taga Harmony PC-5000 conditioner is undoubtedly a device which is worth attention. Its most significant advantage is that it has four independent groups of outputs—two for each group, used for power filtering of dedicated devices. 
Taga Harmony
And, from the very first moments of listening, you could hear a distinctive change in the high-frequency range. Also, in the reproduced stereo image. The treble became more gentle and smooth, but without loss of dynamics. The effect was as if the Taga Harmony PC-5000 got rid of background noises. And, specific sounds placed over much cleaner sound layers. Generally, the stereophony gained more breath, and the individual tones became slightly more transparent. Also, when I played from a vinyl record, the sound became cleaner with better-controlled bass. Author: Hi-Fi Class – BEST BUY, 21-July-2020. 
Taga harmony, are located in Poland, operating in the field of sound engineering services and audio products enhancement. And, took almost two years to develop first loudspeaker prototypes and met an enthusiastic reception of audiophiles. Nowadays, Taga Harmony is offering high-quality products for the hi-fi, audio-video and professional market.
High-end, hi-fi and home theatre speakers, in-wall/in-ceiling and outdoor speakers. Multimedia speakers, hi-fi electronics, and audio cables. Accessories and audio equipment for the pro audio market. And, their mission is to provide:
Accurate and perfect localization of instruments and vocals.

A

 s

pacious soundstage.

Low distortions.

Flat midrange response.

Extra-wide sound dispersion.

Powerful and deep bass.

Impressive dynamics and a superior overall balance.
Invitation

Taga Harmony 
November, 27th 2020, and Mr Lukas Svedas, the owner of 'Garso Namai', invited me to test yet another item. And, this time it was a Taga Harmony PC-5000 conditioner. Garso Namai', located in Kauno g. 31 Vilnius, is very comfortable and well equipped. Establishment. And, I was more than happy to visit and put the Taga Harmony PC-5000 conditioner through its paces. The test amplifier used was the Arcam SA30 and loudspeakers were Acoustic-energy AE520. The cables used were from Perkune, The Reference Power cables and Reference Loudspeaker cables.
PC-5000 Conditioner
The first paragraph was a 'Hi-Fi' class review. And, I was keen to see how my impressions compared as I tested the Taga Harmony PC-5000 conditioner. The first thing was to test the power cable polarity. And, it is easy to do because of an indicator light. If the colour is Blue, the Taga Harmony PC-5000 conditioner connected correctly. But, if the light is red, you must reverse the power cable.
Conditioner info
Sockets – Schuko type:

Four switched

And Four unswitched

Four groups (2 sockets each):

Switched:

I (3A max) digital accessories

II (1A max) sound sources

Unswitched:

III (5A max) preamplifiers & accessories

IV (5A max) amplifiers

Total maximum power load 14A, 3450W (total for all power sockets)

Group I (3A max)

And, Group II (1A max)

Group III (5A max)

Also, Group IV (5A max) Noise filter -10dB ~ 55dB (2 – 100MHz) Max surge current 1000A Max spike volt 3000V Max clamping volt 470V Features / accessories Surge protection

Phase detector

Voltage meter

Removable IEC power cord 

AC power – consumption 230V 50/60Hz 0.1W< (without any external devices plugged in) 

Dimensions (H x W x D) 12 x 18 x 38 cm

Weight 7.5 kg / pc. 
Amplifier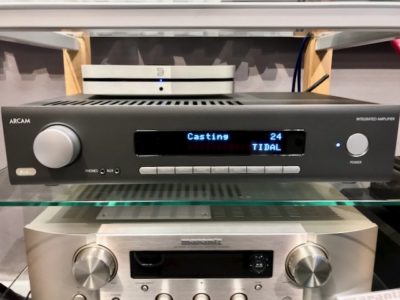 The Arcam SA30 amplifier was connected directly to the main power by Perkune Reference power cable. The Power cable was two meters in length and considered by many people to be an excellent power cable. And, the best value for the performance it gives. The idea was to listen to the system with just the power cable. The music chosen was 'Junior' from 'Yello' because this track has intense bass and beautiful vocals.
Listening
The music played and certainly sounded great having deep bass, beautiful detail and excellent sound stage. And, an absolute pleasure to listen. But, now the Power cable was removed and connected from the wall to the Taga Harmony PC-5000 conditioner. And, a second Perkune Power cable connected from the Conditioner to the Arcam SA30 amplifier. The same music played, and we listened to the sound heard with the Taga Harmony PC-5000 conditioner now in service.
Results
I am familiar with Hydra, Nordost and Isotek power conditioners as I have used them in the past. And, to be honest, never really been a fan of a power conditioner. How could the sound heard from this system be improved upon by the Taga Harmony PC-5000 conditioner?
The same music with the same settings played, but now there certainly was a difference which surprised me. The vocal was now crystal clear without any edges or errors and delightful to hear. The bass was tighter and more defined. And, the overall presentation had more air and space to it and seemed to have a cleaner and fresher signature.
Question
One question that a person may ask is this. 'Will the conditioner sound the same with a normal power cable fitted from the conditioner to the wall?" And the answer is not. After the testing, we went back and changed the Perkune power cable to a Van-den-Hul power cable. And, the difference quickly heard and as if a thin veil placed over the speakers. You need a suitable power cable before the Conditioner and after then Conditioner to make your system sound correct!
Conclusion
The Taga Harmony PC-5000 conditioner is an absolute winner and will give it 10/10. It has taken something sounding great into something sounding Fantastic. Which, is something you do not often hear in the audiophile world. The review from Hi-Fi class at the beginning of this article is correct. And, I agree with everything stated. The Taga Harmony PC-5000 conditioner is in a class of its own and highly recommended.
Paul A. Goodwin (Perkune audiophile cables) 20/11/2020
If you have enjoyed reading 'Taga Harmony PC-5000 conditioner', please share – thank you.
Perkune – Best budget Audiophile Cables