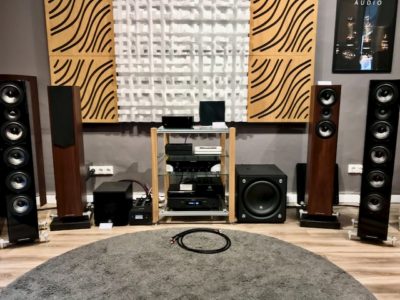 November 12th, 2020 and was a day to remember. And, what was there to remember you may ask? The sound was coming for a pair of Acoustic-energy AE520 loudspeakers. And, so welcome Audiophile Cables Online! I was visiting my friend Lukas at his studio. And, was to listen to his latest additions. I was delighted to have been invited to check the Acoustic-energy AE520 loudspeakers for performance and my sonic impressions. 
Acoustic-energy AE520
Acoustic-energy, great company and produces excellent loudspeakers. But this time they have reached a new level. The Acoustic-energy AE520 loudspeakers are a powerful, slim-line, floor-standing loudspeakers. Build on the AE500 and AE509 models to establish itself as the brand's new flagship. And, firmly featuring multi-driver design, imposing size and performance. Also, it features two dedicated 125mm mid-range drivers, three low-frequency drivers and a 25mm tweeter. Which, are fashioned from carbon fibre to provide perfect tonal matching across the frequency range. 
The two dedicated 125mm carbon fibre mid-drivers include new oversized 35mm voice coils. Which, are low thermal compression and optimum motor force factor. Both mounted within their dedicated sealed enclosure. Whilst, the three dedicated low-frequency drivers, are reflex-loaded by a large rear-facing rectangular port. And, designed to match the pistonic power and accuracy of our legendary ceramic aluminium drivers. These new units offer much-improved self-damping for a smoother, more transparent sound. Also, Vertical directivity optimised to provide excellent vertical coverage. Whilst reducing the energy otherwise wasted on ceiling and floor reflections when compared to traditional designs.  
The slim-line cabinets finished in Gloss Black, White or American Walnut. And, Solid Aluminium bars supplied to ensure rigid floor-coupling and maximum stability.
Warm-up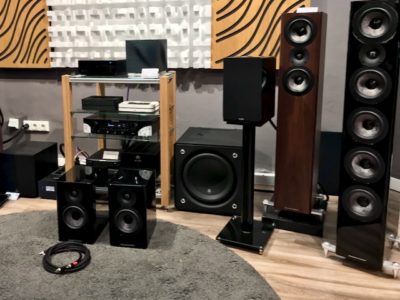 First, we listened to some of the loudspeakers that Lukas had on display in his studio. Also, we had decided to use Hegel and Marantz amplifiers for driving the Acoustic-energy AE520 loudspeakers.
For the source, we had decided to take the music from the 'Point' Album from the well-renowned musicians' Yello'. And, this theme, chosen because of the tremendous selection and very high recording quality. Not to mention, the fantastic range of the instruments used in the production.
Testing
I had also brought with me the latest reference 'Silver' RCA interconnect from Perkune audiophile cables. I knew how neutral, but at the same time 'transparent' the interconnect cable was. And, it is always good to have something you see the performance, to establish an accurate evaluation.
The system was warm, and 'Yello' as always sounded terrific. And, now was the time to see how the Acoustic-energy AE520 loudspeakers would make Yello sound! But, please understand, these loudspeakers were new and had only been running for a few hours, but OMG the sound.
'Yello' moved up the ladder a few rungs – yes it was that sudden. And, I had never heard such a great bass from any loudspeaker. The music was crystal clear and had such a powerful display. The emotions seemed to be so much alive they were touching you. There was also a beautiful warmth around the music as if we were sitting in a tropical paradise somewhere. A fantastic feeling and one which I had never experienced from any other loudspeaker anywhere!
Conclusion
Acoustic-energy AE520 loudspeakers – As the results were so positive, we decided to meet again next week after the Acoustic-energy AE520 loudspeakers had bedded in. And, this time we would use a high-end amplifier. And, I would bring a set of Perkune Reference loudspeaker cables and a Perkune Reference digital interconnect. We would also use Perkune Reference power cables on each component then we would see just how good the Acoustic-energy AE520 loudspeakers could sound!
If anyone is interested in attending the test, please feel free to contact Lukas and reserve your place. Telephone (8) 645 40688 And, if you visit 'Garso Namai' you are well on the way to improving your listening pleasure!
If you have enjoyed 'Acoustic-energy AE520 loudspeakers', please share with friends.
Perkune – Best budget Audiophile Cables