Reference S power cable, added in July 2021, taking the line to the next level in system performance. The power cable remains flexible and easy to work with but offers more excellent protection to those unwanted electrical and mechanical interferences. As a result, you can hear more of the musical information in the presentation. And, the cable certainly looks and feels the part!
Reference S Power cable
I love Power cables. And a Power cable was the first item I produced. But, it was not quite as good as the Reference power cable introduced in November. And the Reference S power cable in June 2021. Also, the three-meter version is just so effective in the way it helps improve your system sound. Every person who has heard the power cables agree and is delighted with the results. And the reference power cable and the Reference S power cable are definitely, the best value for money in the industry!
Interference
The Interference we call noise can get into your AC power and interfere with your system. And, this 'dirty' electricity harms the performance of your audio-video system. But, listening to your audio system in the early hours, you notice how much better it sounds. Also, cable shielding provides reliable protection from Interference. And, the innovative in-plug filter gives additional decoupling to your equipment. Also, these features aid in the removal of external noise and Interference.
Connections
EU, UK, and US connections are all Rhodium plated, Cryogenically treated components. As a result, the IEC connector provides perfect conductivity. Also, Rhodium-plated pins are employed as they do not oxidise. And offer greater longevity and better signal contact. The cables can be made to any length and fitted with Cryo treated plugs. The plug marked with a red spot on the positive or 'Power' side. 
Cable Length
The length of the Power cable does make a difference to the sound heard at the loudspeakers. A power cable should be at least 1.5 meters in length. But, you will have a better sound from a two-meter or a three-meter. And, you will have the feeling of more 'Air and space', with better speed and dynamics in the musical presentation!
Shielding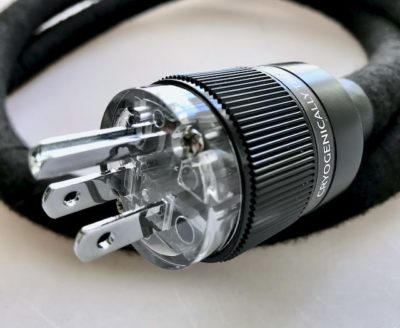 As well as having over three times the prescribed minimum conductor cross-section area, the Reference Power cable comes with superior shielding. And you are protecting the sensitive audio components in your system—for example, interference fields caused by current peaks. Therefore, shielding is necessary, and a combination of different materials is selected to provide efficient shielding inside and out. There are many other materials used for shielding, but I believe the original and best is Air. 
Performance
The Reference Power cable and the Reference S power cable allows a relaxed and more opulent sound, designed to bring you the ultimate listening experience. And, with the Reference S, you will hear the difference in your music during the first three seconds! After that, the Sound-stage becomes vast, Imaging and focus are razor-sharp and spot-on. The Bass is more profound, tighter, with more energy and expression. Also, detail and micro details become more apparent, bringing you a rich and satisfying experience. And, I think the phrase 'flowing like liquid gold' brings the music into a reality!
Specification
Cable size: 18 and 19.00 mm
Length: 1 – 3  Meters
Multi-stranded, ultra-high purity 99.9999% OFC
Conductors size: 3 x 3.0 mm2 (10 AWG)
HDPE dialectics for each conductor x 3
Protective conductor – Pure copper (class 1)
2-level shielding: pure braided copper 
Secondary shielding: Aluminum foil 
Cable weight: 1.35 Kg
Voltage: 300-500 volts
Test voltage: 2000 volts
Temperature: -40 to +70 C
Resistance: 0.005 Ohms/meter
Insulation: Teflon PTFE x 2 
Secondary PVC layer
Secondary AirGap: DERAY-PBFSP
Outer sheath: CanuFlex PE-HB 
Anti-static pads (ATS) fitted (2 per cable)
Antistatic shielding (Reference S) full shielding
1.5 Meter Reference Power cable 1297 Euros
2.0 Meter Reference Power cable 1497 Euros
2.5 Meter Reference Power cable 1797 Euros
3.0 Meter Reference Power cable 1997 Euros
5.0 Meter Reference Power cable 2297 Euros
Reference cables: Slimline/XLR/Power
Speaker cables: Matrix  
Customer: testimonials
If you have enjoyed reading ' Reference S Power cable', information, please share with colleagues – thank you.
  Pekune- Best budget Audiophile Cables