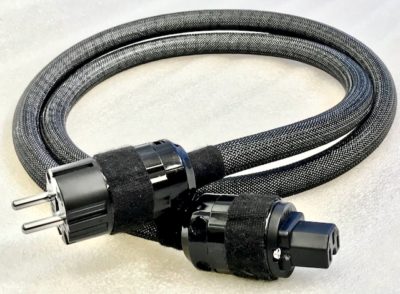 The Reference 'Slimline' power cable, introduced into Perkune audiophile cables. Which, offers a power cable providing 95% of the Reference performance but, with, a considerable price reduction. And, aimed at the person who is starting in their audio journey. Fundamentally, the output of a hi-fi system is nothing other than modulated household electricity. So this should get to the device with the minimum impediment. Extreme current peaks are the most significant challenge for mains connection cables. They are caused by the connected devices as they convert alternating to direct current. These extreme peaks cause a whole series of unwanted effects, which is why the power cable is so important.
One of the reasons is that the importance of a Power cable is not forthcoming when you are buying. Also, due to lack of information and seller interest! The Reference series of power cables, allow new possibilities. I love the new Reference 'Slimline' power cable because it is simple and easy to use. Helping, improve your system sound. Every person who has heard this new power cable agrees and, delighted with the result. Definitely, the best value for money in the industry!
Reference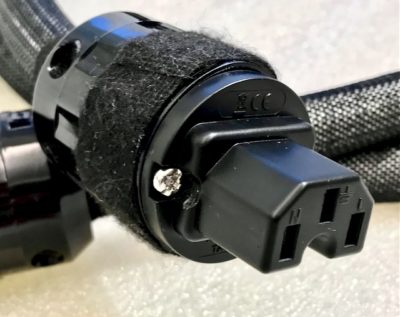 The Reference 'Slimline' power cable, fitted with Industrial Rhodium plugs are the perfect solution. And, provide a secure, uninterrupted connection. The plugs are either, EU, US or UK, and meet all industrial tamper-proof specification. The Reference 'Slimline' power cable has an excellent feel and is flexible and easy to work. Fitted with two Anti-static pads, making ideal for Power conditioner, Amplifier, Pre-amplifier, DAC, and all types of audio/video components. The power plug's positive connection marked with a red tag (for easier installation) and safety. Before connecting the Reference 'Slimline' Power cable, contact checked with an electricians screwdriver for correct polarity.
Performance
The Reference 'slimline' power cable provides a blacker background with an increased dynamic range compared to a standard power cable. The sound stage is vast, with Imaging and focus razor-sharp and spot-on. The music becomes transparent, presenting greater detail and depth to the musical content. The Reference 'Slimline' power cable brings a solid feel to your music and controls bass perfectly.
There is no bloom or boom, and the bass is tight and lively. The detail and micro details are more apparent. And, allow increased energy and speed, with a new level of excitement in your music. And, benefits heard at both ends of the scale – in the sheer impact that comes with real instrumental presence and explosive dynamics, and the colour, texture and intimacy that brings a voice or solo instrument to life. The result is the most musically coherent and involving performance you'll ever have heard from your system and recordings.
Colour
Consistency of design and materials across the Reference Series means you can create a prioritized, no compromise system-wide cable solution. From the wall socket to loudspeaker terminals, each link in the chain specifically optimized for a purpose, and finally unleashes your equipment's full performance potential. And, for the enthusiast, the cable is also available in Black.
Information Video
There are many misconceptions about power transmission and power quality that make it difficult for some people to understand why a power cord makes a sonic difference. The first question is – do power cables make any difference at all? There is no sense in talking about operation theories if we can't agree that there is an audible effect. Most of the thousands of people who use power cables started as sceptics and have answered that question for themselves and have found that power cables and power conditioners can profoundly impact performance.
And no – I do not care to debate with people that have not done the simplest of tests about whether power cables work or not. The only cases where a high-quality cable does not have significant effects is when used with a low-quality power conditioner that acts as a high impedance to instantaneous current flow. So, does a power cable make a difference?' I will say yes, it certainly does, and confirmed on this video.
Protection
I have focused on critical factors crucial for developing an excellent Power cable. And, supplied with your cable, an impact-resistant aluminium flight case. And, containing keys, anti-vibration tubes, and a cable test certificate. Which is signed, dated, and carries the cable identification number. It is essential to identify your cable, especially if you are trading your cable in for an upgrade or wish to sell your Power cable privately.
Specification
Cable size: 18.00 mm
Length: 1 – 3 Meters
Multi-stranded, ultra-high purity 99.9999% OFC
Conductors size: 3 x 3.0 mm2 (10 AWG)
HDPE dialectics for each conductor x 3
Protective conductor – Pure copper (class 1)
2-level shielding: pure braided copper 
Cable weight: 0.45 – 1.35 Kg
Voltage: 300-500 volts
Test voltage: 2000 volts
Temperature: -40 to +70 C
Resistance: 0.005 Ohms/meter
Secondary PVC layer
Outer sheath: CanuFlex PE-HB x 2
Anti-static pads (ATS) fitted (2 per cable)
Power cables: Reference/Slimline/
Customer testimonials
Pricing
1.5 Meter Reference 'Slimline' 297 Euros
2.0 Meter Reference 'Slimline' 397 Euros
2.5 Meter Reference 'Slimline' 497 Euros
3.0 Meter Reference 'Slimline' 597 Euros
Perkune home – Best Audiophile Cables Online.