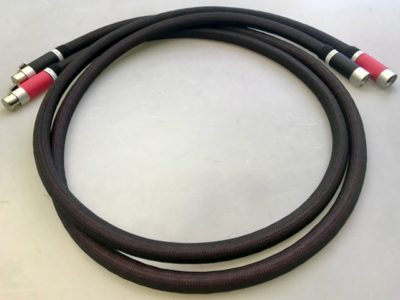 The Reference XLR interconnect cable is an intricate, double-symmetrical and complex structured audiophile cable. Combined with Tripple shielding provides sensitive audio signals with the best possible protection. And, also reducing external interferences to a minimum. The 'PE' insulation and dual 'AirGap' protection reduce unwanted capacitance, enabling the signal source to work efficiently.
The silver-plated conductors transmit analogue music signal precisely and enable crystal clear and dynamic sound. And, mainly for high-resolution audio formats. The robust 24-carat gold-plated contacts ensure optimum contact. Also, offering minimal contact resistance providing a cleaner and more defined musical presentation.
XLR Anti-static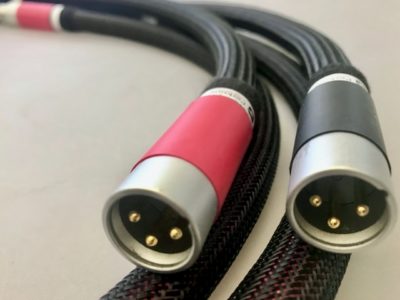 Reference XLR interconnect cable is fitted with two Anti-static pads. Static is a killer when it comes to audio and the effect it has on audio performance. Anti-static fluid sprayed over the audio cable pads and equipment will disperse an existing static charge. As well, inhibit future accumulation. The effects are easily heard, with a dramatic increase in performance, greater transparency and broader dynamics.
Reference Protection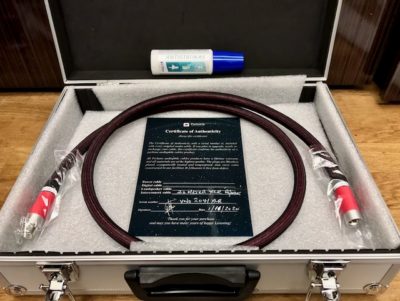 have focused on factors that are crucial for developing an excellent Interconnect cable. And, offer the perfect solution for the protection of your cables. An impact-resistant aluminium case supplied with your cable contains; A set of case keys, Anti-static fluid spray, Anti-vibration IsoPads, and cable test certificate. Which, is signed, dated, and carries the cable identification number. 
Performance
Performance of the Reference XLR interconnect cable has reached a new level. Sound-stage, Image positioning and transparency are razor-sharp and spot-on. The music has even greater solidarity and depth. And, detail and micro details become more apparent. As a result, it brings an even higher level of excitement to your listening experience!
The Reference XLR interconnect cable has a unique sound—deep rich bass, warm and full middle range with outstanding high frequencies. The cable is in a class of its own and heard to be fully appreciated.
Technical Data
The Cable size: 15.0 mm
Cable length: 1.5 Meters
Conductor Number: Three (silver plated)
The Conductors Material: High-purity OFC copper
Resistance: 0.007 Ohm
Capacitance: 118 pF
Inductance: 0.27 uH
Double-symmetrical Design
2 x 2-fold Braided shielding
Secondary AirGap protection x 2
Aluminium foil sheathing (100% Coverage)
'Teflon' insulation x 2
Felt tape insulation x 2
 PVC shielding x 2
Low-loss PE insulation with Textile jacket
Outer sheath: Dual CanuFlex PE-HB x 2
Customer testimonials
Pricing
2 x 1.5 Meter – XLR/XLR connection 2297 Euros
If you have enjoyed reading, 'The Reference XLR interconnect cable', please share – thank you.
Perkune Best Audiophile Cables Online