Tannoy was founded by  'Guy Fountain' and I love tannoy loudspeakers – WHY????
The Gentleman named Guy Fountain who actually founded Tannoy was  in England in 1926 but Tannoy has been based in Scotland, since 1970. Tannoy has an incredible following of people all over the world and vintage Tannoy is becoming collector's items. Tannoy is suited to all because they have such an incredible sound and incredible range. Please click to read more
I love Tannoy loudspeakers
I love Tannoy loudspeakers and my very first pair from 1970 was the beginning of my relationship with Tannoy. Over the years, I have owned Berkeley, SRM x15, Turnberry, Edinburgh, Glenair, Autograph and my own custom-made 300 litres enclosures housing Tannoy 3818 15″ drivers.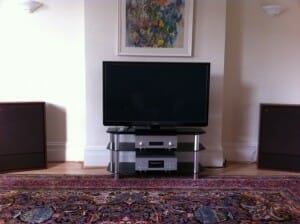 This is a picture of my system, which shows Tannoy Berkeley loudspeakers, and the sound from these cabinets was amazing. The drivers were the 15″ HPDs and the range was just jaw dropping to say the least.
First step
At first, I used an Esoteric DV60 CD player with Esoteric A-10 amplifier but changed to a Gamma Acoustics 211 tube amplifier (fitted with GE VT-4C Nos tubes) and I can still remember the amazing sound that I heard from this system. It was like the room was alive and it was scary how real every thing became.
I was very fortunate to acquire a Pair of Tannoy Edinburgh from a dealer in the United Kingdom. Even thought they housed 12″ drivers I became to love them. The Loudspeakers arrived in the Tannoy shipping boxes and were in really fantastic condition.
The real deal
They were made in 1997 and had a volume of 200 liter and fitted perfectly into my listening room (as you can see from the picture above). They were a very fast sounding loudspeaker and best suited to rock but later by changing the crossovers and cabling I was able to make them sound nearly as good as my friends Autographs.

When I was living in London I managed to find on eBay a pair of Tannoy SRMx15 fitted with the standard crossovers and driver. They were being sold as the owner said they had no bass and were too big for his room. I was surprised to hear this but took the two-hour journey to listen.
The listing position
It is funny when to go to the persons listening room and can see immediately what the problem is and why indeed there was a shortage of bass. I loaded up my new accusations and headed back to London and set up my speakers. I had them in position and setup a couple of hors later and as I thought they sounded magnificent.
The picture shown above is of the actual system that I use to test my audiophile cables with. I  was able to design and make the enclosures in a very short space of time. I used 25 mm MDF and the internal was braced and filled with rock wool. The crossovers were hand made and the cross over frequency was set at 1.1K. The cabling internally was cryogenically treated and the cabinets were placed on SoundCare spikes.
US Influence
The drivers are the 3818 as used in Glenair cabinets made for the US market. The sound is just about the best that I have ever heard from any system. The bass is the deepest and the realism and musicality makes me shudder. I have heard so many systems in my life and also now that I am working with Perkune audiophile cables I need the best!!!
Tannoy helped to start my business
About two years ago, I was in London with a plan to visit a person whom I had met via an eBay transaction and from this meeting my great audiophile cables story begins and again another reason why I love Tannoy loudspeakers.
I was able to help set up a new pair of Tannoy "Kingdom Royal" loudspeakers and from this a friendship had developed. For more information on Tannoy Kingdom Royal Loudspeakers please click here
 The meeting
The last time we met I was telling my new friend all about my exploits in the audio world and that I was making and testing audiophile cables in Lithuania.
I arrived at my friend's house and was greeted with a warm welcome. As I entered, I could hear the familiar sound of his system. "Well, what do you think" my friend asked. I replied that I thought it sounded much better than last time but still but needed a tweak. At this point, the doorbell rang and it was one of his friends who had come to listen. I got to work straight away and after about half an hour had it sounding  great.
The cable tests
The cables were tested on the source machine. We were unable to see the order of the cables under test because we were positioned in such a way that a chair hid my friend from our view as I think he wanted to prove that his cables were better. My friend had paid a lot of money for some of his cables and of course, there was the element of pride to be considered.
The music was played and the first cable tested and we wrote down our comments and gave the scores as we had agreed. It was now the turn of the second cable and we went through the same process and got the results. We continued in the same manner for all the cables and as I stated earlier we did five tests but there were only four cables.
I love Tannoy loudspeakers
Now it was time for the results and we all came together to compare and to see how things had fared. The price of the cables started at 20 pounds, the next was 225 pounds and the next was 785 pounds and finally 1500 pounds. This was quite a price range to cover and you would naturally expect to hear a difference. And indeed we had heard a very big difference in the cables but the scores were exactly the same from all of us, which was really amazing!
The result
The first cable was the standard cable supplied with the unit and we all gave it 3/10. The next cable turned out to be a cable that cost 785 pounds and we all had given it 7/10. The next cable we heard was a 225 pounds cable and we had given that 9/10 and the last cable we heard was a 1500 pound cable which scored 8/10. The cable, that had been put in twice, was the 785 pounds cable.
It had been a great audiophile cable test and everything had been done very well. The next step was to bring out of hiding another power cord which I knew nothing about, as my friend was keeping it as a surprise. The new power cord cost 2250 pounds and was tested and marked in the same way. This cord scored 10/10 and sounded better than the other cables in every way.
The next thing we did was to replace the main amplifier power cord with the 2250 pound power cord and listen to the sound. There was now an improvement in every way. The next step was to remove the other power cords from the system and replace them with my power cord because yes (hate to say it ) mine were the winner in the previous tests. Now, as we sat and listened, we were able to hear what the Kingdom Royals really sounded like and in a word "breathtaking" and this is why I love Tannoy loudspeakers.
Conclusion
It is very strange how one act of kindness can lead to something that you were never really expecting.  Life can certainly turn things around sometimes and in a way I thank the beauty of the Tannoy sound for the inspiration to start Perkune audiophile cables.
If you have enjoyed reading I love Tannoy loudspeakers blog please share with friends and your colleagues by using the share buttons below – thank you