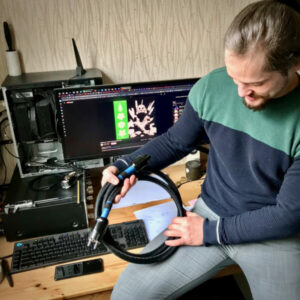 I Upgraded, after a year, to the latest Matrix PRO power cable, and what a difference in the sound from my audio system! And it all started with a phone call. And so I have written this article "Audiophile upgrade after a year"
Audiophile upgrade 
My name is Antanas Šėmis, and I am a sculptor/product designer. I became involved with audio cables in 2021 when I wanted to improve the sound quality of my audio system. I wrote the article 'How to improve computer sound' two years ago as many people are using a computer as the source machine.
My Computer 
MB – ASUS Z390-i / CPU – i9-9900K 

GPU – Integrated processor UHD Graphics 630

Sound card – Creative Sound blaster AE-9

RAM – 2x32GB HyperX Predator

SSD – Samsung 970 EVO Plus 1TB

Cooling – Noctua NH-D15

PSU – Corsair SF750 (platinum cert.)
Cooling
Built based on the legendary NH-D14 and carrying on its quest for ultimate quiet cooling performance, Noctua's flagship model NH-D15 is an elite-class dual tower cooler for the highest demands. In addition, its expanded heat pipe layout and two premium grade NF-A15 140mm fans with PWM support for automatic speed control allow it to improve the NH-D14's award-winning efficiency further. And Topped off with the trusted, pro-grade SecuFirm2™ multi-socket mounting system, Noctua's proven NT-H1 thermal compound and a full six-year manufacturer's warranty.
Sound card
The Sound Blaster AE-9 has the Ultimate 32-bit / 384 kHz PCI-e Sound Card and DAC with X amp Discrete Headphone Bi-Amp and Audio Control Module. The Sound Blaster AE-9 is built with the best components to deliver pristine, detailed audio quality that satisfies even the most demanding audiophile.
The core of the Sound Blaster AE-9 is the flagship audiophile-grade hi-res ESS SABRE-class 9038 DAC. It delivers an ultra-high DNR of 129 dB, 32-bit 384 kHz playback over PCM, DSD64, and an incredibly low Total Harmonic Distortion of -120 dB (0.0001%). 
The AE-9's CleanLine technology features designed circuitry and components that eliminate voltage rail issues and isolate noise along the microphone path that typically plagues internal audio cards. Also, we utilise a differential drive for the mic signal to reduce the common-mode noise induced by other electronic sources.
Amplifier
I have a fabulous computer used as a source and fed the signal to a Scott amplifier. The specifications of the Scott 420A are undoubtedly impressive and go to show how things were 50 years ago. This build is fantastic; the only change was the fitting of new speaker connections.
Amplifier Power (RMS): 2X40 Watts.

Total Harmonic Distortion: 0.08%.

Frequency Response: 20Hz/20Khz.

Damping factor: >60.

S/N ratio: 85 dB.

Channel separation: 60 dB.

Input Phono, Tuner, Aux, Tape1, Tape2.

Output Impedance: 8 Ohms.

Dimensions: 430 x 300 x 132 mm. Weight: 9.0 Kg.

Year of

manufacture 1979.
Speakers
My speakers are old but gold. The Dali Loudspeakers series 7 are again from the seventies. And the condition is excellent, with very few marks on the cabinets. But, missing the front panels. The bass is full and rich with fantastic depth, and the mids and highs are just as they should be. Upgraded after a year
Phone call
I use the Matrix 2-meter power cable, and Matrix 1.5-meter interconnect, and my sound is better than anything I have heard. And I was amazed to get a phone call from Paul telling me he had introduced a new power cable. Paul Asked if I would like to try the cable because he knew how vital sound was in my work. I replied that I would like to try the new cable but could not even imagine improving my system's sound. And to cut a long story short, the Matrix PRO power cable arrived at my apartment the next day. And yes Audiophile upgrade after a year!!!!!
Testing
The first thing I did was listen to my favourite song. And, without changing settings, replaced the Matrix Black with Matrix PRO power cable. And after the first few seconds, I realised the difference this new Matrix PRO made to my sound. I was running the Matrix Black and thought it was my system's best. Now I am on a new level and hearing things I never heard before. Everything about the sound is better. The transparency is mind-blowing; with such clarity, I never thought it possible. Also, there is more body with a richer, fuller musical sound. This new power cable has made me realise how much I can now hear. And I am happy to be part of Perkune Audiophile Cables. And if you enjoyed reading "Audiophile upgrade after a year", please share with friends.
Author: Antanas Šėmis, sculptor/product designer
Company: VINIE, Vilnius, Lithuania. 
Dated: 05/04/2023