Today, I am invited to a test involving a power cable (or two ), a power conditioner, and an amplifier. Hence this article written to ask at what price 'Good Power conditioner Cable' 
Good Power conditioner
The power conditioner (PC-5000) made by Taga Harmony is well-built and offers excellent features. And the history of TAGA Harmony begins in the early 90s. 
Advanced materials, state-of-the-art engineering, and innovative design by a team of professional designers. Positions TAGA Harmony as one of the leaders in the industry. And Hundreds of hours were spent developing every product. Also, repeated listening tests and multiplied advanced measuring. Also, potential weaknesses of the final product were adjusted and corrected to perfection.
Taga Harmony
Initially, the company operated in sound engineering services and audio product enhancement. It took almost two years to develop the first loudspeaker prototypes. And met the enthusiastic reception of audiophiles.
The electricity network in our homes is constantly exposed to different interferences. And the TAGA Harmony power line conditioner is a next-level, protection against voltage fluctuations and line disturbances. Which can negatively impact your audio-video system. Also, the contaminated electricity harms your equipment's internal circuits and power supplies. Thanks to PC power line conditioners, you can enjoy better audio and video equipment quality.
Features:
Independent groups, switched and un-switched power sockets (Schuko type) designed for use with different audio and video equipment.
Voltage meter to view the stability of the power voltage in the wall outlet.
Phase detection indicates incorrect power phase, and the Polarity Switch allows quick correction.
Diversified duplex filtering based on high-quality Class-X capacitors and inductors.
High-power toroidal transformer to isolate equipment from the line noise.
Spike and surge protection to protect against high energy spikes and transient voltages.
Primary lightning surge protection to protect the load equipment from  effects of high transient over-voltages
Removable IEC-type power cord allows you to upgrade your system with a premium audiophile power cable.
The PF series filters provide a primary noise-filtering function.
Filtering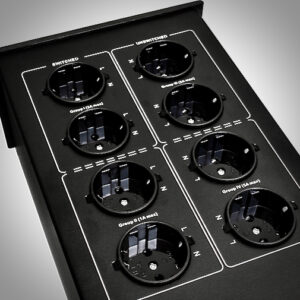 The filtering system is designed universally to work with various audio-video devices. Also, the PC series conditioners provide a more advanced filtering system. Having specially optimised sections (groups) for specific types of devices. And as an example, preamplifiers, amplifiers or sound sources. Furthermore, a toroidal transformer additionally isolates the dedicated section. And all conditioners and filters are equipped with surge protection.
Specification
Power line conditioner Sockets Schuko type:

Four switched and 

Four un-switched

Four groups (2 sockets each):

Switched: 

I (3A max) digital accessories, 

II (1A max) sound sources

Un-switched: 

III (5A max) preamplifiers & accessories, 

IV (5A max) amplifiers

Total maximum power load 14A, 3450W (total for all power sockets)
Group IV (5A max) Noise filter -10dB ~ 55dB (2 – 100MHz) Max surge current 4500A [8/20µs – one time] Max spike volt 3000V [10ma] Max clamping volt 775V [8/20µs] Max energy 140J [10/1000µs] Features / accessories Surge protection
Phase detector

Voltage meter

Removable IEC power cord AC power

Power consumption 230V 50/60Hz

0.1W< (without any external devices plugged in)

Dimensions (H x W x D) 12 x 18 x 38 cm Weight 7.5 kg
The Power Cable
AudioQuest supplied the power cable for the conditioner. And Perkune audiophile cables provided the power cable from conditioner to amplifier. Also, the cables used were all two-meters in length. And the amplifier used during the test, supplied by Arcam, gave an excellent musical perforhttps://perkune.com/does-cable-length-effect-sound/mance.
Listening
The music played, and we listened in the testing area whilst drinking our morning coffee. And what a great sound we heard from the Pylon Jasper 25 MkII loudspeakers. Rich and warm with a good soundstage, having detail and transparency. And all systems were operating perfectly.
Next, the power cables were removed, and the amplifier was connected directly to the wall. And the AudioQuest power cable used from the wall outlet. Also, the sound from the speakers was more or less the same but lacked definition. So next, the AudioQuest power cable was removed and replaced by a Perkune Matrix Black power cable. And what a difference heard from the speakers. Absolute clarity, magnificent sound stage, and a feeling of life and new energy. 
Conclusion
The PC 5000 is a great conditioner. But, interesting to hear how amplifier's sound changed using power cable directly from the wall. Also, a power cable from a power conditioner. And a different make of power cable supplying power to the conditioner. So is a Power Conditioner really necessary. And, what price must me paid for the conditioner? And if you enjoyed reading Good Power conditioner Cable' , please share.
Author: Tomas Blinder, Music producer, Lithuania
Date: 08/04/2023
Perkune audiophile cables I Best Professional system