The best audiophile cables from Perkune audiophile cables, and after extensive testing, it became clear. And I want to share this story with you because it was an amazing experience and was something that I will never forget. The testing operation at the new music listening rooms at 'MATRIX' UAB, Vytenio g.10, Vilnius, Lithuania. And Owned by Virgilijus Dovidas.
Best audiophile cable
Sunday is the rest day, but I came from my church group to visit my friend Virgilijus because I had cable testing arranged. And, even though it was the day of rest, I consider listening to music pleasure and indeed not working. The cables I wanted to test were from the new series and certainly a step up in musicality and price. And considered the lines to offer the best listening experience and certainly the best value for money.
Listening room
I must explain how to reach the new listening rooms on the lower ground floor or basement. The listening rooms are still in the construction process, and a person will have to call Virgilijus personally to make an appointment. It takes time to unlock the gates leading down to the rooms, but it is like entering into another dimension once you are there. I visit many studios, and 'Matrix' has the best sounding listening room I have ever entered!
Musician audio DAC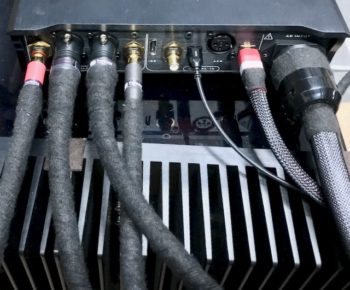 The Pegasus from Musician audio is a very appealing unit from multiple points of view. Its unique working principle, that simple yet effective part selection and PCB layout, paid off big time. From the first second, it sounded complete, honest and very extended at both ends. It carries a natural tone and possesses a perfect balance between sharpness, detail and naturalness. And that is the hardest thing to balance in a digital source. The musician team proved they could design a beautiful unit that should withstand test of time.
Elipson speakers
The Elipson Prestige Facet 34F speaker introduces a host of innovative technologies. The most visible is undeniably the ring of sculpted facets surrounding each driver. Giving the range its name. A rigorous design ensures optimal acoustic performance. And an elegant finish allows the speaker to blend in harmoniously with your interior decor.
The Prestige Facet 34F is a 3-way floor-standing speaker. And equipped with two 10″ bass drivers and two 7″ mid-low drivers. The latter is fitted with a bullet-shaped phase plug to limit vibrations, and reduce distortion. A 25 mm soft dome tweeter reproduces highs with finesse and precision. The multifaceted, sculpted silicone surround rings encircling each driver reduce the baffle effect and limit diffractions. The result is a more linear response curve and a smoother listening experience.
The lacquered front panel is composed of two dense, thick materials and strengthened by several internal brackets. In addition, the speaker's steep-slope filter relies on highly efficient, audiophile-grade components. Finally, the finish quality is not overlooked and offers benefits such as premium-quality vinyl and a lacquered front panel.
Design
At Elipson, the back counts as much as the front. That is why the designers have created rounded, high-end dual speaker terminals. Also, silver-plated contacts to maximise signal transmission. Banana plugs may also connect to the terminals.Neutral and accurate, this speaker delivers sound free from colouration and is faithful to the original recording. Impressions of smoothness and serenity emanate from each track.
The Prestige Facet 34F's high sensitivity allows it paired with any amplifier with a power rating of 300 W or less per channel. In addition, its lively performance makes it an excellent left or right front channel speaker for a multichannel home cinema installation.
Gryphon 120 Amplifier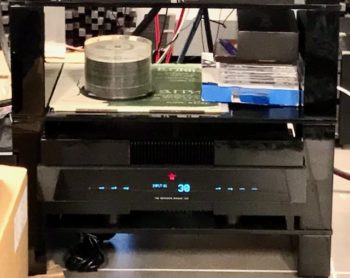 The understated styling and forceful lines of the satin black, brushed aluminium chassis. Gleaming black acrylic faceplate represent a superb level of fit and finish. Exceptional audio finesse and a sense of unlimited power all on a single chassis. The casework, consisting of interlocking blocks of flawless acrylic and deeply brushed and anodised aluminium. And true to the acclaimed Gryphon house style. A complex construct of contrasting angles and planes that is reassuringly intricate and solid.
Built entirely at Gryphon's Danish research and development facility, the Diablo 120 inherits the dual-mono circuitry. Ultra-short signal path, heavily gold-plated printed circuit boards, minimal internal wiring. High-quality gold-plated and PTFE-insulated sockets and proprietary binding posts. Only the finest audiophile-grade components have been selected based on strenuous, extended auditioning for sound quality. 
Grounding
The meticulous attention to electrical and mechanical grounding, typical of our top of the line designs. The Diablo 120 integrated amplifier is essentially two independent mono devices for reduced crosstalk and minimal interaction. The only things shared electrically between channels are the famed Holmgren toroidal transformer and AC power cable. The custom made 1,300 VA transformer adds substantial heft.
The output power of the Diablo 120 is 20% greater than that of the original Atilla: 2 x 120 W (8Ω), 2 x 240 W (4Ω), 2 x 440 W (2Ω). Consistent output power increases as impedance halved is a reliable indicator of exceptional high current capability. And the extraordinary wide bandwidth, 0.1Hz to 250 kHz (-3 dB). And a sign of extreme stability. Heatsink surface area has also increased to match the increase in output power. With two pairs of Sanken transistors, Diablo 120 can quickly drive difficult loudspeaker loads without the faintest hint of strain.
The Diablo 120 circuit employs zero global negative feedback. And a unique microprocessor-controlled passive attenuator for the most transparent volume control ever conceived. Regardless of the selected level, the 46-step relay attenuator places a maximum of six resistors in the signal path. A large, graphical vacuum fluorescent display is employed instead of a more conventional LED character display. Providing space for more information and a larger, more easily legible font. The lavish display and extensive control circuits are powered independently. Via a separate, isolated transformer to eliminate any risk of noise contamination. In addition, all front panel controls are touch-sensitive.
Testing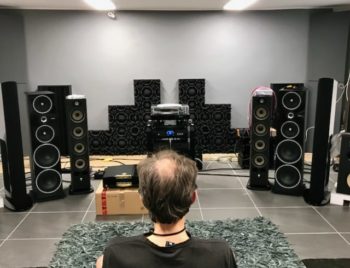 The system has excellent components and really sounded fantastic, but now it was time to start work! We put on the first track to get the system's feel and establish a base on which to build. After listening to three songs, I knew we could get a better sound. So I said to Virgilijus, ok, let us make some cable changes.
The first cable changed was the RCA interconnect. I was replacing it with the Matrix S interconnect because I knew how it would improve the sound. So we sat back, listened, and heard the sound become cleaner and more open. Next, I removed the XLRs and replaced them with Perkune XLR cables. Once again, we sat back, listened and heard even more improvements in the sound as the system played. It was like a person removed a veil from the speakers and allowing us to hear even more music.
The next step was to remove the speaker cables and replace them with Perkune Matrix S 'Singles' loudspeaker cables. And, yet again, we sat back to listen, but we were not expecting what we heard! It was a shock for both of us, and we felt like we were in a different dimension. The sound stage had opened up so much we felt as if we were in sitting in the middle. The depth had almost doubled, and the bass became powerful with tones never before heard. Virgilius said he could listen to new sounds and felt new energy and life from the music. I was in complete agreement, and I will say this is the best I ever heard  music.
Conclusion
Can we say these are the best audiophile cables we have tested? Firstly, I want to say we are both many years involved with audio, and both have experience listening to many systems and audio cables. In addition, we both have favourite test CDs and are familiar with every detail in the music. And both of us hearing new sounds and feel new emotions indeed tells you something. So the answer is yes; a cable does make a difference. And an excellent audio cable will make a superb amplifier unleash its full potential.
Author: Tomas Blinder – Music producer, Vilnius, Lithuania
Dated: 25/08/2021
If you have enjoyed reading 'The best audiophile cables ', share with friends – thank you.
Perkune – Best budget Audiophile Cables