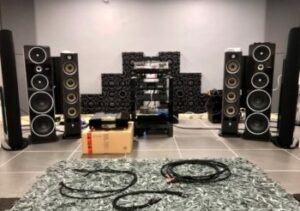 The audiophile cable testing is a continuation of testing performed on August 25th 2021. And on this occasion, we are able to use ultra hi-end components. The session was on a different level than before, and we discovered many new things about cables. Good audio cables are unnecessary and are just money-making items. Say many people. But, I hope that after reading what we experienced, will give you the insight to explore the wonders of audio cables for yourself.
Audiophile cable 
The amplifier, for testing made by ASR Audio Systems in Germany. The ASR Emitter II, Exclusive battery version. Comprising 2 x ASR AC Trafo power supplies and 1 x ASR battery power supply unit. ASR, successfully develops and manufacture High-End Audio devices since 1980. The company started because of their love for music. And a strong desire to reproduce a lifelike acoustic experience at home. ASR studied in detail popular amplifiers and replaced standard elements with elements of a higher quality to improve sound. And by Doing this, noticed developers and manufacturers of High-End Audio equipment made many compromises. 
Quickly realising an optimised amplifier needs setting up an entirely new way. So the focus was amplifying the original music as pure as possible. And because a change in a system only makes sense if you hear the difference. And Each and every upgrade made improves the sound noticeably.

The

Source
The music from source is the original signal and needs amplification to be heard by the loudspeakers. And therefore, not be modified. Also, every process, component, and point of contact are a potential danger for weakening the original signal. The ASR Audio Systems Emitter series sustain the original signal. And using only high-quality connections and short distances when travelling from input to output. Also this process is how ASR attain a realistic three-dimensional reproduction of instruments and voices.
From a technical point of view, the ASR Audio Systems Emitter is a power amplifier with an input selector and volume control. And is the shortest available path for the signal. ASR deliberately abstain from using a preamplifier to keep the signal's track as straightforward as possible. Turning the input selector activates the chosen input utilising a relay. Then, the last selected input is turned off, except for the direct input. And now, the sound has a high signal fidelity due to a missing relay. The signal directly heads for the level control – bypassing a missing relay.
All components are placed closely on the signal's pathway to minimise the loss in quality. As a result, the few inevitable hurdles minimised. And the music flows smoothly. Also, the relays switch signal and mass simultaneously, which allow the music signal to remain untouched by any other equipment linked to the chosen input. And putting an end to ground loops and crosstalk. But, most importantly, you must hear for yourself! Audiophile cable testing
Power supply
The ASR Emitter II has two separate power supplies for two channels. An energy management system in the Emitter switches the transformers in the power supply units. Depending on the power requirement between energy-saving and full-power operation. 
Whilst providing the required high performance at all times, the power supply units are equipped with powerful transformers. The advantages compared to conventional transformers are higher pulse power, high efficiency and low magnetic field leakage. And providing perfect working conditions for the electronics with a fully clean power supply.
Batteries
The ASR Emitter Exclusive battery's input stages, supplied from a battery power supply unit. Electricity from batteries represents the purest and cleanest form of power supply. With current from the batteries, the transistors amplify audio signals with the highest precision. Audiophile cable testing
In addition, batteries are much better able to provide power even when suddenly needed. The input stage is supplied independently and constantly with clean electricity. And the ideal condition to listen to music! Battery power is sufficient for about 100 operating hours. And when the batteries are empty, the amplifier is automatically fed by its charging voltage until the battery, fully charged.
Reference Loudspeakers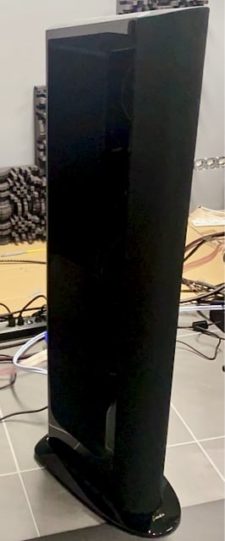 The 54″ tall Triton One R  is an incredible sounding Loudspeaker. The drivers, housed in dual discreet midrange chambers, arranged in a D'Appolito array. Surrounding the extraordinary GoldenEar Reference High-Gauss High-Velocity Folded Ribbon (HVFR™) tweeter. The same as used in the Triton Reference. This design incorporates 50% more neodymium magnet material than previous units for higher efficiency and greater control.
The gorgeous cabinet, painstakingly finished in a hand-rubbed piano black lacquer. It presents itself as an exquisite, sleek, ultra-high-performance lifestyle loudspeaker. Delivering extraordinary sound quality comparable with speakers selling for many times the price.
The Triton One R upgraded technology includes a 56 bit DSP engine for the powered subwoofer. Incorporating a  fully balanced crossover design, high-end film capacitors, and much more. The Triton One R's built-in subwoofer section powered by a 1600 watt GoldenEar SuperSub digital amplifier. The amp drives three racetracks shaped active subwoofer drivers with massive magnet structures and coupled to dual (per side) side-mounted 7″ x 10″ quadratic planar infrasonic bass radiators to extend the low-frequency response.
These are inertially balanced (two on each side) to minimise cabinet movement for a more detailed sound. Two 5.25″ upper-bass/midrange drivers with GoldenEar's proprietary Multi-Vaned Phase Plug. Incorporating a cone utilising a unique formulation of polypropylene. Plus a Focused field magnet structure developed for the Triton Reference.
Active Subwoofer
The powered subwoofer sections in each Triton Reference, Triton One R, incorporate a high power GoldenEar digital amplifier. The amplifier's DSP design yields a highly linear and low distortion response.
Also, the amplifier, drives up to three front-mounted quadratic subwoofer bass drivers. And are coupled to multiple side-mounted quadratic planar infrasonic bass radiators. The result is awe-inspiring bass, which delivers both musical subtleties as well as room-shaking authority. 
Advantages of building the subwoofers into the Tritons are many. First, of course, this eliminates the need for additional subwoofer boxes in the room. But more important are the performance advantages. By engineering the subwoofer as an integral part of the speaker, we get far superior integration and blending than with separate subwoofers. In a pair of Triton loudspeakers, the two subwoofers are coupled better to the air in the room. Which, helps to deal with the room's eigenmodes and smooth out response. Finally, of course, the dual subwoofers are also intrinsically more powerful and couple together synergistically for more truly exceptional bass. Audiophile cable testing.
AURALIC transport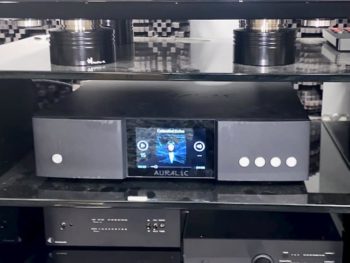 Four years after the release of the original ARIES, this groundbreaking streamer is getting a high-tech upgrade. Infused with AURALiC technologies and designs developed for the premier G2 line. The ARIES G1 connects over Wi-Fi to digital sources. Network-attached storage, Internet streaming services like TIDAL and Qobuz, Internet Radio, and USB drives. And designed to bring high performance streaming to your home audio system.
On-Device Playlists, Memory Caching, Gapless Playback are among the features found in all AURALiC streaming devices. Support for Spotify Connect, AirPlay, and Room Ready. ARIES G1 connectivity is more expansive than ever. In addition, improved hardware offers a severe boost in performance in the ARIES G1. They are making it a perfect choice for streaming audiophile-grade resolutions up to DSD512 and PCM 32bit/384k.
The G1 update to the ARIES draws extensively from innovative technologies developed for our top-of-the-line G2 series. Also, a supercharged hardware platform and a completely transformed industrial design. Once again, outfitting your home audio system with state-of-the-art streaming performance and features more accessible than ever — with the ARIES G1 Wireless Streaming Transporter.
Pegasus DAC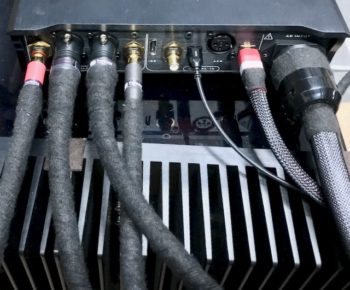 The Musician Pegasus presents itself as a magnificent and mighty DAC. And taking advantage of a neat R2R architecture, integrating the latest technologies. The device benefits from a low-noise power supply, a FIFO buffer, signal processing by FPGA and an FIR filter. It can thus decode very high sample rates, up to 32bit PCM 1536kHz and DSD1024 via USB and I2S inputs. An STM32F446 MCU manages the USB interface with a thesycon USB driver.
The whole unit is integrating with a massive Aluminium case. And the Musician Pegasus provides you with most of the connections common to today's HiFi devices. We thus find at the input of USB-B, I2S via HDMI LVDS, AES/EBU, Toslink Optics and Coaxial. On the output side, the device offers unbalanced RCA and balanced XLR; the latter output, recommended to take advantage of the device's full potential. However, not recommended to use the XLR and RCA outputs simultaneously, as these are shared.
Audiophile cable Testing
The audiophile cable testing, performed in the new music listening rooms of company 'MATRIX' UAB, Vytenio g.10, Vilnius, Lithuania. And testing was performed by Virgilijus Dovidas and Paul Goodwin, seasoned audio professionals with over 80 years of experience in testing equipment and audiophile cables. Our aim to determine if an Ultra hi-end amplifier could make a difference to the sound heard at the loudspeakers. Also, would Bi-wiring have any noticeable impact on the sound. And is there a difference in RCA and XLR connections. And if so, what would it be?
Cable comparison
Before we changed to the Ultra hi-end equipment, we decided to make a cable comparison. The Perkune Matrix 'Singles' speaker cables and Nordost Heimdall 2 speaker cables. So the cables were first tested in bi-wire mode. And after listening, I changed to left and right-hand speaker configurations.
We experienced excellent results from the Bi-wire configuration, and sound improved in a positive direction. The soundstage opened up, allowing more instrument separation. Bass became a touch more controlled with better definition. But, again, the results were no surprise, as bi-wire is always better.
The results were also interesting from the left and right-hand loudspeaker configurations. We were testing using AB comparison. And it was as if we were listening to liquid gold and silver! I thought the Matrix sound was smoother and easier listening, and indeed to me was the gold. But, considering a price difference of nearly 700 Euros certainly made Matrix the ideal choice!
Speaker cables
We also tested a selection of speaker cables to hear how much difference there was between a cable. Many people say there is no difference between cables as it is all in your head! 
The cables we used were Kimber, Nordost, Perkune Reference and Perkune Matrix. And, the only thing we did was insert a cable and listen to one song and evaluate. But, then, we repeated the process four times and can certainly say there is a considerable difference between these four cables. 
After a short break, the ASR emitter II exclusive amplifier connected. The amplifier came with a fantastic power supply, and I was very interested to hear how it performed. I am familiar with the Jeff Roland range and their battery-powered amplifiers. And I think battery power is the best. In 2017, I wrote an article about Battery power.
At this point, in the proceedings, we decided to use reference Loudspeakers. And as a result, the GoldenEar Triton One R loudspeakers were selected. And after a few minutes connected to the amplifier. The Power cables chosen were from the Perkune Reference and Perkune Matrix series.
Also, the Interconnect cables were from the Perkune Matrix and Matrix S series. And last but not least the speaker cables were taken from the Perkune Matrix S 'Singles', The loudspeaker cables were three meters in length, as this length found to be the optimal length for a loudspeaker cable.
Sound Testing
I sat in the listening position, and the music played. Virgilijus set the volume at 42 on display. Which was a perfect listening level. Firstly, we wanted to test Matrix S interconnect against Matrix XLR cable to hear the difference. And depending on the result would use the winner for the testing session.

I immediately heard a distinct difference in the sound. The background was completely black, and every instrument separated. Also it seemed, all details in the music were airborne. And I felt as if I could put out my hand and touch as they flew past me.
Virgilijus turned the selector to the XLR position and looked at me. I said, so what happened. Virgilius told me he changed the input from CD1 to CD2, and there was no difference. So I said, well, switch back again, please, which he did. And we looked at each other in complete amazement because this is something we both had never experienced. No difference between an RCA input and an XLR input. It just did not make sense.
System testing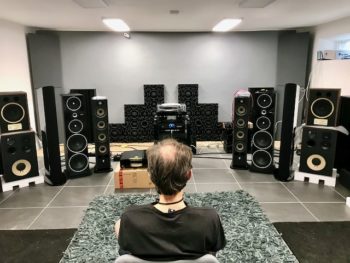 Everything was in place, and Virgilijus sat in the listening position. And we played 'The vanishing of Peter strong' performed by 'Yello'. I stood behind Virgilijus and felt transformed into another dimension. And felt shivers as my heart stepped up a notch! 
I walked back to the central listening position with excitement and saw Virgilijus was also in another world. His eyes were tightly closed, and he was swaying deeply to the rhythm of the music. And could almost say we had both been taken over by Peter strong! But, I felt so small because the music was now 'Larger than Life' and on a different level.
If you can imagine being in a forest in the winer and the temperature is about minus one degrees centigrade. There is a snow on the ground but is a bit messy and not a very nice place to be. And suddenly, the temperature falls to minus twenty degrees centigrade. OMG what a completely different picture we have in front of us.
And If you are able to put yourself in the same position and relate it to the audio experience we encountered, it will give you some idea of how we felt. And, it just goes to show how a great amplifier, paired with excellent loudspeakers, can make such an impact on two well-heeled audiophiles!
I left the Listening rooms, and my legs were shaking after this unforgettable experience.   Arriving home, I could not sleep as usual that evening. And waking at 2 am, reliving the incident could not get back to sleep till 5 am. But, what an adventure it had been, and we are still talking about it a week later!
Conclusion
I must say the sound from an audio system depends on its weakest link. And if the amplifier (like we used costing 26K) and speakers ( costing 8K). Plus the DAC and transport (costing 4K) and, not forgetting, cables and power cables (costing around 4K). One would expect the sound to be just outstanding. However, if you were to try and save money by using cheaper cables, you would indeed feel a drop in sound quality. 
Please remember – An audio system has to be balanced, and your system will only sound as good as the weakest link!
Author: Paul Goodwin – Perkune audiophile cables
Dated: 30/08/2021
If you have enjoyed reading 'Audiophile cable testing', please share with friends – thank you.
Perkune – Best budget Audiophile Cables