Cables and speakers tested – Today is a great day for testing cables and speakers because I am testing a Loudspeaker cable from Perkune audiophile cables. And a pair of loudspeakers from a German company named Elac. And testing has undoubtedly made me wonder how far we can go in the future with loudspeaker improvement.
Speakers tested
As planned, I visited my friend, Lukas, from 'Garso Namai', located Kauno g 31, Vilnius, Lithuania. Lukas had a pair of ELAC VELA Series floor-standing loudspeakers FS 408.
And Lukas has been burning these beauties in for the past two weeks. Which means they are ready for evaluation. And not only do they look amazing, but the sound is in another league altogether, as you will find out. And it showed just how companies are improving the sound of their speakers on an ongoing bacis
The first item on the agenda was to test the loudspeaker cable against the test cable used by Lukas. And testing would allow us to hear just how good this cable was in terms of performance—giving us a baseline on which to work. The cables tested were the Matrix S 'Singles', the latest offering from Perkune audiophile cables. And, the Matrix S RCA interconnect cable. An upgraded version of the original Matrix RCA interconnect.
The Matrix 'S' singles loudspeaker cable comprises two independent cables within one external shielded construction. One line feeds the speaker's positive side, and the second line feeds the loudspeaker's negative side. Thus, the cables are triple shielded and completely independent from each other. And, as a result, it brings you a more outstanding listening experience. 
Cables Tested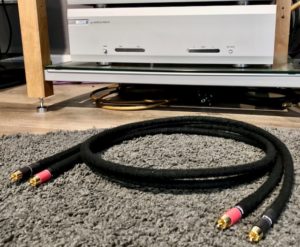 I have spent the past year testing speakers and cables at 'Garso Namai', I have a great understanding of how everything sounds. And indeed, with the input of Lukas, we can evaluate cables, speakers, amplifiers and players to a very high degree and mark accordingly. For example, the Matrix S singles loudspeaker cables are undoubtedly the best sounding loudspeaker cables we tested in this facility. They offer an improved soundstage, Greater attention to detail, A higher level of musical information and a sense of involvement, compelling you to want to continue to listen. The Matrix S RCA interconnect in the footsteps of the Matrix S 'Singles' loudspeaker cable, and offered performance to match the XLR cables. Cables and speakers 
Amplification
Musical Fidelity supplied the amplification for testing. The M6S preamplifier and the M6SPRX power amplifier. The M6s PRE is effectively a preamp without limits. Its wide range of inputs, coupled with excellent performance, meaning it can form the heart of almost any system, regardless of price. It's a pure Class A design capable of driving any power amplifier over any length of cable. 
The M6s PRE has an array of inputs suited to both traditional and modern music sources. It has an MM/MC phono stage, two balanced inputs, three line-level connections. A fully configured tape in/out loop and a digital USB socket. The performance is stunning. The M6s PRE sounds sweet, straightforward and fast, with tight, extended bass. No wonder that in his Hi-Fi+ review of the M6s, Alan Sircom praised the M6s PRE for being "both excellent and excellent value for money." Cables and speakers 
The VELA Series Floor-standing Speaker
The speakers tested were supplied by a German company named Elac. And I remember using Elac speakers in the sixties when I was playing the guitar. And they were great then, so I wonder how are they now? Cables and speakers 
Elac quotes – A complex design: high-class lacquered and wooden veneered cabinets, which have a trapezoid shape and are angled rearward, combined with aluminium and glass. The design catches eyes but conduces acoustics, too. The sound of VELA shows its family background to successful series 400. But the advantages are distinct. The angling of the cabinet in combination with the new wave-guide of the JET tweeter improves the definition of stereo and multi-channel audio in modern furnishing. But there are more than the obvious changes. For example the optimised drivers are able to reproduce high-energy transients more precisely.
Specifications
Height x width x depth: 1142 x 276 x 332 mm
Weight: 27,1 kg
Type: 2 1⁄2-Way, bass reflex
Woofer: 2 x 180 mm Ø, AS XR cone
Midrange: (180 mm)
Tweeter: JET 5
Frequency: 450 | 2550 Hz
Frequency range (IEC 268-5): 28 – 50000 Hz
Sensitivity: 88,5 dB at 2,83 V/m
Suitable for amplifiers: 4 – 8 Ω
Rec. amplifier power: 40 – 400 W/channel
Nominal/peak power handling: 150 W | 220 W
Nominal impedance: 4 Ω | 3,6 Ω at 180 Hz
Down firing bass
I must say, the specifications do not impress me, considering the speaker's price, which is around 5K. But, I know it all depends on the information obtained. And to the levels set by Elac. So I am open-minded in this respect, but I do like the Close to Action section, which states: The bottom plate is made of aluminium and featured a down-firing bass reflex port which gives advantages in positioning. Cables and speakers 
Listening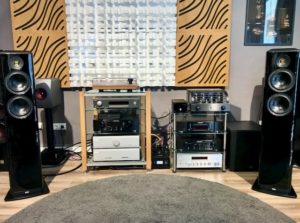 I sat down in the listening position, and Lukas started the music, meaning we were ready to be either excited or disappointed. And I must remind you that as we had done this so many times, we were familiar with the music and just how to listen. But, OMG, I looked at Lukas and said, WTF, this is unbelievable. The best way to describe what we were hearing was by using the phrase 'Larger than life.'
The feeling was like the room had opened up, and we were sitting in the middle of the music. I heard new information more than I have ever heard in previous listening sessions. The music was alive and dynamic, with warmth, depth, and emotion sending shivers down my spine. I looked at Lukas, and he was in total agreement with my new findings, and all he could say was next? Cables and speakers 
The one thing that had changed was Lukas, who was still in his listening position. He usually gets up, wanders around, and does everything remotely, but today remained in his place. I do not want to move; he said because this is just too good. The next track played, and again so much more of everything in the music. We agreed this is the best we had ever heard and did not want to stop listening to the music. Cables and speakers 
Time
The time passed, but we wanted to listen to more music, so we continued. After the theme for testing was exhausted, we added tracks from artists such as Freddy Mercury, Diana Krall, and Nora Jones, to name but a few. The listening session started at noon and finished at 16:00, and we both were completely blown away by the sound we had experienced.
Conclusion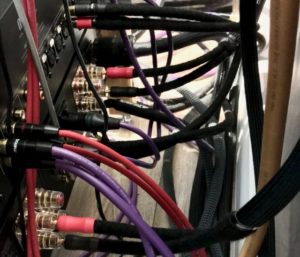 We had a fantastic listening session, which was a new experience for Lukas and me. But, why was the sound so good? Were the Elac 408 speakers so good, or were the speaker cables so good? Or was it just a combination of both?
But, we were in total agreement and could honestly say this was the best session we experienced this year. And, the final question is, what could we do to get an even better sound?
Author: Tom Blinder – Music producer, Vilnius, Lithuania
Dated: 17/08/2021
If you have enjoyed reading 'Cables and speakers tested ', please share with friends – thank you.
Perkune – Best budget Audiophile Cables