It's always been a hotly debated topic in the audio community: How much do cables affect a system's performance? Audio lines have traditionally fallen into two camps. And the question is – "does speaker wire and cables matter?"
On one side, the top products are sold with outlandish promises about performance to justify exorbitant prices most people wouldn't or can't consider. But conversely, you have the most basic and featureless Point A to Point B cables. And made with the cheapest possible components that keep your system from reaching its true sonic potential.
Speaker wire and cables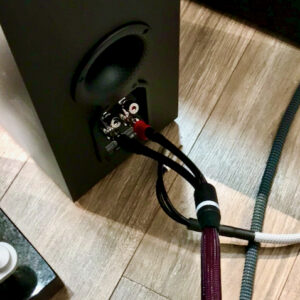 Speaker and interconnect cables should serve two essential functions: to pass the audio signal with absolute purity at full fidelity. And to reject interference that can add noise to the signal. Also, a high-quality cable lets your system perform its best while remaining faithful to the source. And in addition, it can elevate your system's performance. By revealing tighter, better defined bass and exquisite imaging. Also, while improving transient response, resolution and accuracy across the frequency spectrum. Often described as an added depth or complexity to the sound.
When considering cables, it's essential to look at the quality of the materials, the physical design, and the engineering processes used during assembly. A recipe for a great speaker or interconnect cables includes:
Dielectric shielding for insulation, noise rejection and signal purity

Precision metal stranding of cable wires to maximise strength and flexibility

Oxygen free 99.99% copper for high dynamic range and pristine signal transfer

Ultra-high bandwidth and ultra-low capacitance

Highest quality materials for secure connection and long life
Achieving signal purity and rejecting interference does not require pseudoscientific technology stories. And with Speaker and Interconnect cables, you get all the performance, technology, and build quality. Which you expect from the world's finest lines at a fraction of the price. You also get the benefit of the Sound Experts to answer questions about cables. Bi-amping, banana plugs versus spades, and any other challenges that might confront you.
Speaker and interconnect cables perform a vital role, so looking for quality from a name you trust is worth looking for. But, on the other hand, it's not worth overpaying for what could amount to minimal or nonexistent improvements in sound quality.
Debunking Cable Myths
The audio cable debate has also generated several myths that have continued circulating through the years.
And to clear up some misconceptions, A list of myths and truths to help you make the best decision possible. When you are sorting through the excellent audio-cable debates. But, please keep your wits about and never believe all that you read!
The Myths
Audio cables do not affect the performance of your system
A low-quality speaker and line-level component connections can be susceptible to interference and other signal degradation. And have proven to add noise and affect audio signal quality. Also, by replacing it with properly shielded, high-quality cables lets your system perform fully.
Rare Materials and prohibitively expensive engineering techniques are required to make premium audio cables.
Suppose all cables, if rigorously engineered with proven design principles and high-quality materials. And in that case, you can achieve the same level of performance at a fraction of the cost of mega-expensive cables.
Fancy braiding of audio cables enhances performance
Many cable manufacturers use twisted conductors to reduce crosstalk and interference noise. And still, no solid evidence to support the claim that intricately braided wires improve performance. Also, the purity of cable's conductive materials and its ability to reject interference have a much more profound effect on performance
Break-in of wires is necessary for optimal performance
This myth is much more subjective as many people claim there are perceptible improvements in sound quality. And after the speaker cables have had time "to "break in" over the first hundred hours. Even so, there is no scientific evidence to support an improvement in sound quality. And certainty not worth paying for break-in as an added service or feature.
Pricing
Do you choose between overpriced vs underperforming, or do you have any audio cable myths like debunked? And it all depends on what your budget is. But remember that the your system can only sound as good, as the weakest link in the chain!
Be carful
Please be careful of what you read and make sure you really understand what you read. And take for example this piece of information below. And note the line 'Custom Hand-soldered Cable Terminations Tailored to your needs'. Well, this is simply not the sort of thing a cable company does. Any person knows a speaker cable must NEAVER be soldered!
The text used
Performance you'd Expect From the World's Finest Speaker Cables, At a Fraction of the Price. And the Speaker cables pass the full power of any AV receiver or amplifier with high fidelity and no signal degradation. Also, the Ultra cables use the same fabrication techniques and materials as the finest cables in the world. But cost a fraction of the price.
Custom Hand-Soldered Cable Terminations Tailored to Your Needs
Each Ultra Speaker Cable can be custom terminated with your choice of 24K gold plated brass spades, 24K gold plated beryllium copper banana plugs, or a mix of both if you prefer spades for your speakers and banana terminals for your amp or AVR.
Purity of Sound Starts with the Quality of the Build Materials
The Ultra Speaker Cables deliver absolute signal purity no matter what speakers or source components are connected. And each Cable is made with two braided Dual Balanced conductors, with 82 strands of 99.99% pure stranded copper across both conductors. Also, this rating matches the best speaker cables in the world and enables the Ultra Cable to transmit a consistent signal with absolute purity. And so I ask – do you really believe this?
If you have enjoyed reading this 'Speaker wire and cables matter', Article, please share with friends – Thank you
Perkune I best budget audiophile cables