The Matrix loudspeaker cables, introduced in September 2022, take your music to the next level. And aimed at revealing the details you feel but never hear! The wires follow the same design as the reference series but with the addition of 'AirTubes' supporting each cable. Also, the wires are separate from each other. And this allows for a more complete and natural sound heard on the loudspeakers. The sound is crystal clear and transparent. And you are revealing new details and dynamics as never before experienced. Also, your music flows without restriction, and you do not want to stop listening.
Matrix construction
The Matrix loudspeaker cable construction completely separates each cable, using the 'Twisted pair' technique. And each conductor is isolated in a tube filled with air. One line feeds the speaker's positive side, and the second cable provides the loudspeaker's negative side. As a result, the cables are protected from EMF, RFI and floor vibrations. And the result is how the music flows from the loudspeakers, and you do not want to stop listening.
Loudspeaker connections
The Matrix loudspeaker cables utilise the latest 'NextGen' 24K gold plated connections. And supplied in Banana, spade or a combination. Also, the cables are designed to suit your system, depending on the amplification and speaker termination. Every pair of speaker cables is unique. And everything depends on your system. Single wire, Bi-wire, Tri-wire, or Quad-wire configuration. Therefore it is necessary to make adjustments when ordering for your system. Also, you can adjust the length of each tail by two centimetres.
Specification
Cable Dia: 18.0 mm 

Weight: 450 – 900 Grams

Length:  2, 3 and 4 Meters

Construction: Twisted paIrs

Conductors: 2 x 16 AWG + 2 x 12 AWG

PolyCast dialectic for each conductor

Type: OFC 99.99999 % (Multi-stranded)

Resistance: 0.0012 Ohms/meter

Capacitance: 80 pF/meter

Insulation: PTFE/ Anti-static fleece

Second shielding: Thermaflex/PTFE

AirGap: Plastic ribbed tubing/foil

Outer covering: Thermaflex
Performance
The performance of the Matrix loudspeaker cables is outstanding. And the biggest impression is the width and depth of sound. Also, the music heard has Knife-edge clarity, transparency, and perfect instrument positioning. The dynamic percussion slam as micro details fly through the air is heard. And your musical experience has reached entirely new levels of energy, excitement, and passion. And, you will listen and feel sensations of pleasure, emotion, and shock as your cables reveal more detail.
Custom
The pricing is for ONE pair of Matrix loudspeaker cables for stereo operation. But, if you want Bi-wire, please add 50%. If you wish, Tri-wire, add 60%, and if you want, Quad-wire, add 70% to the price.
Customer Testimony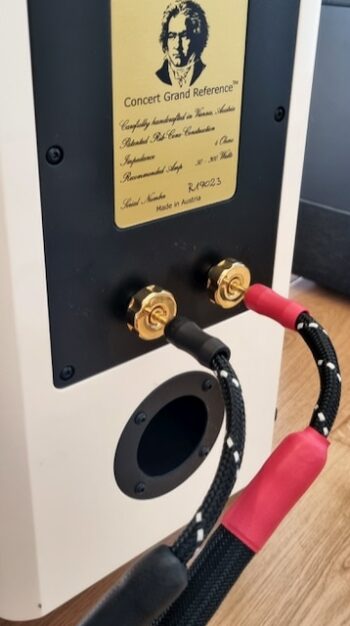 I have just finished hooking up my Matrix loudspeaker cables to my Beethoven Grande reference speakers. And I can hear a difference straight away. The look and feel of the speaker cables are just the best I have ever experienced. Also, they are light and easy to move. And now have to let them settle in for some hours before critical listening.
After three days, the Matrix loudspeaker cables bring more body and weight to the music. Furthermore, these cables are capable of more tonal extension. Also, they open up the soundstage. And now music is beyond the speakers both in width and depth. Allowing great separation of components, with the fluidity of rhythm and bass, is just SO spot on! And you know it when you can't stop toe-tapping to the music. Again, I'm just blown away! The massive musical impression one gets with these cables is the best I have ever heard. And another trait of the cables is the authenticity of hearing instrumental music. 
The deep level of details is not just incredible, but the flow of it all makes it downright enthralling to listen to. And what fun to experience all this with your favourite music. And It's like it opens a whole new world! Vocals sing to you with unique authority and confidence! And this is how high-fidelity music should sound. Micro details where you didn't expect to hear them bring the experience up another level. And the most fun and exciting listening experience I can ever recall having. To be able to make my sound system come alive like this is unquestionably the talent of you, Paul and your Perkune cables. And I can't thank you enough! Best from Eirik, Bergan, Norway 
Pricing
If you have enjoyed reading the 'Matrix loudspeaker cables', please share with friends and colleagues – thank you
Perkune  Best budget Audiophile Cable