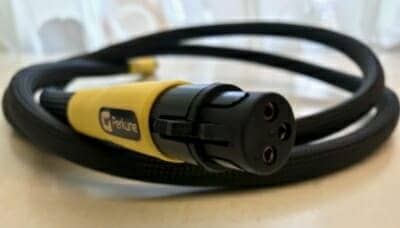 Digital Cable AES/EBU with XLR connections. The AirDream 2 digital cable specially designed for the professional 110 Ohm AES/EBU standard. The symmetrical structure and Perkune double shielding, minimise interference and provide sensitive audio data with the best possible protection.
Digital
The digital music signal precisely transmitted through silver-plated conductors and the perfectly adapted impedance (Low Jitter). And, it enables a natural and dynamic sound, especially for high-resolution audio formats. The solid metal plugs with 24 carat gold-plated contacts ensure optimum contact and minimal contact resistance.
Length
The standard cable length is 1.5 meters, which is considered optimum for regular use. A 3.0-meter cable is available for specific applications.
Application
When it comes to high-end applications, the air is still the best insulator currently available as it achieves low capacities and low losses. With Digital cables, these factors are critical for creating an exceptional connection. The precisely defined distance between the conductors and the shield maintained at all times. And, the cable must allow for conveniently running it behind your Hi-Fi equipment or rack.
There is a very high level of commitment on my part to develop this cable. And to offer you a high level of audio performance, allowing you to hear the music and not the noise!
Specification
Cable: 15.0 mm

Type: Noiseless

AES/EBU

Conductors: Solid sore (silver plated)

Resistance: 110 Ohms

Very Low Jitter

Insulation: Compact PE, braided shielding

First line: Single AirTube

Primary and Secondary AirGap: DERAY-PBFSP

Second line: Aluminum foil sheathing (100% Coverage)

Single AirTube with 'Teflon' insulation (two layers)

Secondary Insulation: Vinyl


Outer sheath: Dual CanuFlex PE-HB.

Plugs: 'Wool Rock' insulation.
Pricing
1.5 Meter – XLR/XLR connection 797 Euros
If you have enjoyed, 'Digital Cable AES/EBU,' please share with friends  – thank you.
Perkune – Best budget Audiophile Cables